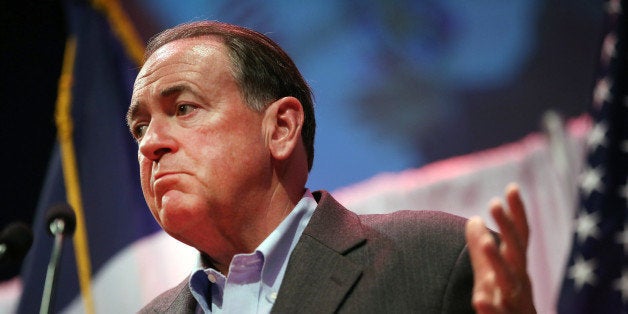 DES MOINES, Iowa, April 26 (Reuters) - Republican presidential hopefuls in Iowa and elsewhere have recently begun sounding a call to arms to Christian conservatives, describing what they say is an urgent threat to religious liberty.
Citing high-profile dust-ups over religious freedom bills in Indiana and Arkansas, the contenders are painting a vivid picture of faith under fire.
"In the past month, we have seen religious liberty under assault at an unprecedented level," Senator Ted Cruz of Texas said on Saturday at a forum sponsored by the Iowa Faith and Freedom Coalition outside Des Moines.
In both Indiana and Arkansas, bills aimed at protecting religious liberty were modified after critics, including a number of corporations, asserted the laws would allow discrimination against lesbians and gays.
On the campaign trail, Republican hopefuls are blasting the modifications.
"Corporate America needs to be careful," Louisiana Governor Bobby Jindal said on Saturday.
"We've got legislation in Louisiana to protect people of faith and of conscience. Corporate America is not going to bully the governor of Louisiana," he said, drawing loud applause.
Iowa traditionally draws early and intense campaigning by presidential aspirants because it is the first electoral contest in the long primary season. But candidates face a dilemma there: Do they emphasize the socially conservative principles that play well with Iowa's more conservative Republican electorate? Or do they stress a more mainstream conservatism that might play better later in the campaign?
Gay marriage is a particularly thorny issue, especially with the U.S. Supreme Court set to hear oral arguments this week in a legal challenge to laws prohibiting same-sex unions.
Overall, 50 percent of Americans now support gay marriage, according to data from Reuters/Ipsos, with 34 percent opposing it and 16 percent unsure. Still, according to polling from the Pew Research Center, nearly 70 percent of white evangelicals oppose gay marriage, and in 2012, about 57 percent of Republican voters in the Iowa caucuses described themselves as evangelical Christians.

A win in Iowa, or even a high placement, gives a candidate more visibility as the race moves on to other states, but it is no guarantee of later success. In 2008 and 2012, the top spots in the Republican contest were taken by former Arkansas Governor Mike Huckabee and former Pennsylvania Senator Rick Santorum, respectively, neither of whom went on to get the party's nomination.
Still, Republicans hopefuls, including some familiar faces, remain eager to court Iowa conservatives.
"We are moving rapidly toward the criminalization of Christianity," Huckabee said in conference call with conservative pastors organized by the Family Research Council, a Christian public policy organization. An audio recording of the call was obtained and posted online by Right Wing Watch, a progressive group that criticizes conservatives.
Huckabee picked up the thread again on Saturday.
"Let me be clear tonight: I'm not backing off because what I'm saying is true," he said. His words were greeted with murmurs of "That's right" from the crowd, along with strong applause.
Wisconsin Governor Scott Walker echoed the warning. "We should be standing up for religious freedom," he said at Saturday's forum. "In America, we should be the shining star that says you should be able to practice your religion."
Two prominent potential Republican contenders were missing at the Faith and Freedom gathering: Former Florida Governor Jeb Bush and New Jersey Governor Chris Christie. Both are perceived as being from the party's more moderate wing. Bush has argued for comprehensive immigration reform, and Christie, as governor of New Jersey, ultimately opted not to appeal a court decision that legalized gay marriage in his state.
A more moderate stance, especially on gay marriage, may resonate particularly with young voters. Among 18-to-29-year-olds, according to Reuters/Ipsos, 76 percent now support gay marriage. Even among Republicans in that age group, same-sex marriage enjoys 51 percent support.
Raymond Starks, a 21-year-old student at Drake University who interned on Mitt Romney's 2012 campaign, said on Saturday he favored same-sex marriage, although he also valued religious liberty.
"I would support laws allowing for conscientious objection in some circumstances," he said. (Editing by Sue Horton)

ALSO ON THE HUFFINGTON POST
Support HuffPost
The Stakes Have Never Been Higher
Related
Before You Go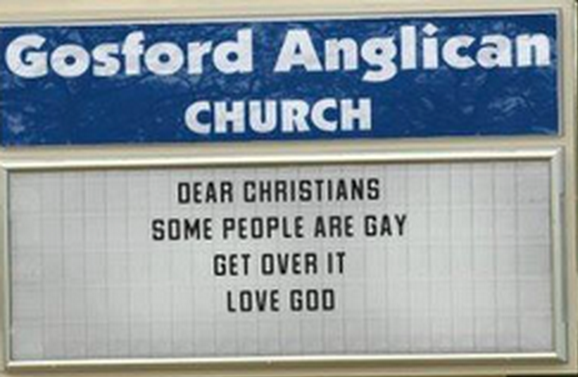 Controversial Church Signs
Popular in the Community