WASHINGTON -- Ahead of the Wednesday night GOP presidential debate, groups that work against undocumented immigration are voicing concern that the candidates have remained mostly silent on immigration policy.
"We've been disappointed in the debate so far this year," said Roy Beck, founder of Numbers USA, a group that rates politicians on their immigration policies. Of the Republican presidential candidates, only one is graded above a C -- Rep. Michele Bachmann of Minnesota earns a B-minus -- while the others are mostly graded at D-minus. "The biggest problem for most of these candidates is that they haven't said anything," adds Beck.
The matter is especially frustrating given President Barack Obama's recent announcement that the government would review 300,000 pending deportation cases and allow some undocumented immigrants to stay, groups said. Although congressional Republicans have decried the move as "executive amnesty," GOP candidates have yet to make any major statements on the issue, just a few throwaway comments on the campaign trail.
"You sort of expect that you would hear the people who want his job to be making a fuss about this, and so far it hasn't happened," said Ira Mehlman, a spokesman for the Federation for American Immigration Reform.
Instead, most of the candidates have toed a delicate line on immigration policy, focusing their comments on border security -- nearly all their campaign websites mention the need for more security along the Mexican border -- without going into further detail about how they would handle undocumented immigration.
GOP candidates could be keeping quiet on immigration for several reasons, Mehlman said. They don't want to anger the U.S. Chamber of Commerce, which supports some foreign-worker programs and opposes crackdowns on employers for hiring undocumented immigrants. Candidates may also fear alienating Latino voters, an increasingly large part of the electorate, who rate immigration reform among their top issues.
A desire to appeal to Latinos may have been the reason for the candidates' silence on the new deportation policy, said Mark Krikorian of the Center for Immigration Studies.
"It's a natural line of attack for [Texas Gov. Rick] Perry, and they must have made some decision that they don't want to alienate the National Council of La Raza or something," Krikorian said. "I would have expected more outrage."
Instead of going into detail on their proposed immigration policies, many of the GOP candidates take a simplistic approach. Only two major candidates, Herman Cain and Rep. Ron Paul (Texas), devote a full section on their campaign websites to immigration issues. The others mention immigration only briefly -- if at all -- in their national security sections, calling for that secure border along the southern edge of the United States.
"I will ensure our borders are fully secured," Bachmann says on her website. "Jon's first priority, before any immigration reforms are even considered, is to secure the southwest border, once and for all," according to the website of former Utah Gov. Jon Huntsman. Former Speaker Newt Gingrich's site vows he will "secure the border to prevent terrorist organizations from sneaking agents and weapons into the United States." Perry's site calls for "decisive action to defend our sovereign border." The websites of former Massachusetts Gov. Mitt Romney and ex-Sen. Rick Santorum (Pa.) do not mention immigration or the border at all.
The campaigns declined to comment on the Obama deportation policy or their own immigration platforms more broadly for this article.
Immigration issues are far more complicated than just border security, Mehlman said. "Our view has always been that the fence is important, but if you think building a fence is going to solve the problem, it just isn't," he said. "You need to have reasons why people don't come across that fence in the first place."
Romney has begun to make this argument, attacking Perry, without naming him, for signing a bill as Texas governor that allows undocumented students to receive in-state college tuition if they attended high school in the state and are working toward legal status.
"[W]e must stop providing the incentives that promote illegal immigration," Romney said in a Sept. 2 speech. "As governor, I vetoed legislation that would have provided in-state tuition rates to illegal immigrants, and I strengthened the authority our state troopers had to enforce existing immigration laws."
Romney has also vowed to get tougher on employers who hire undocumented immigrants, saying he will put in place "an employment verification system that is both reliable and secure."
It's a step in the right direction, said Beck of Numbers USA, but the candidate still has some way to go. The group plans to raise his grade from a D-minus to a D-plus in the wake of that speech, Beck said.
If other candidates want to win over the anti-undocumented immigration crowd, they must speak more on the issue, he added.
"There hasn't been enough push -- there haven't been enough questions asked of them ... to force them to take positions, because for the most part they've tried to avoid them," Beck said.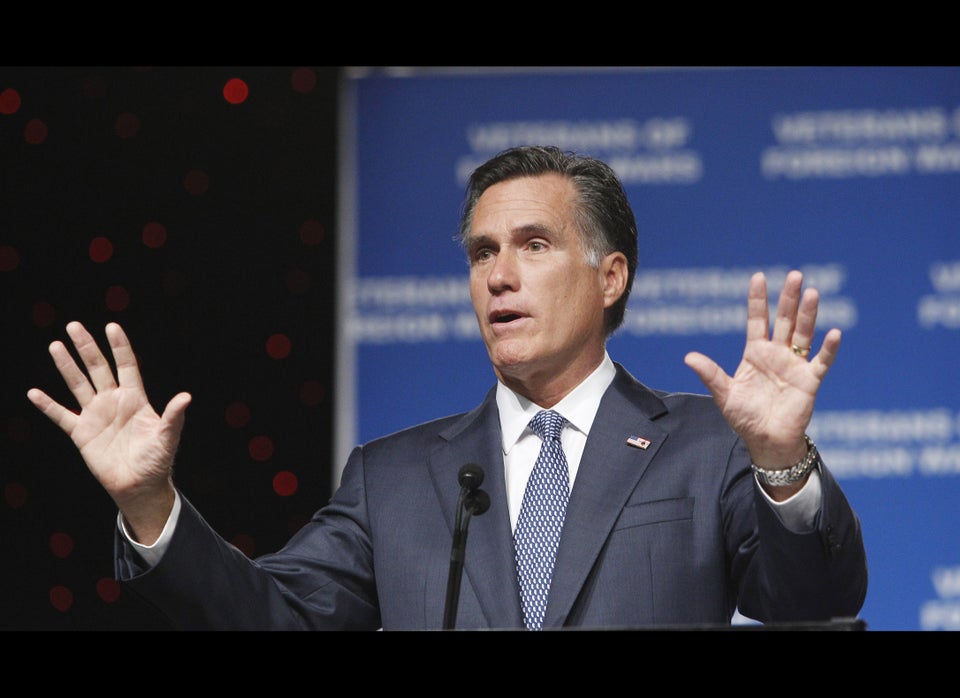 Popular in the Community