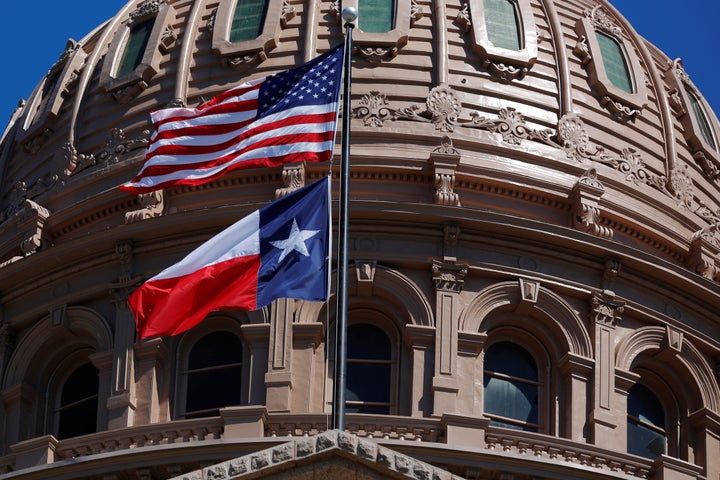 AUSTIN, Texas ― In late July, Alan Vera, the chair of the Harris County Republican Party's Ballot Security Committee, put on a patriotic necktie, walked into the voter registration office in Houston and challenged the registrations of some 4,000 voters — there were duplicates — in his county.
A few weeks later, Lynn Lane, the official photographer for the Houston Grand Opera, noticed a letter he'd sorted for recycling. The county voting registrar, the letter said, had received information that his current address was different than the one on his registration record, and he had 30 days to respond. When Lane checked his voter registration status online, he said, it was already listed as suspended. But Lane — an active voter and a Democrat — has lived in the same location for five years, he told HuffPost.
"It does seem to be something that voter integrity vigilantes are seeing as a tool that they can use to go after people and make the voting process more difficult," said Jonathan Brater, counsel for the Brennan Center's Democracy Program.
Civil rights advocates are worried about this latest effort in Texas. Several groups wrote a letter, dated Sept. 10, to the Texas Secretary of State Rolando Pablos requesting that his office "publicly disavow these generalized, unsubstantiated, and targeted challenges as anti-democratic, voter suppression tactics." (The Texas Civil Rights Project provided the letter to HuffPost.)
The Texas Secretary of State's office did not comment by deadline.
What exactly happened in Harris County is confusing. Here's the short version: After Vera filed his challenge, the county registrar said some 1,700 of those roughly 4,000 voters were mistakenly placed on a suspension list, according to the Houston Chronicle. That meant they could still vote, but if they didn't correspond with the county or vote in the next two federal elections, they would be removed from the voter rolls.
Vera, who lives in Houston, has about seven people who work with him on election issues, he told HuffPost. His challenges were scattered across the county, not concentrated in certain neighborhoods. He focused on people whose listed addresses were facilities such as P.O. boxes and churches. Dozens of people are registered, for example, at the Lord of the Streets (LOTS) Episcopal Church in Houston, according to the list obtained by HuffPost.
The church provides a permanent mailing address for people who are homeless or unstably housed, Rev. Steve Capper, vicar and executive director of LOTS, told HuffPost. The church does not invest time in verifying where people reside, he said, since they must have a valid ID to qualify to receive mail at the LOTS facility.
"We certainly encourage them to vote," Capper said. "We tie it into the idea of restoring dignity through contributing to the common good."
Vera argues that he did indeed have personal knowledge of the facts of each location. He was trying not to keep people from voting, he told HuffPost, but to make sure people voted in the correct local elections.
"It got blown totally out of proportion by errors at the county level," he said.
True the Vote did not respond to HuffPost's request for comment.
Vera told HuffPost he became interested in True the Vote because his wife told him to be.
What's particularly concerning about registration challenges, the Brennan Center's Brater said, is the "ability of one person or a small group of people to file challenge after challenge without anyone really realizing what was going on." You could imagine a scenario, he added, where a challenge doesn't get reported on and "suddenly, hundreds or thousands of people are removed."
Vera, in the meantime, told HuffPost that he urged citizens in every state to "become actively involved in their election process" and check that "the people we pay to run these correctly are doing their job."
"Get involved," he said. "And do it legally."
Lane, the photographer, suggested the process Vera started in Harris County just ended up with "a lot of people" being "confused."
Popular in the Community