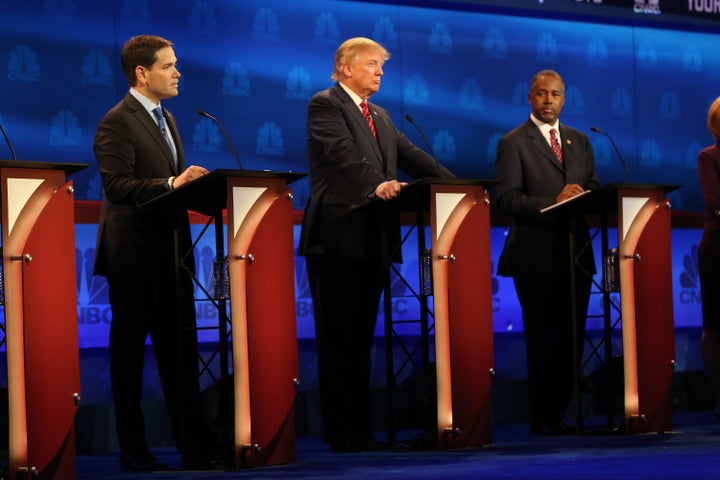 DEMOCRATS SEE OPPORTUNITY IN THE GOP'S 'TRAIN-WRECK' PRIMARY - Stan Greenberg and James Carville (D): "As the Republican Party grapples with a fateful decision about its nominee for president, this new Democracy Corps survey of Republican voters shows they are headed towards a train-wreck that will change our politics….The animated animus for Democratic governance and fear of the country's growing immigrant and racial diversity truly unify the Republican Party and have allowed Donald Trump to surge ahead of the field. But there are deep fissures inside the base as well and the GOP is poised to crack wide open….The strongest attacks on Trump charge that he is an ego-maniac who cares more about himself than the country, that he is very disrespectful towards women, and that he is a threat to national security and should not have control of our nuclear weapons." [Democracy Corps]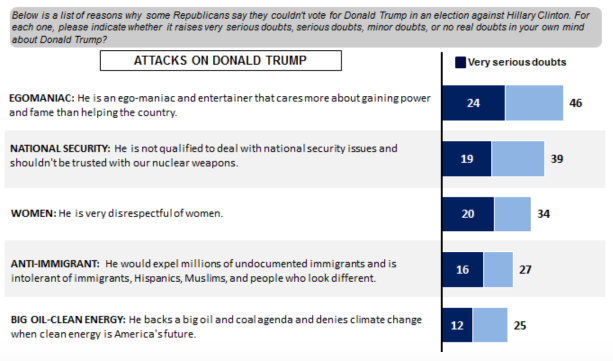 The establishment's inability to stop Trump could signal a Republican realignment - Nate Silver: "If a Trump nomination happens, it will imply that the Republican Party has been weakened and is perhaps even on the brink of failure, unable to coordinate on a plan to stop Trump despite the existential threat he poses to it. Major partisan realignments do happen in America — on average about once every 40 years. The last one, which involved the unwinding of the New Deal coalition between Northern and Southern Democrats, is variously dated as having occurred in 1968, 1972 and 1980….It's almost impossible to reconcile this year's Republican nomination contest with anyone's notion of 'politics as usual….' The rules of the old regime — the American political party system circa 1980 through 2012 — might not apply in the new one. [T]he assumption that the parties will rally behind their respective nominees may or may not be reliable….[W]e may be entering a new era, and through the broader sweep of American history, there's sometimes been quite a bit of voting across party lines." [538]
WHAT TO WATCH IN SUPER TUESDAY COVERAGE - David Byler: "Watching primary and caucus results roll in on Tuesday night is going to feel like drinking from a firehose….If you're not a veteran political journalist or a data geek, it might be tough to digest that cascade of information….On the Republican Side: Most Super Tuesday states allocate their delegates proportionally with a threshold of either 15 percent (Arkansas, Oklahoma) or 20 percent (Texas, Alabama, Georgia, Tennessee, Vermont) of the vote. In other words, the state divides up its delegates proportionally between the candidates who surpass the threshold….In the Democratic primary, delegates are also awarded to the winner of each congressional district (or sometimes smaller political subdivisions)....If Clinton wins a state by driving up her margins in a few heavily or significantly African-American congressional districts, Sanders could still pick up a modest haul from the more numerous districts that are whiter and more rural. Clinton will almost assuredly win a substantial majority of the votes cast on Super Tuesday, but the data nerds will be watching how much those pad her delegate lead." [RealClearPolitics]
Polling points to Trump and Clinton winning big - Mark Blumenthal: "Trump held a significant lead throughout the week, winning the support of 36% of Republican voters who reside in 11 states holding primaries or caucuses on Tuesday….Trump also held comfortable leads in 6 of 7 states holding Republican primary elections on March 1....Trump's leads were widest in Alabama and Tennessee, where his vote total approached half of Republicans….On the Democratic side, Hillary Clinton held wide leads over Bernie Sanders in 3 states where SurveyMonkey was able to conduct more than 500 interviews among Democratic voters over the past week. She led by margins ranging between 17 and 23 percentage points in Georgia, Tennessee and Virginia. Sanders ran far closer in Massachusetts, where Clinton had a slight edge (48 to 46%)." [SurveyMonkey]
Prediction markets agree with the polls - Andre Tartar and Ben Brody: "As of Sunday, PredictWise had Trump up in 10 of 11 states—all except Texas, where home-state Senator Ted Cruz is at 85 percent. Otherwise Trump is dominant, with his odds of winning ranging from 67 percent in Minnesota to 96 percent in Tennessee. As for Senator Marco Rubio of Florida, he's second most likely to win in every state except Alaska, Arkansas, Oklahoma, and Texas. On the Democratic side, Clinton is expected to win 10 of 11 states, according to the PredictWise model, up from eight before her win in the South Carolina primary on Saturday. She has a greater than 95 percent chance of winning delegate-rich Texas, Georgia, and Virginia. The odds lean toward Senator Bernie Sanders in his home state of Vermont and have shifted away from him in Colorado and Massachusetts." [Bloomberg]
AMERICANS AREN'T CONVINCED OBAMA CAN CLOSE GUANTANAMO BAY - HuffPollster: "Americans are about evenly split on whether Guantanamo Bay prisoners could safely be held in the U.S., a new HuffPost/YouGov poll finds. A plan released last week by the Pentagon calls for some of the remaining prisoners to be housed in a prison somewhere in the U.S as part of the Obama administration's move to close the prison. Thirty-nine percent of Americans polled say prisoners could safely be held at a U.S. prison facility, while 40 percent say they couldn't be, and another 22 percent aren't sure….Public opinion, like the debate in Washington, divides along partisan lines, with 54 percent of Democrats, compared to just a quarter of Republicans, believing the U.S. has the capacity to bring some of the detainees stateside…. Republicans say, by a 73-point margin, that the prison should continue to operate. Democrats are about evenly split, with 40 percent saying it should stay open and 42 percent that it should be closed." [HuffPost]
HUFFPOLLSTER VIA EMAIL! - You can receive this daily update every weekday morning via email! Just click here, enter your email address, and click "sign up." That's all there is to it (and you can unsubscribe anytime). 
TUESDAY'S 'OUTLIERS' - Links to the best of news at the intersection of polling, politics and political data:
-Donald Trump is performing better than Mitt Romney was at this point in 2012. [HuffPost]
-Adam Seth Levine looks at why Bernie Sanders has failed to expand the electorate. [WashPost]
-Clare Malone explains why Oklahoma seems to be a microcosm of the 2016 election. [538]
-Marc Hetherington and Drew Engelhardt explain why Donald Trump is doing well among Southern evangelicals. [Cook Political Report]
Josh Katz and Quoctrung Bui argue that New Hampshire mistakenly awarded Trump one of Rubio's delegates. [NYT]
-A new study from Washington University in St. Louis finds that "liberal" is a more loaded word than "progressive." [WUSTL]
Calling all HuffPost superfans!
Sign up for membership to become a founding member and help shape HuffPost's next chapter