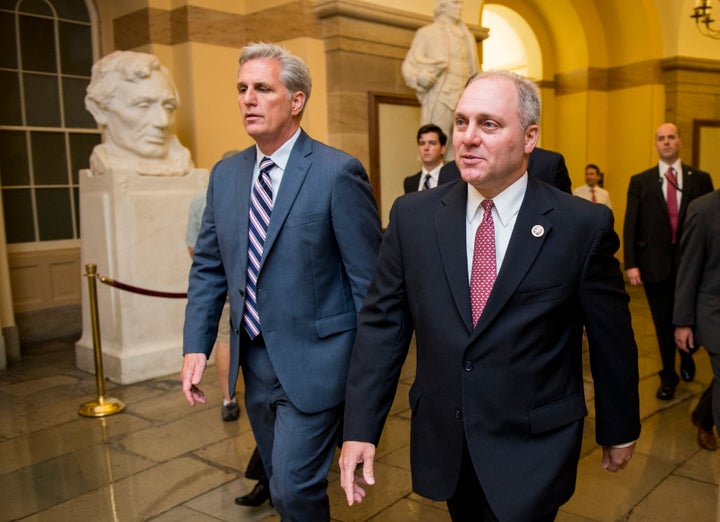 WASHINGTON -- House Republicans took part in a therapy session Tuesday night to vent deep-seated grievances that ultimately led to Speaker John Boehner's departure.
The Ohio Republican's decision to resign effective Oct. 30 from the top House post and from his seat in Congress was a clear signal of the widening rift in the Republican Party. Anger among conservative members has fully bloomed as the party heads into an election year in which Republicans will try to gain control of the White House.
During the rare evening meeting, Republicans talked for almost two hours in what was described by multiple members afterward as a "family discussion" and a "healing" process.
Coming out of the meeting, Rep. Carlos Curbelo (R-Fla.) said it "was a good therapy session for our conference" in which 40 to 50 people spoke. Boehner did not attend.
Rep. Peter Roskam (R-Ill.), who called for the special conference meeting, added that it was a positive "high-road discussion."
Still, conservatives and others in the conference have voiced a number of demands in regard to the coming leadership shuffle. Boehner said Wednesday that the leadership elections, including the vote to replace him, would be held behind closed doors on Oct. 8. Later on, the full House will vote on the next speaker. That date has yet to be announced.
Rep. Pete Sessions (R-Texas), who is running for the majority whip post, said the meeting was an important step and allowed members to "hear things from and about each other."
Primary concerns moving forward include how the leadership races will be handled and which procedural tactics Republicans will use when fighting for their core issues. Specifically, Sessions said, a number of members think those who are already in leadership and are running for a different party position should be required to vacate their current post even if they lose the race for the new position.
"I think that's fair because I think they will be held accountable that way," Sessions said.  
Conservatives also want House Majority Leader Kevin McCarthy (R-Calif.), who is running to replace Boehner as speaker, to offer them more top committee posts and to promise that they will be given more input on bills before they reach the House floor.
"I hear that we ought to find a common set of core principles," Sessions said, referring to changes members said they want to see. "I think it's about procedural things that lend themselves to members getting a chance to do what they came up here to do."
Sessions added that members want a return to regular order, meaning bills would go through the specific committees that hold jurisdiction over the given policy and then proceed to the Rules Committee before reaching the floor. Under Boehner's reign, leadership has been known to craft or change legislation behind closed doors and send it immediately to the Rules Committee before putting it on the floor.
Exiting the meeting, it was clear that members know the road ahead remains long and that the next speaker and leadership team will first need to find a way to fix the chasm in the conference.
"It is intuitively obvious to the most casual observer that this is the biggest problem that we have," Sessions said. 
CORRECTION: An earlier version of this post said Rep. Peter Roskam had offered a resolution before the August recess to oust House Speaker John Boehner. The resolution was brought by Rep. Mark Meadows (R-N.C.).
PHOTO GALLERY
Politicians React To John Boehner's Resignation
Calling all HuffPost superfans!
Sign up for membership to become a founding member and help shape HuffPost's next chapter