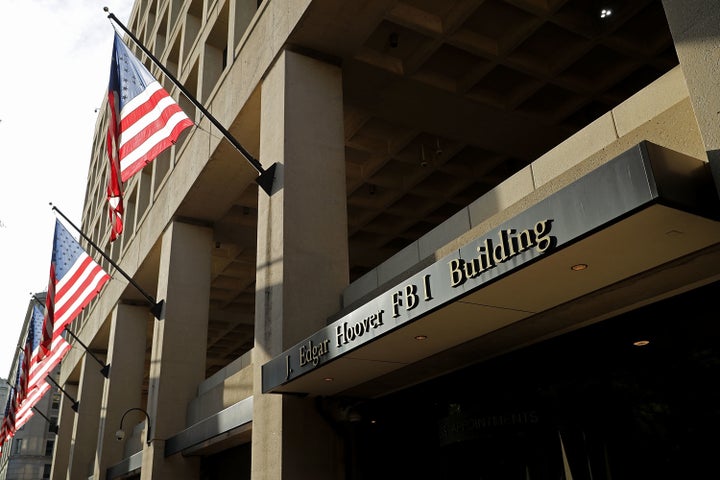 Most Americans trust the FBI, and few people want to see special counsel Robert Mueller fired, according to new HuffPost/YouGov polling. But Republicans' faith in the FBI has eroded since 2015. And views of the Russia investigation remain stable — albeit extremely polarized.
Americans across the political spectrum take issue with the FBI, although the exact nature of their complaints vary significantly. Three-quarters of Donald Trump voters say they disapprove of the FBI's handling of the Russia investigation, with a similar percentage saying the FBI is biased against the president.
By contrast, 73 percent of Clinton voters approve of the Russia investigation, but the vast majority say the FBI did more to harm Clinton than Trump during the presidential election.
Overall, just under a third of the public believes that the FBI is biased against the president, with 12 percent believing it's biased in favor of him, 22 percent that it's fair, and the rest unsure. Those polled say, 38 percent to 30 percent, that they trust the FBI over Trump, with the remainder undecided.
In recent weeks, House Republicans have advocated loudly for the release of a memo from Rep. Devin Nunes (R-Calif.) that alleges wrongdoing by the FBI. But the story has gained limited traction: Although nearly six in 10 Americans say they've heard at least something about the memo, just a fifth say they've heard a lot about the story. More than 40 percent say they've heard nothing at all.
About three-quarters of Americans say they've heard that Trump attempted to fire Robert Mueller as special counsel on the Russia probe, the survey finds, but not everyone is convinced. A fifth of the public, including 45 percent of Trump voters, say they don't believe that Trump attempted to fire Mueller.
Few want to see Mueller ousted, although many don't have any opinion at all ― just 15 percent say the president should fire him, with the rest about evenly divided between saying Mueller should stay in his post (42 percent) and saying that they're uncertain (43 percent).
Americans say 35 percent to 27 percent that they approve of Mueller's work on the Russia probe, with another 39 percent undecided. Respondents say by a 13-point margin, 43 percent to 30 percent, that the Trump administration's relationship with Russia is a legitimate issue, according to another HuffPost/YouGov poll taken just before the latest round of Mueller stories broke. About a third consider that relationship to be a "very serious" problem, with about half saying it's at least "somewhat serious."
Both sets of numbers represent a modest downtick in concern since a December survey taken in the wake of former Trump National Security Adviser Michael Flynn's guilty plea to lying to the FBI about his contacts with the Russian government.
With the exception of a few news cycles like the one following Flynn's plea, however, public opinion on the topic has remained notably stable. Since last March, the share of Americans saying that the Russia story is a legitimate issue has remained in the range between 42 and 50 percent, with no lasting trends either upwards or downwards.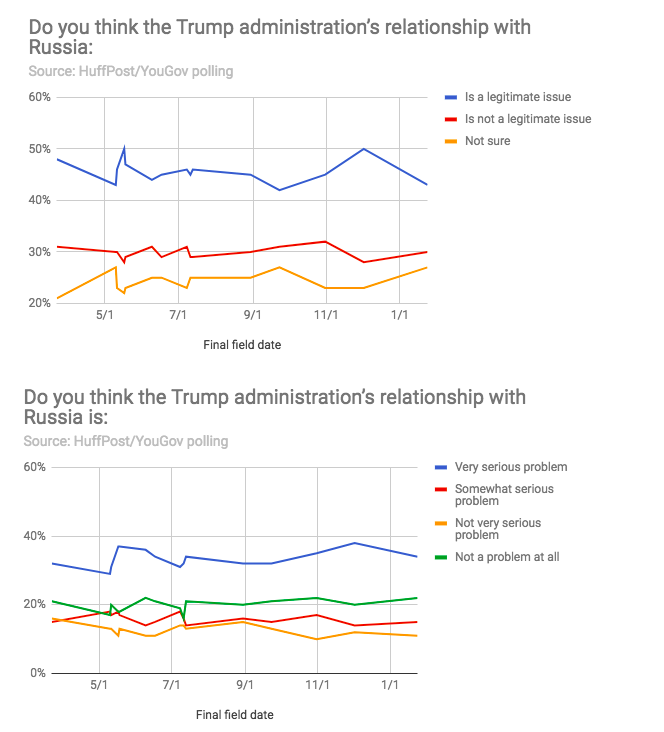 One reason for that: Opinions are largely, though not entirely, baked in along political lines. In the most recent poll, 91 percent of voters who supported Clinton, but just 12 percent of those who backed Trump, say they consider the White House's relationship with Russia at least a somewhat serious problem.
The HuffPost/YouGov polls were conducted Jan. 23-24 (on the Russia investigation) and Jan. 26-27 (on Mueller and the FBI). Each consisted of 1,000 completed interviews among U.S. adults, using a sample selected from YouGov's opt-in online panel to match the demographics and other characteristics of the adult U.S. population.
HuffPost has teamed up with YouGov to conduct daily opinion polls. You can learn more about this project and take part in YouGov's nationally representative opinion polling. More details on the polls' methodology are available here.
Most surveys report a margin of error that represents some, but not all, potential survey errors. YouGov's reports include a model-based margin of error, which rests on a specific set of statistical assumptions about the selected sample rather than the standard methodology for random probability sampling. If these assumptions are wrong, the model-based margin of error may also be inaccurate. Click here for a more detailed explanation of the model-based margin of error.
Popular in the Community