Republican Congressman Kevin Cramer (R-N.D.), who is running for Senate, compared the cages migrant children have been kept in while in federal detention to playgrounds.
In an appearance on North Dakota's KTGO radio station Wednesday, Cramer said there was "nothing inhumane" about keeping children in detention in "chain-link fences," reported Talking Points Memo.
"By the way, chain-link fences are around playgrounds all over America," Cramer said on KTGO's "What's on Your Mind" show Wednesday morning. He noted that he was supportive of policies that would "keep the families together" in detention facilities, which he called "humane."
"There's nothing inhumane about a chain-link fence ― if it is, then every ballpark in America is inhumane," he added.
Later Wednesday on another radio station, WDAY, the congressman repeated the comparison, lamenting that "people on the left" described the cages children were kept in as "dog cages."
"Well, chain-link fences have been used to protect children from predators on playgrounds, baseball diamonds," he said on the "Rob RePort" show. "To me, it's not the chain-link fence. That's not the issue. That's a ruse by some on the left to try to create an image that's far worse in description than it is in reality."
The congressman's comments came before Trump signed an executive order later Wednesday to stop family separations at the border and instead lock up immigrant parents and kids together indefinitely ― a move likely to draw legal challenges. By Cramer's second radio appearance, in which he doubled down on his comments, reports had already come out ― and were described on the radio show he appeared on ― detailing what the order would entail.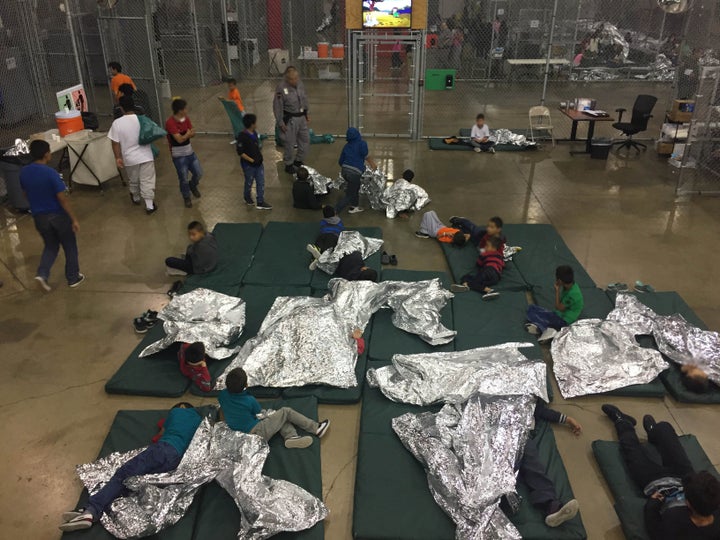 Cramer's comments echoed those of Fox News host Laura Ingraham earlier this week, which caused outrage when she described the detention centers as "essentially summer camps."
In his radio appearances Wednesday, the Senate candidate also expressed support for two Republican-backed immigration bills Congress is expected to vote on this week, one of which echoes Trump's executive order in ending family separations in favor of family detentions.
Democratic lawmakers and immigrant groups have been swift to denounce family detentions.
"Donald Trump's new executive order allows for the indefinite detention of families and that is absolutely unacceptable," Rep. Pramila Jayapal (D-Wash.) said in a statement. "Immigrant internment camps are cruel and inhumane. Moreover, lengthy or unnecessary detention of children has been ruled unlawful. The zero-tolerance policy itself must end."
"Family separation is wrong," she added. "So is throwing families in jail."
Calling all HuffPost superfans!
Sign up for membership to become a founding member and help shape HuffPost's next chapter