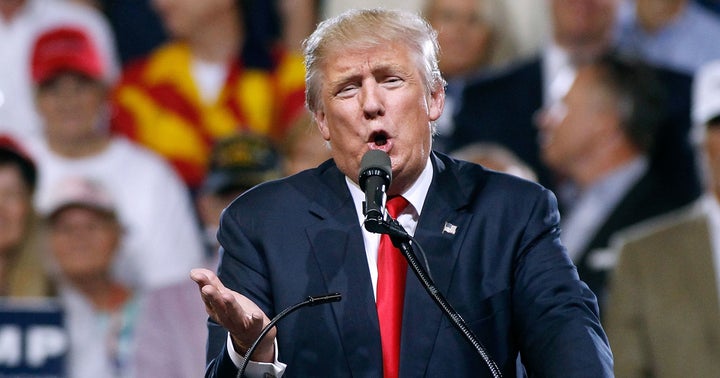 WASHINGTON -- Liberal activist groups are pressuring companies not to sponsor next month's Republican National Convention in Cleveland because of Donald Trump's bigotry.
Apple has apparently decided not to donate to the event, Politico reported Saturday. Trump has feuded with Apple in the past, but the Color of Change political action committee and affiliated groups, including CREDO Action and MoveOn.org, also put pressure on the company to reserve financial support.
Color of Change is now trying to get similar pledges of noncommitment from any other company that might consider supporting the GOP convention, including Amazon and AT&T, PAC spokesman Rashad Robinson said.
He said the group uses direct communication to try to convince companies to back off, then pivots to the petitions, targeted advertising and billboards it deployed in Silicon Valley earlier this year.
"These companies are stuck pretending that their sponsorship won't provide a platform for Trump's dehumanizing hate speech," Color of Change said in an online petition directed at tech companies. Robinson said the effort hadn't been successful with Facebook or Google.
"Donald Trump makes it clear at every turn that he's not going to change his rhetoric," Robinson said.
Apple declined to confirm or comment on its convention plans.
Emily Lauer, a spokeswoman for the Cleveland host committee raising money for the convention, said Apple hadn't previously pledged to support the event. She said only one company has actually backed out so far, but did not specify which one.
"While there have been many reports of who may not be supporting this year's Convention, what's been overlooked is the fact that we have more than 100 donors who are supporting the Host Committee," Lauer wrote in an email. The committee has already raised $57.5 million of its $64 million budget, she added.
Companies that sponsor political conventions typically provide support to both the Republicans and Democrats. Apple didn't donate to either party's convention in 2012, but did lend some hardware. Politico reported it won't do that this year.
Several other firms -- including Wells Fargo and JPMorgan Chase -- don't plan to sponsor either convention this summer, but none specified if they were trying to avoid association with Trump, Bloomberg reported last week. The New York Times reported in March that Coca-Cola would be scaling back its donations to both conventions partly out of concerns over Trump's nasty rhetoric toward minorities.
Amazon doesn't have any plans to give cash to the conventions, said spokeswoman Jill Kerr.
"We are not making a monetary donation to either convention, but will be providing convention coverage for our Fire TV and Twitch customers," Kerr said in an email. It's not clear if the coverage would count as an in-kind contribution.
Federal Elections Commission data show several companies, including Microsoft, Google and AT&T, are providing the RNC with goods and services in exchange for promotional consideration.
AT&T spokesman Michael Balmoris said the company would support both parties' nominating events this summer.
"Our expertise is communications, and we invest and prepare our network extensively for events like these," Balmoris said. "At the same time, we also recognize the important role both conventions play in the functioning of our democracy, and are proud to support them on an impartial basis."
Popular in the Community