 Republican officials delayed the start of the Republican Convention in Tampa on Saturday as Florida braced for Tropical Storm Isaac.
Republican convention officials reiterated their concern for the safety of convention delegates on Saturday on a last-minute conference call with reporters. The delegates would have been bused into downtown Tampa on Monday for a procedural roll call vote.
Bridges linking places like Clearwater and St. Petersburg to downtown Tampa are expected to flood if heavy rains hit the city, making passage extremely dangerous. Officials said the roll call vote would be moved to Tuesday, at approximately the same time.
Despite the severe weather threat, a party for delegates scheduled for Sunday night will go on as planned, and officials confirmed that they have not yet received any cancellations from state delegations.
Organizers of a veterans benefit concert Sunday also confirmed to HuffPost that Lynyrd Skynyrd is still set to lead the musical lineup. The iconic Southern rockers will headline the event, dubbed "Citizens Helping Heroes Presents Southern Tribute IV Honoring America's Heroes." The last time the band played a Republican convention was 2000, when the party nominated George W. Bush.
RNC Chairman Reince Priebus issued the following statement on the decision:
Due to the severe weather reports for the Tampa Bay area, the Republican National Convention will convene on Monday August 27th and immediately recess until Tuesday afternoon, August 28th, exact time to follow.

Our first priority is ensuring the safety of delegates, alternates, guests, members of the media attending the Republican National Convention, and citizens of the Tampa Bay area. RNC Convention officials and the Romney campaign are working closely with state, local and federal officials, as well as the Secret Service, to monitor Tropical Storm Isaac and preserve Florida's emergency management resources. Officials have predicted participants may encounter severe transportation difficulties due to sustained wind and rain.

The Republican National Convention will take place and officially nominate Mitt Romney and Paul Ryan, and the Party has other necessary business it must address. We also are remaining in constant contact with state and federal officials and may make additional schedule alterations as needed.

The Convention staff is working around-the-clock to ensure the delegations housed in storm-impacted areas have alternative housing if needed. The Committee on Arrangements will provide additional information to delegates and alternate delegates who are affected by Isaac by Sunday morning. We will also provide guidance to those delegates and alternate delegates who may encounter travel difficulties due to the storm.

We will begin issuing revised convention programming as early as Sunday.

We have an experienced team that will ensure changes are operationally smooth and create as little disruption as possible. The most important concern is safety, but our Convention program will proceed.
The Lynyrd Skynyrd concert originally intended to kick off the Republican National Convention Sunday night in Tampa has been cancelled due to the threat from Isaac, organizers told HuffPost early Sunday morning.
In a statement, Lynyrd Skynyrd lead singer Johnny Van Zandt said: "We were excited to be participating in the Republican National Convention and the Liberty Plaza concert. With the weather conditions unknown and for the safety of our fans and friends, it is best to cancel the show and not put anyone in harm's way."
The news follows an earlier decision by the RNC to cancel Monday convention events. Isaac is expected to pass by Florida's West Coast on Monday, bringing tropical storm force winds that are likely to produce widespread flooding.
As of Sunday morning, concert organizers said scheduled performances by Trace Adkins on Tuesday, Kid Rock on Wednesday, and Journey on Thursday are moving forward as planned.
CORRECTION: A previous version of this post mistakenly identified St. Cloud as the city mentioned in the call that could be affected by the storm.
Before You Go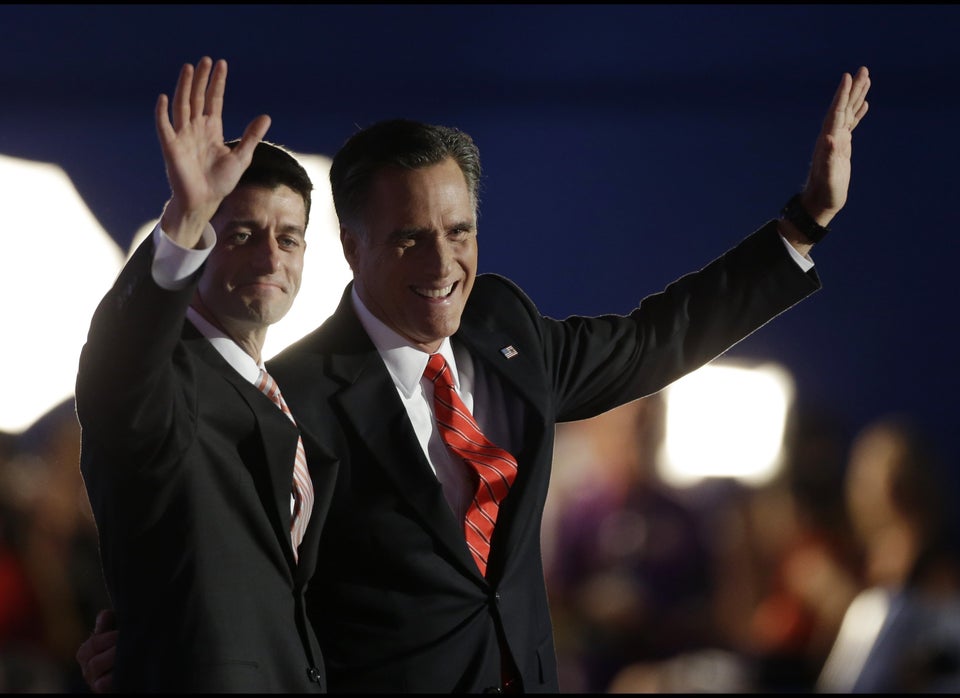 Republican National Convention 2012
Popular in the Community