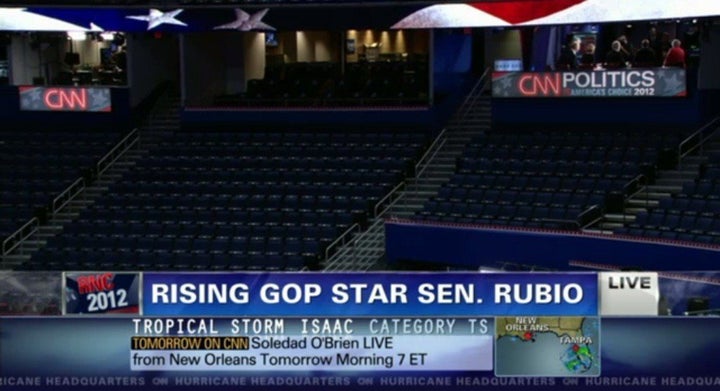 Republicans gathering to formally nominate Mitt Romney in Tampa were forced to grapple Monday with a media that has one eye trained firmly on Tropical Storm Isaac — and that sent several of its biggest stars to cover the extreme weather.
15,000 journalists have traveled down to Florida to cover the Republican convention -- large parcels of media stars on the same plane was not an uncommon sight-- but, as of Monday, they didn't have much to do. The storm had already forced the GOP to cancel the first night of its convention, and has the party worrying about how to get their message out if things get worse. As Reuters noted, "Romney could be robbed of some media attention - or worse, have images of convention festivities juxtaposed with searing split-screen television images of the storm's onslaught if Isaac dominates the news this week."
On Monday, at least, Isaac appeared to be winning. The morning's Washington Post was dominated by a huge picture of ominous waves. "Republicans gather, and so does the storm," a headline read. "All eyes on Isaac," an Associated Press article blared.
The network morning shows reflected the preeminence the storm has taken, leading their programs off with multiple packages of coverage. The choice between a potential hurricane passing through the Gulf Coast and a drama-free, stage-managed convention was a seemingly easy one.
"Isaac is the story of the morning," Robin Roberts observed on "Good Morning America." On "Today," Matt Lauer, who had been sent to Tampa for the Republican gathering, was taping outside the Tampa Bay Times Forum, outfitted in a classic storm-covering windbreaker.
On "GMA" and "CBS This Morning," Diane Sawyer and Charlie Rose reported from an empty convention center. Anchors openly speculated about the potential media schizophrenia.
"They're going to be sharing the screen all week with the possibility of a hurricane hitting New Orleans on the anniversary of Katrina," Stephanopoulos said to Sawyer, who had just shown footage of herself trapped in a howling gust of wind earlier in the day.
On "Today," Lauer asked RNC chair Reince Priebus if he was worried about Isaac competing for headlines with the convention.
"It is what it is," Priebus said. "Our message is still going to be the same ... you have to report on this storm."
There was another more ominous sign for Republicans that Isaac was going to take precedence as the week drew on when CNN announced that two of its biggest names, Anderson Cooper and Soledad O'Brien, were headed to New Orleans to cover the storm's potential effect on the city. Both gained new prominence in 2005 when they reported on the aftermath of Hurricane Katrina.
Sam Feist, CNN's Washington bureau chief, was very direct in a tweet:
Other networks later gave similar signals. Fox News sent Shep Smith to New Orleans, and ABC sent "Nightline" anchor Bill Weir. An NBC executive told the New York Times that it was possible that Brian Williams could be pulled away from Tampa if the storm gets worse. Another executive said to the Associated Press, "expect to see a lot of split screens."
By Monday night, politics was mostly the focus again. But a glimpse at CNN served as a potent symbol of the kind of day it had been: a panel sitting alone in an empty arena, with constant updates on Isaac streaming across the screen.
Before You Go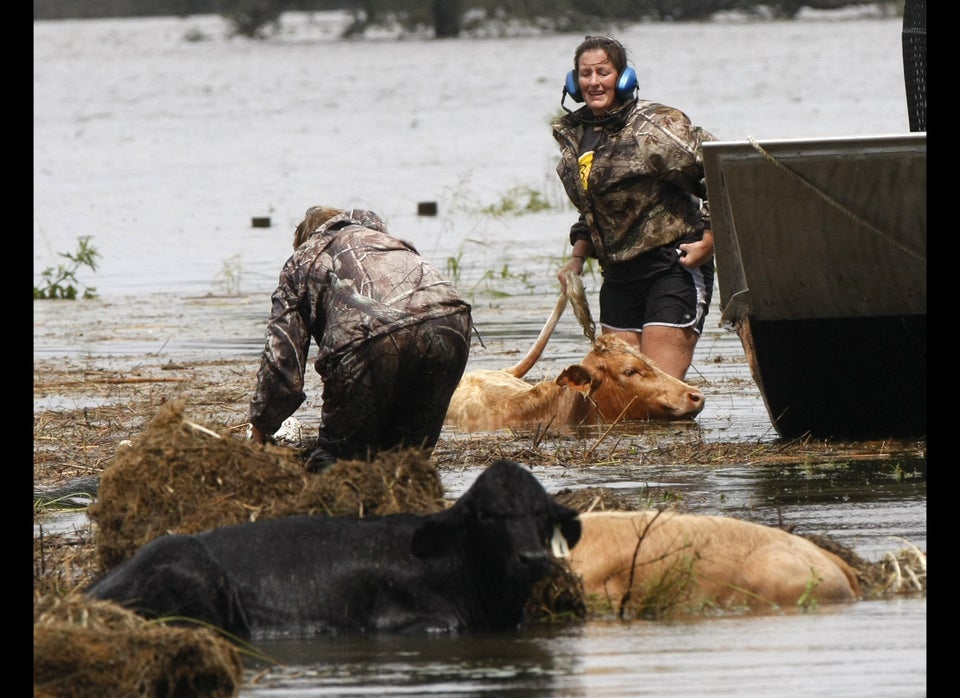 Hurricane Isaac
Popular in the Community