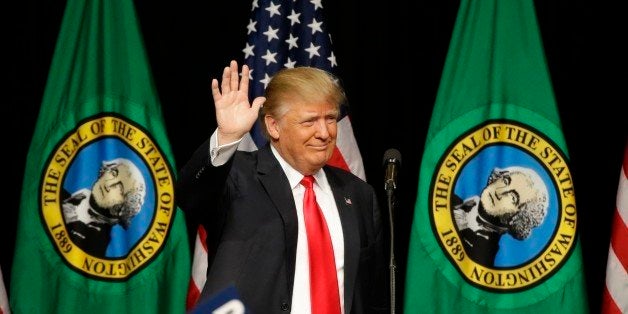 Now that Donald Trump is the presumptive nominee of the Republican Party, many party stalwarts are so upset with the billionaire businessman that they are considering backing an independent party candidate. Others believe that the party will take a such a severe shellacking at the polls in November with Trump that the party could lose control of Congress.
Trump himself put Republicans on notice Sunday in an interview on ABC when he said, "This is called the Republican Party, it's not called the Conservative Party." Trump later added, "I think it would be better if it were unified... there would be something good about it, but I don't think it actually has to be unified in the traditional sense." The question for many Republicans is how can they embrace a candidate who is not a true conservative, and whose extensive use of personal attacks has dragged the campaign into the gutter?
Conservative commentator William Kristol says the answer is don't support Trump. Kristol called Trump unqualified for the presidency, on CNBC Monday, because of his lack "character and temperament." While ruling out voting for Democrat Hillary Clinton, Kristol said, "We don't need a binary choice. The system is set up to allow independent candidates to get on the ballot." Actually, he is misinformed on the last point. For instance, the Texas deadline for independent candidates to file an application to be included on the November ballot is Monday, May 9. And the application, "must contain 79,939 signatures of registered voters who did not vote in the presidential primary of either party."
Kristol met in Washington last week with former GOP standard-barer Mitt Romney to discuss the prospects for a third party candidate. Romney has been critical of Trump's candidacy, but he has said he is not interested in a third party run. The Washington Examiner reported Romney said he currently could not support either party's candidate. Nonetheless, he lamented, "I am dismayed at where we are now, I wish we had better choices, and I keep hoping that somehow things will get better, and I just don't see an easy answer from where we are."
Many establishment Republicans have decided to focus their attention on the down-ballot races that may be jeopardized with Trump at the top of the ticket. Former Florida Governor Jeb Bush, in a statement Friday posted on Facebook, said, "In November, I will not vote for Donald Trump or Hillary Clinton, but I will support principled conservatives at the state and federal levels, as I have done my entire life." Neither his brother or father, both former Republican presidents, will endorse Trump. Trump called Jeb Bush "dishonorable" for reneging on his pledge to support the GOP candidate.
The Trump candidacy has left many incumbent Republican Senators and Representatives squirming. Arizona Senator John McCain, the party's 2008 presidential candidate, is in a tough reelection bid this year in a state with a large Latino population. McCain, perhaps walking a fine line on Trump, told CNN, "You have to listen to people that have chosen the nominee of our Republican Party." He concluded, "I think it would be foolish to ignore them." McCain has stressed he is running his own campaign, but recent polls show he is tied with Democratic opponent Ann Kirkpatrick.
Meanwhile, rhetoric involving Republican House Speaker Paul Ryan has reached the boiling point. Ryan said last week he is not yet ready to endorse Trump. Trump supporter and former Alaska Governor Sarah Palin told CNN she would work to defeat Ryan by supporting his primary opponent in his Wisconsin district. Trump is scheduled to meet with Ryan and other party leaders in Washington Thursday, and he has said he would not rule out removing Ryan as the chair of the Republican Convention.
The ongoing political battles involving Trump and some leading Republicans are taking attention away from the still unresolved Democratic primary. These skirmishes are also unsettling for GOP efforts to raise campaign funds. Do donors put their money behind Trump, or instead only target down-ballot races? Yes, while Trump has "expanded" the party base during the primaries, he has also alienated many traditional Republicans.
All attention now turns to Thursday's high-level meetings in Washington. In his book, The Art of the Deal, Trump writes, "The worst thing you can possibly do in a deal is seem desperate to make it. That makes the other guy smell blood, and then you're dead." So he is going into the meetings with confidence and swagger. Afterward, no doubt, the participants will all say they had a good meeting, and agree to work together to win the White House.
But, given the tenor of the Republican campaign, how can they truly unite? Will a principled conservative do anything it takes to win in November? Of course, this is politics!
REAL LIFE. REAL NEWS. REAL VOICES.
Help us tell more of the stories that matter from voices that too often remain unheard.