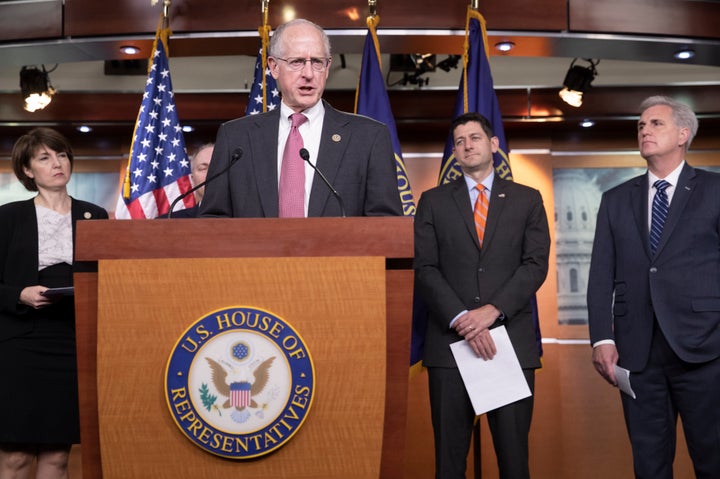 WASHINGTON ― House Republicans look ready to give up on some of their food stamp policy goals.
Rep. Collin Peterson (D-Minn.) said Friday morning that the final version of the so-called farm bill won't have the new training regime that Republicans wanted to add to the Supplemental Nutrition Assistance Program, though there could still be other changes that Republicans sought.
The farm bill has been stuck for months in a conference committee as House and Senate members work out differences between their two versions of the bill. House Republicans have insisted from the start that the tougher work requirements be a part of SNAP. But with a Democratic majority taking over the House, Republicans now seem to believe they had better take whatever they can get.
House Agriculture Committee Chairman Mike Conaway (R-Texas) declined to confirm whether the training program was out, saying only that he hoped a bill would pass soon.
"This system can move at a glacial-like speed, but every once in a while, we go lightning," he said.
Speed of the deal notwithstanding, other lawmakers hinted Friday at the shape of the bill.
Rep. Tom Cole (R-Okla.) said he was "very comfortable" with where Conaway seemed to be going with the negotiations and that the final bill would probably pass with Democratic votes ― unlike the House version of the bill, which passed in June with only Republican votes because Democrats hated its nutrition funding cuts.
"The important stuff for me, honestly, are what happens in the agriculture part of the bill," Cole said.
The farm bill reauthorizes both nutrition assistance and farm welfare, which amounts to about $17 billion annually in payments to farmers through insurance subsidies and reimbursement for crop losses or price drops.
One priority for Conaway has been increased subsidies for certain farm corporations. Just like with food stamps, there are limits on who can get farm subsidies, based on how much money they make. Farmers earning more than $900,000 annually aren't eligible, and for those who are, payments are capped at $125,000 annually per farmer.
The Senate bill would lower the income limit to $700,000, while Conaway's House bill would leave the current limit and actually make it easier for farmer family members and partners in certain corporations to qualify for the full $125,000. Under current law, a corporation counts as one person for subsidy purposes. The proposal would expand eligibility to each partner in certain firms. 
The provision would seem to benefit large companies. Only 5 percent of farm businesses are the type of corporation that would qualify for the new benefits, though such firms are responsible for more than 26 percent of production value, according to the Congressional Research Service.
While there are still quite a few unknowns, one thing became clear for Republicans after the midterm elections: They had better take a deal now before Democrats take back the House.
"We got to get the farm bill done," Rep. Glenn Thompson (R-Pa.) said. "If we could get this one done with some bad modifications, it will be so much better than what will be negotiated under the Democrat majority next year."
Since SNAP already has work requirements, Republicans could abandon their push for stricter rules and instead focus on restricting the ability of states to waive the rules when local unemployment rates are high — a long-standing conservative complaint. They could still win stricter eligibility standards relating to applicants' assets and income. Lawmakers haven't released the final language, and there are many ways Republicans could tighten work requirements without the bill adopting the House language.
Thompson was one of the main architects of the training program, which was key to the stricter work requirements in the House bill. Republicans insisted that anyone subject to the new work rules could fulfill them by enrolling in training, so the bill wouldn't unfairly take anyone's food benefits away. Without training, that talking point would collapse.
"Shame on anyone who doesn't want to give poor hungry families a shot at a little bit of job training that could lead to [better] food security," he said.
Calling all HuffPost superfans!
Sign up for membership to become a founding member and help shape HuffPost's next chapter