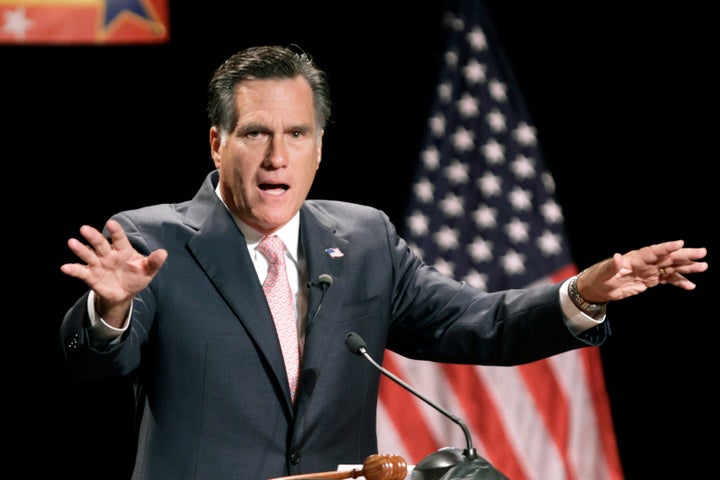 CONCORD, NH -- Mitt Romney's presidential campaign on Sunday disavowed a flyer that claimed he supported "equal rights" for gay citizens and has long been reported to have been distributed by the Massachusetts Republican during his 2002 campaign for governor.
Eric Fehrnstrom, Romney's chief spokesman, told The Huffington Post that the flyers were not official literature from Romney's 2002 run, despite the fact that they include the tag line "Paid for by the Romney for Governor Committee," on the bottom.
"I don't know where those pink flyers came from. I was the communications director on the 2002 campaign. I don't know who distributed them ... I never saw them and I was the communications director," Fehrnstrom said in the spin room after Sunday morning's GOP presidential debate here.
Fehrnstrom said he had no idea who had distributed the flyers. "I never saw them and I never approved them. I'm not quite sure where they came from."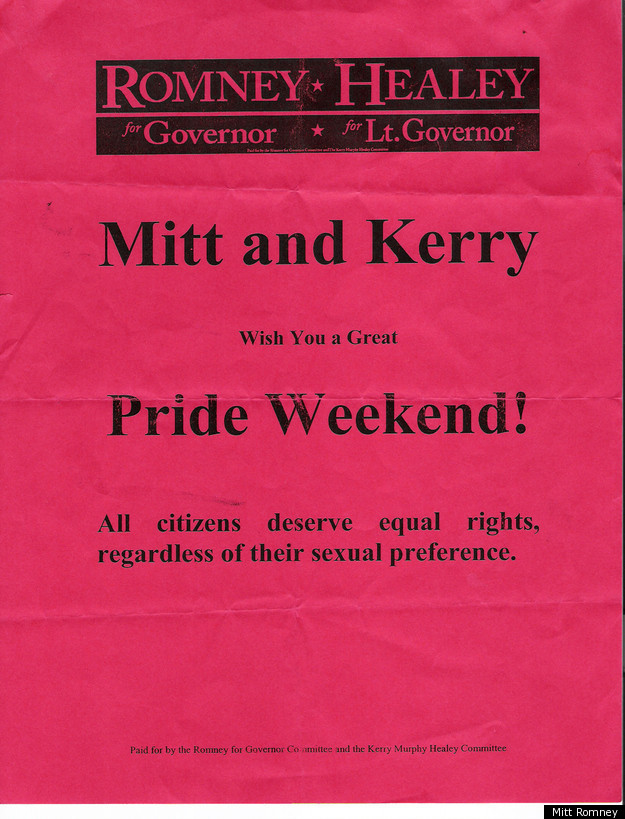 Romney's critics have pointed to the flyer, reportedly disseminated during a gay pride parade in 2002, as evidence that he once presented himself to voters as tolerant of gay rights, on some level. It was referenced repeatedly during Romney's first run for president in 2008 and was again raised on Sunday, when Romney was asked during the debate to clarify his position on same-sex marriage.
"As you know, I don't discriminate," Romney said. "And in the appointments that I made -- when I was governor of Massachusetts, a member of my cabinet was gay. I appointed people to the bench, regardless of their sexual orientation. Made it very clear that, in my view, we should not discriminate in hiring policies, in legal policies.
"At the same time, from the very beginning, in 1994, I said to the gay community, 'I do not favor same-sex marriage,'" Romney added. "I oppose same-sex marriage. And that has been my, my view. But, but if, if people are looking for someone who -- who will discriminate against gays or will in any way -- try and suggest that people, that, that have different sexual orientation don't have full rights in this country, they won't find that in me."
As the New Hampshire primary election has drawn near, the focus has somewhat unexpectedly shifted to cultural issues, with candidates being pressed on everything from marriage rights to contraception during two consecutive debates. All oppose same-sex marriage -- though some object on more moral grounds than others -- and only former Utah Gov. John Huntsman has said he supports civil unions. But Romney, owing to his time in Massachusetts, has found his position more difficult to explain than most.
"[H]e has not been in favor of civil unions, if by civil unions you mean the equivalency to marriage but without the name marriage," Fehrnstrom said. "What he has favored, and he talked about this, I believe, last night, was a form of domestic partnership or a contractual relationship with reciprocal benefits."
Popular in the Community