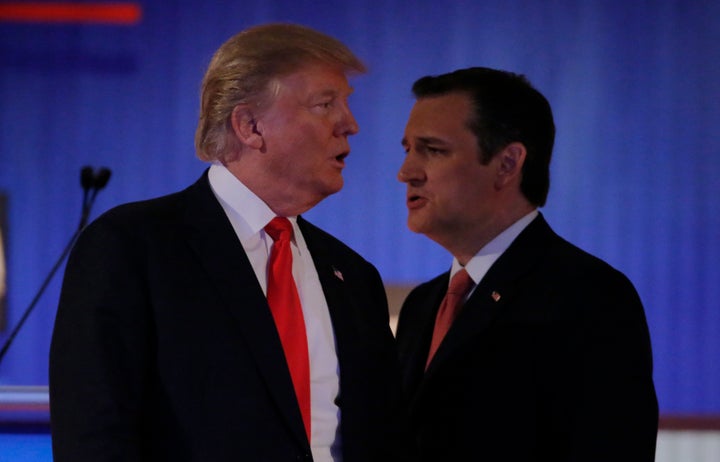 NORTH CHARLESTON, S.C. -- After Mitt Romney's resounding defeat in the 2012 presidential election, the Republican National Committee commissioned a 97-page report that laid out "a path forward for the Republican Party to ensure success in winning more elections."
But its drafters probably didn't envision that the GOP's "path forward" would involve its 2016 presidential front-runner arguing in a nationally televised debate that its second-place contender is ineligible to serve as president.
That is precisely the attack Donald Trump launched against Sen. Ted Cruz (R-Texas) on Thursday night, echoing the Birther 2.0 charge that he's been test-driving lately against his Canadian-born competitor.
"You have a big lawsuit over your head while you're running, and if you become the nominee, who the hell knows if you can serve in office," Trump said to Cruz during one of many memorable exchanges in the debate, which aired on the Fox Business Network. 
That Trump's prodding came across as somewhat routine tells you everything you need to know about the trajectory of the Republican campaign, which has often seemed more like an especially entertaining reality TV show than a campaign for the nation's highest office. Trump is still winning. And none of the other Republican candidates knows how to slow him down.
Moderator Neil Cavuto first broached the citizenship issue with Cruz, who initially tried to wave away the premise, replying sarcastically that he was "glad we are focusing on the important topics of the evening."
But Cruz soon addressed the question seriously, noting that Trump had said in September that there was nothing to the issue of his eligibility to become president and that a commonly held interpretation of the Constitution stipulated that he was qualified to serve as commander-in-chief.
"Since September, the Constitution hasn't changed, but the poll numbers have," Cruz said, ribbing the polling-obsessed GOP front-runner. "And I recognize that Donald is dismayed that his poll numbers are falling in Iowa, but the facts and the law here are really quite clear."
The entire exchange -- as earnest as it was testy -- was merely the latest example of a Republican presidential contest that has only sporadically centered around serious debate on the issues.
Trump said "great constitutional lawyers" like Harvard's Lawrence Tribe had raised questions about Cruz's eligibility, arguing that it should be a concern for Republicans, "even if it was a 1 percent chance" that Cruz would lose a lawsuit on the issue.
"I've spent my entire life defending the Constitution before the United States Supreme Court," Cruz countered. "And I'll tell you, I'm not going to take legal advice from Donald Trump."
The budding Trump vs. Cruz insult exchange escalated later in the debate, when Cruz was asked to defend his assertion that Trump was guilty of harboring "New York values." 
"I think people know exactly what New York values are," Cruz -- who spent his undergraduate years at Princeton before moving on to Harvard Law School -- replied. "Not a lot of conservatives come out of Manhattan. I'm just saying."
"Conservatives actually do come out of Manhattan, including William F. Buckley and others," he said.
And then it was time to reach for an familiar lifeline for politicians who hail from the country's most revered and reviled city. 
"When the World Trade Center came down, I saw something that no place on earth could've handled more beautifully, more humanely than New York," Trump said. "That was a very insulting statement that Ted made." 
There were only five other Republican candidates who qualified to make the main debate, and each of them was eager to leave his own mark in a contest that often threatened to become all about Trump and Cruz.
Florida Sen. Marco Rubio (R) was particularly aggressive all night, dishing out a rapid-fire flurry of rhetorical flourishes, and saving his most cutting attacks on Cruz for the final minutes of the debate.
As Cruz pointed out, Rubio more or less unloaded his campaign's entire opposition research file on the Texas senator, issuing a blinding array of attacks on Cruz's past votes on issues ranging from illegal immigration to crop insurance. 
"That is not consistent conservatism, that is political calculation," Rubio said.
Though he did at one point challenge Trump on his call to ban Muslims from entering the United States, former Florida Gov. Jeb Bush (R) sought mostly to train his fire on Democratic front-runner Hillary Clinton, referencing lingering questions over her use of a private email server while she was secretary of state. 
"She's under investigation by the FBI right now," Bush said. "Her first 100 days, instead of setting the agenda, she may be going back and forth between the White House and the courthouse. We need to stop that." 
In a reminder of how unsettled the GOP race remains, another high-octane exchange featured Rubio and New Jersey Gov. Chris Christie, whose campaigns and super PACs have been battling it out recently over the airwaves in the early-voting states. 
"Unfortunately, Governor Christie has endorsed many of the ideas that President Obama supports," Rubio said.
Christie shot back at the Florida senator, pointing out that a somewhat sanctimonious Rubio had in a previous debate criticized Bush for launching an attack against a fellow Republican because an adviser had told him it would help politically.
"It appears the same someone has been whispering into old Marco's ear, too," Christie said. "I like Marco, too. And two years ago, he called me a conservative reformer who New Jersey needed. That was before he was running against me."
As he has continued to slip from the forefront of the conversation, Ben Carson again appeared to be somewhat of an amiable afterthought in the debate from the moment he joked that he was "going to fall asleep" if one of the moderators didn't call on him. 
Ohio Gov. John Kasich, who has surged into second place behind Trump in a couple recent polls in New Hampshire, largely stayed above the fray, as he projected himself as a sober-minded embodiment of old-fashioned American values.
"So many people in my family worked in steel mills, and they didn't work in a white collar, they worked in a blue collar," Kasich said.
As the debate finally concluded after more than two hours, there was no indication that the overall dynamic of the GOP contest would change when the sun comes up on Friday.
PHOTO GALLERY
Sen. Ted Cruz
Calling all HuffPost superfans!
Sign up for membership to become a founding member and help shape HuffPost's next chapter