Sen. Marco Rubio (Fla.) notched his third strong Republican debate performance last week, largely at the expense of former Florida Gov. Jeb Bush, while Sen. Ted Cruz (Texas) outshone the race's outsider candidates, a new HuffPost/YouGov survey finds.
In the survey -- which includes Republican and Republican-leaning voters who watched at least clips of the presidential debate ("GOP voters," for the sake of brevity) -- a plurality name Rubio the winner.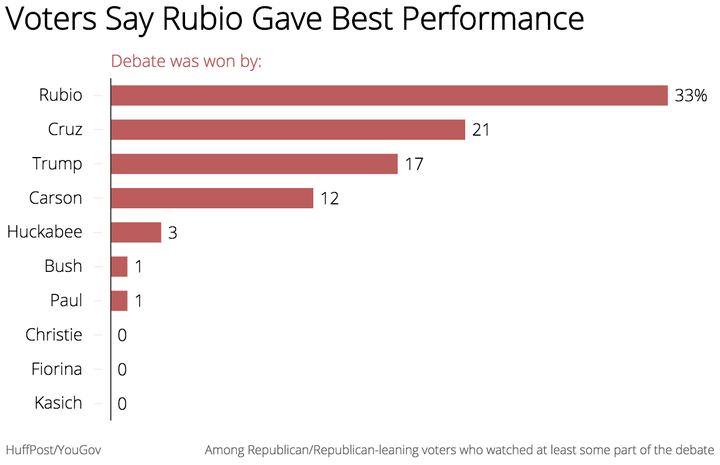 Forty-nine percent of GOP voters say the debate improved their opinion of Rubio, while just 4 percent say it worsened their view of him. Cruz, who made relatively little of an impression in past debates, was the second-most likely to be named as the winner, and also saw the second-highest improvement in voters' eyes.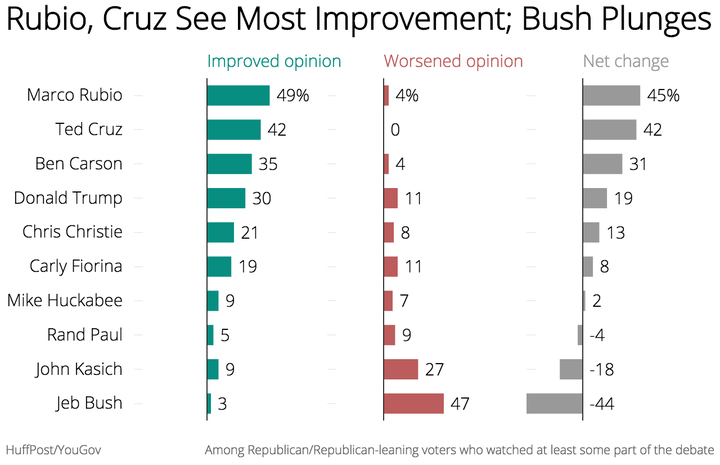 Rubio's success contrasts sharply with the fate of the other two most prominent establishment candidates. Bush, who failed to impress voters much at previous debates, had an especially dire performance this round, with nearly half of GOP voters saying it worsened their opinion of him. His scant speaking time was dominated by a failed attempt to land a jab at Rubio for his record of missing votes.
GOP voters were also dissatisfied with Ohio Gov. John Kasich, with 27 percent saying the debate left them less impressed with him.
Cruz's improvement, meanwhile, stands out against what proved to be a quieter night for his outsider opponents. The first two debates often seemed anchored around a trio of nonpoliticians, with Donald Trump dominating the discussions and Ben Carson and Carly Fiorina seeing substantial image boosts. In the latest survey, though, all three failed to make as much of an impression. While Trump and Carson remain the national front-runners, just a combined 29 percent of GOP voters name either as the winner of the debate. Less than 1 percent name Fiorina.
The other candidates in the primetime debate -- New Jersey Gov. Chris Christie, former Arkansas Gov. Mike Huckabee, and Sen. Rand Paul (Ky.) -- didn't make much of an impression either. Neither did any of the four candidates who participated in the evening's undercard debate: 46 percent of the GOP voters who tuned in say it didn't improve their opinion of any of the candidates who participated, while 50 percent say it didn't make them think less of any of the candidates.
There's reason to be cautious about how much the debate will affect even the candidates who did turn in noteworthy performances. Most GOP voters were similarly enthusiastic about Rubio after the first and second debates, and while his poll numbers have since risen, it's not clear how much of that is tied to his performance at the events. Fiorina, who overwhelmingly took the perceived win in both the first undercard debate and the second primetime debate, saw only a modest bump before her numbers settled back below 5 percent.
Viewership also dropped off significantly in comparison to the first two debates -- about 14 million people watched, according to CNBC, compared to the 24 million and 23.1 million who tuned in for the first two debates on Fox and CNN, respectively. While two-thirds of all Republican and Republican-leaning voters say they saw at least clips of the primetime debate, just 32 percent report watching the entire debate, down from 40 percent for the first debate and 38 percent for the second.
Those who did watch were mostly unhappy with CNBC's handling of the debate, which was heavily criticized both by the Republicans onstage and by the RNC following the event. Eighty-one percent of GOP voters say they disapproved of CNBC's moderation. In comparison, just 49 percent disapproved of CNN's moderation of the second debate, while 35 percent disapproved of Fox's handling of the first debate.
Still, nearly nine in 10 GOP voters say they're looking forward to the next one.
The HuffPost/YouGov poll consisted of 1,000 completed interviews conducted Oct. 29-Nov. 2 among U.S. adults, using a sample selected from YouGov's opt-in online panel to match the demographics and other characteristics of the adult U.S. population.
The Huffington Post has teamed up with YouGov to conduct daily opinion polls. You can learn more about this project and take part in YouGov's nationally representative opinion polling. Data from all HuffPost/YouGov polls can be found here. More details on the polls' methodology are available here.
Most surveys report a margin of error that represents some, but not all, potential survey errors. YouGov's reports include a model-based margin of error, which rests on a specific set of statistical assumptions about the selected sample, rather than the standard methodology for random probability sampling. If these assumptions are wrong, the model-based margin of error may also be inaccurate. Click here for a more detailed explanation of the model-based margin of error.
Popular in the Community