Both Democrats and Republicans are largely content with their parties, a new HuffPost/YouGov survey finds. Democrats, however, are divided on how they'd like to see their party change ideologically, while a narrow majority of Republicans hopes to see the GOP become more conservative.
Among Democrats and independents who lean toward the Democratic Party, 45 percent say the party has stayed the same ideologically over the past few years, while 33 percent say it has become more liberal. Another 9 percent think it's become less liberal, with the rest unsure.
They're split on how they want the party to look in the future, with 35 percent saying they'd like to see the party and its candidates become more liberal, 33 percent that they want it to stay the same, and 17 percent that they'd like it to become less liberal.
Self-described liberals, and those who consider themselves to be strongly affiliated with the Democratic Party, are the most likely to say they'd like to see Democrats chart a more liberal course. Younger and college-educated Democrats are also modestly likelier than their compatriots to say they'd like to see the party become more liberal.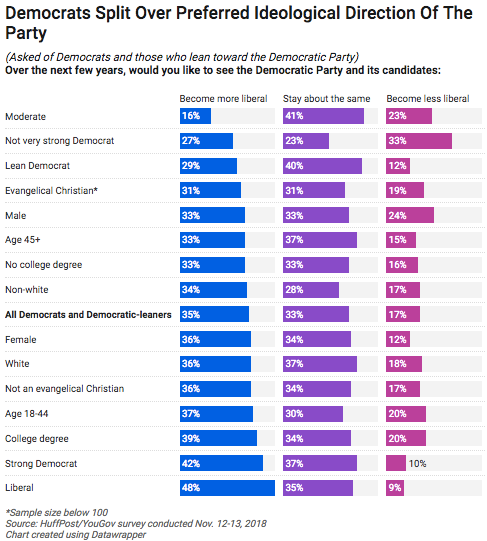 A slim majority of 53 percent of Republicans and Republican-leaning independents say their party's ideology hasn't changed over the past few years. A similar 52 percent, however, say they'd like to see the GOP become more conservative in the future, with 31 percent hoping it remains the same and just 8 percent rooting for the party to become less conservative. Self-described conservatives, evangelical Christians and those over the age of 45 are the likeliest to endorse a move to the right; younger members of the party are considerably less likely to do so.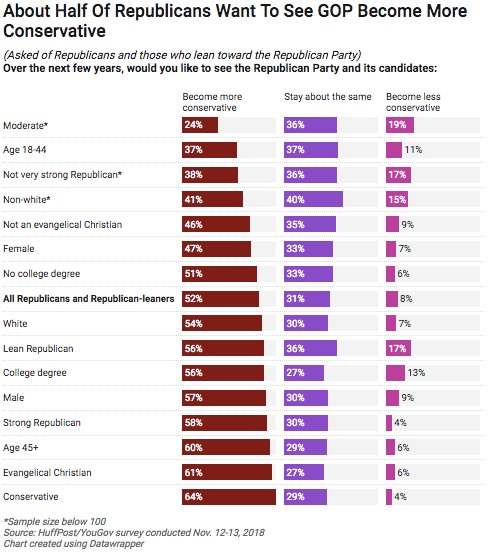 Regardless of their preferred ideological direction, members of both parties largely say they're happy with their representatives and optimistic about the future. Three-quarters of Democrats and Democratic-leaning independents say they're either satisfied with or enthusiastic about the politicians from their party who currently hold elected office, with an identical share of Republicans and Republican-leaning independents saying the same about the GOP. Seventy-two percent on the Democratic side and 73 percent on the Republican side say they're at least satisfied with the way the future looks for their party.
For Democrats, those results represent a marked improvement from a poll taken two years ago. In the aftermath of Donald Trump's presidential victory, barely half of that group said they were satisfied with the party's future. The GOP's numbers, by contrast, have remained more stable.
Sixty percent of Democrats and those who lean Democrat currently say their party is more united than it is divided, while 46 percent of Republicans and those who lean Republican say the same.
Use the widget below to further explore the results of the HuffPost/YouGov survey, using the menu at the top to select survey questions and the buttons at the bottom to filter the data by subgroups:
The HuffPost/YouGov poll consisted of 1,000 completed interviews conducted Nov. 12-13 among U.S. adults, using a sample selected from YouGov's opt-in online panel to match the demographics and other characteristics of the adult U.S. population.
HuffPost has teamed up with YouGov to conduct daily opinion polls. You can learn more about this project and take part in YouGov's nationally representative opinion polling. More details on the polls' methodology are available here.
Most surveys report a margin of error that represents some, but not all, potential survey errors. YouGov's reports include a model-based margin of error, which rests on a specific set of statistical assumptions about the selected sample rather than the standard methodology for random probability sampling. If these assumptions are wrong, the model-based margin of error may also be inaccurate. Click here for a more detailed explanation of the model-based margin of error.
Popular in the Community