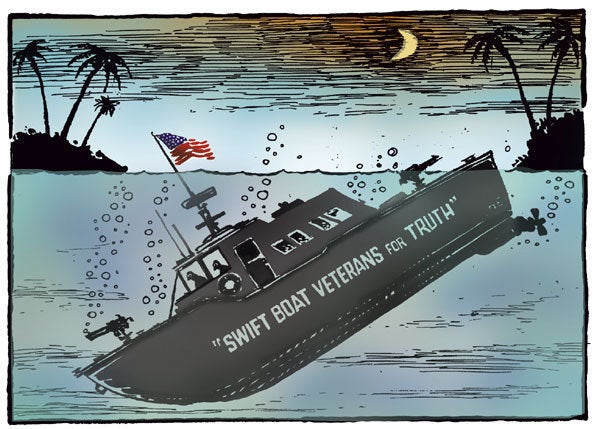 In 2002, a shady Republican front group spent millions of dollars attacking Democratic Senate candidates across the country, including Paul Wellstone (D-MN). The group, Americans for Job Security (AJS), registered as an "issue advocacy" group, even though election laws prohibit such groups from electioneering for or against candidates. AJS's ability to skirt election laws allowed the group to take corporate contributions and hide the identity of its donors. The group spent an estimated $8.5 million nationwide against Democratic candidates in the final weeks of the 2002 election.
In Minnesota, AJS spent $1 million on ads calling Paul Wellstone a "money grubber" and accusing him of "taxing the dead." In the last days of his life, Paul traversed Minnesota denouncing AJS's illegal attacks and calling on the group to reveal its donors. I had the privilege of working for Paul Wellstone then. He was determined to stop a Virginia-based organization from buying Minnesota's election with attack ads. He knew that AJS had been started with funding from the big insurance companies and that their secret donations came from big corporate special interests trying to stop his progressive agenda.
Click here to see rare video of Paul Wellstone talking about the AJS attacks just a few days just a few days before he died.
Paul wasn't the only candidate AJS targeted in 2002. They spent another $1 million attacking Jeanne Shaheen in New Hampshire. This year, they are targeting Shaheen again in her rematch with John Sununu. It's only July and already AJS has poured an estimated $261,000 thus far into the Granite State to attack Shaheen as a big taxer. The fact that New Hampshire had the lowest tax burden in the nation the entire time Jeanne Shaheen was governor never gets a mention.
The Shaheen-Sununu rematch is one of the most important in the country. It's the Democrats' best chance of knocking off an incumbent, but more importantly, it is an opportunity to increase the number of progressives in the U.S. Senate. I have the privilege of working for Jeanne Shaheen now and I know that she and Sununu have opposing views on almost every issue: she is pro-choice, he is pro-life; she wants to end the war in Iraq, he's voted down the line with Bush to keep it going; she opposes tax subsidies to oil and gas companies, he votes to protect them; she supports the right of workers to organize, he votes to dismantle worker rights; she advocates a new energy policy to combat global warming, Sununu says "the science is still out" on climate change and accepts hundreds of thousands in corporate oil and gas campaign contributions. Make no mistake about it: Shaheen's progressive agenda is the real reason why AJS and the corporate special interests are lining up against her.
AJS is up to its old tricks, calling itself an "issue advocacy" group to hide the identity of its donors. Just as the Wellstone campaign did in 2002, the New Hampshire Democratic Party has filed a complaint against AJS with the Federal Election Commission (FEC) laying out a solid case as to why the group is in clear violation of election law. The NHDP complaint will join a similar complaint filed against AJS by the government watchdog group, Public Citizen. But, while the FEC takes its time, the attacks keep coming.
It's time to demand that the FEC enforce its own laws. In 2002, the Commission allowed ads calling Paul Wellstone a "money grubber" to pass as "issue advocacy" and in doing so allowed AJS to continue peddling its trash to this day. Paul was outraged by those ads and by this group. And so are we. Join us in demanding -- as Paul Wellstone did -- that these shadowy groups be stopped.
Popular in the Community