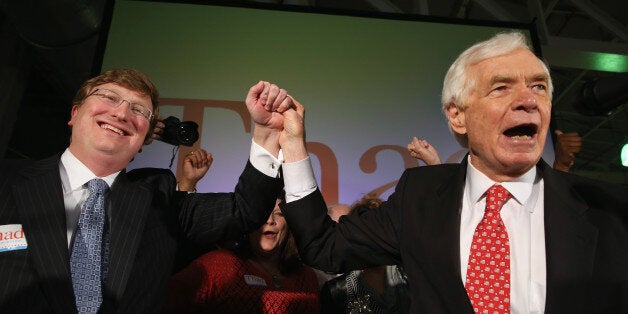 WASHINGTON -- The soft-spoken, mild-mannered Republican operative opened his mouth, and out came knives.
Rob Collins, executive director of the National Republican Senatorial Committee, sat at a long table with the heads of the other four Republican Party committees during a Wednesday press conference. All five committees have had to fight like hell over the past decade to remain as relevant as they were before new campaign finance laws led to an explosion of outside groups less hindered by restrictions on donations.
During the press conference, called largely to allow the committee heads to pound their chests about the fall campaign, Collins was asked about the influence of outside groups.
He criticized what he described as "the for-profit conservatives based here in Washington, D.C." He didn't name any groups, but everyone knew that chief among his adversaries was the Senate Conservatives Fund, a political action committee started by then-Sen. Jim DeMint (R-S.C.) and now run by former Virginia Attorney General Ken Cuccinelli, who lost a gubernatorial bid in November.
"We're never going to get along with them," Collins said. "It's not consistent with their bottom line to get along with us."
It was an insult aimed squarely at the SCF and its leadership, including executive director Matt Hoskins, a former DeMint staffer who was torched in very personal terms by Sen. Richard Burr (R-N.C.) in a Politico article this past January. Burr accused Hoskins of attacking Republicans, branding sitting GOP lawmakers as not conservative enough, because it was the best way for Hoskins to enrich himself.
As it turns out, though, the insurgent group's bottom line -- they have raised $17 million over the last 19 months -- is not the only thing profiting from attacks on the establishment.
Since the SCF launched a campaign last December to "defund" the NRSC, the senatorial committee has raised what it says is a record amount -- $38.3 million through June. That's a total of $34.3 million in 2014, plus the committee's total of $4 million in December.
The 2014 haul is just $2 million short of the committee's total for 2013. And it easily puts the committee on track to surpass what it raised in 2010 and 2012, the last two election years.
In both 2010 and 2012, the NRSC was hoping to take control of the Senate, just as it is now. The committee's intake for 2010 was $64.2 million, while in 2012 it raised $64.9 million, according to the committee's own numbers. This year, it's projecting a sum of "approximately" $70 million.
Combined with 2013 fundraising, the committee is already at $70 million for the two-year cycle, having raised roughly $6 million in June. That still falls short of the Democratic Senatorial Campaign Committee, which has raised $95.8 million in 2013 and 2014 so far.
The NRSC also raised the most money online of any day this year -- in small-dollar donations -- on June 25, the day after a runoff election between Sen. Thad Cochran (R-Miss.) and tea party challenger Chris McDaniel. Cochran's win provoked complaints from McDaniel supporters that black Democratic voters had turned out for Cochran en masse, leading to charges of voter fraud.
SCF gave $70,000 to a fund challenging the election results in Mississippi and launched a fundraising drive this week targeting what they have dubbed the "Shameful Seven," a group of seven Republican senators who gave money to Cochran's super PAC.
Update: "Our fundraising has more than doubled since Mitch McConnell vowed to 'crush' conservatives everywhere," Mary Vought, a spokeswoman for SCF, told The Huffington Post. "As long as the Republican establishment puts power over principle, our members will continue to fight to replace them with true conservatives."
An SCF official also quibbled with the NRSC's timeline. The December e-mail to supporters about defunding the NRSC only described "a poll of our members, not something we called for," according to the official. The drive to defund the NRSC didn't actually begin until late June of this year, the official said.
Calling all HuffPost superfans!
Sign up for membership to become a founding member and help shape HuffPost's next chapter
BEFORE YOU GO
PHOTO GALLERY
Conservatives Pointing Fingers