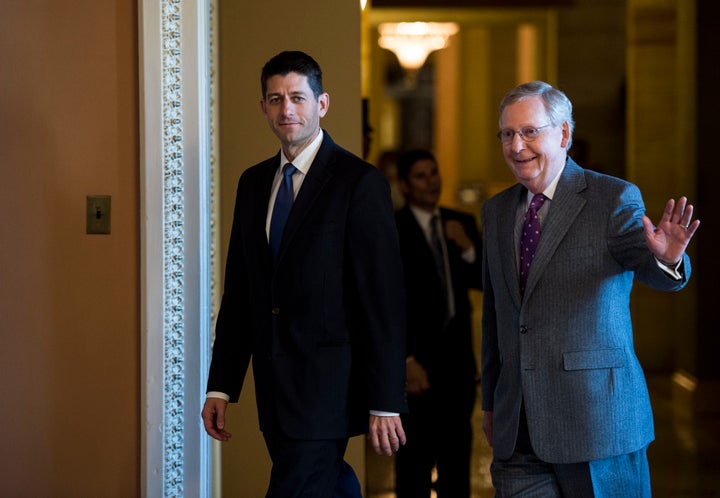 WASHINGTON -- Three days after terror attacks hit Paris, top Republicans in Congress threatened to exhaust all legislative tools at their disposal to stop the resettlement of thousands of Syrian refugees into the U.S.
Newly elected House Speaker Paul Ryan (R-Wis.) said he would consider attaching a measure to halt the flow of refugees to an omnibus government funding bill that needs to pass Congress by Dec. 11. Doing so would complicate efforts to meet the deadline, and increase chances of a government shutdown just days before Congress plans to recess for the holidays.  
Citing the Paris attacks as a reason to re-evaluate the administration's policy on Syrian refugees, Ryan talked about one of the assailants in particular, who appeared to have traveled through Greece in October on his way to France. Reports indicate that the passport of a Syrian refugee was found near the body of the attacker, and the Greek government confirmed it was used by someone to pass through Leros, Greece.
"We've always been a generous nation taking in refugees, but this is a unique situation. This is a situation where you have single men coming over," Ryan said in an interview on Bill Bennett's "Morning in America."
Ryan said he is directing all of the relevant committees in the House to "come up with recommendations" on how they can "immediately" address the situation.
"So we are looking at all of our options," Ryan said, including attaching a measure restricting the administration's plans to admit Syrian refugees to the year-end government funding bill. "What matters to me is not only do we prevent people from coming in, but we don't bring them in. We've got to make sure we are protecting ourselves and so that is what we are looking at, what is the best option -- which is making sure that we are not complicit or even facilitating of having someone come in who would come to do us harm from Syria."
Obama stood by his plan despite the increasing pushback from Republicans in the wake of the Paris attacks -- which the Islamic State, also known as ISIS, took credit for -- charging that "slamming the door in [refugees'] faces would be a betrayal of our values."
But in Washington, calls for House leadership to act piled up. Rep. Mark Meadows (R-N.C.), a member of the conservative House Freedom Caucus, said it's "critical" the State Department "reconsider its plans to allow thousands of Syrian refugees into the country at this time."
Obama has said the U.S. plans to take in 10,000 Syrian refugees this fiscal year. All would have to undergo security screenings that take 18 to 24 months.
"If the State Department fails to halt the program at this time, Congress must take measures to at least temporarily restrict funds to block the refugee program," Meadows said in an email to The Huffington Post.
Rep. Walter Jones (R-N.C.) echoed that sentiment, urging Ryan and the chairman of the House Appropriations Committee, Rep. Hal Rogers (R-Ky.), to block funding for refugees in the upcoming budget battle. 
"As you know, the president recently announced that he intends to annually allow 100,000 individuals into America through this program, many of them radical Muslims from the Middle East," Jones wrote in a letter to Ryan on Monday. (The administration has said it would admit 85,000 refugees total for the fiscal year, 10,000 of which would be Syrian.)
Jones added that given the recent "terrible slaughter of innocent civilians" by terrorists in Paris, he "will not vote for any bill that provides funding for the Obama administration's dangerous" resettlement plan.
On the other side of the Capitol, Sen. Jeff Sessions (R-Ala.) is pushing a similar agenda, encouraging his colleagues to make sure the omnibus spending bill includes a provision requiring congressional approval for the president's refugee resettlement program.
Sessions also wants to require that the administration fully offset the costs, and identify foreigners admitted into the U.S. as refugees since 2001 who have since been involved in crime or terrorism.
"The barbaric attacks in Paris -- an assault on civilization itself -- add immense new urgency," Sessions wrote in a letter to the Appropriations Committee on Monday.
All the senators running for the Republican presidential nomination -- Rand Paul (Ky.), Lindsey Graham (S.C.), Marco Rubio (Fla.), and Ted Cruz (Texas) -- also called for a stop to admitting Syrian refugees due to the Paris attacks. 
Leaders on Capitol Hill are facing additional pressure from Republican governors who came out one by one on Monday against admitting refugees to their states.
Florida Gov. Rick Scott (R) wrote to Ryan and Senate Majority Leader Mitch McConnell (R-Ky.) directly, asking them to take "immediate and aggressive" action to block funding for the refugee program.
"It is our understanding that the state does not have the authority to prevent the federal government from funding the relocation of these Syrian refugees to Florida even without state support," Scott admitted.
Piling on, Republican presidential candidate Mike Huckabee called out the new House speaker on Twitter.
Matt Fuller contributed reporting.
PHOTO GALLERY
Inspiring Reactions To Paris Attacks
REAL LIFE. REAL NEWS. REAL VOICES.
Help us tell more of the stories that matter from voices that too often remain unheard.