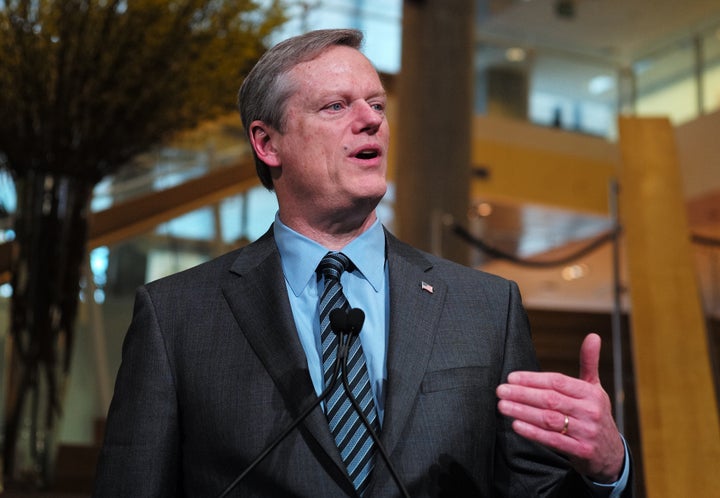 Three Republican governors have called for the GOP-controlled Senate to slow down Brett Kavanaugh's nomination to the Supreme Court, and a fourth has called the accusations against him "disturbing." 
Three women have now come forward to accuse Kavanaugh of sexual abuse and misconduct while he was in high school and college. The first of those women ― Christine Blasey Ford, a psychology professor who says Kavanaugh assaulted her when they were both high school students in suburban Maryland ― is testifying before the Senate Judiciary Committee on Thursday. A fourth anonymous accusation was sent to Colorado Republican Sen. Cory Gardner. 
The Senate Judiciary Committee has tentatively scheduled a vote on Friday, meaning the full Senate could confirm Kavanugh early next week. Three GOP governors ― John Kasich of Ohio, Charlie Baker of Massachusetts and Phil Scott of Vermont ― said that vote should be delayed until all of the victims' claims can be throughly investigated.
Baker and Kasich both weighed in on Twitter. Baker described the allegations as "sickening" and said there should be no Senate vote until an independent investigation is complete.
Kasich, who is in his final year as governor and is widely seen as a potential long-shot primary challenger to President Donald Trump in 2020, went further in his own statement, saying he would not support Kavanaugh's confirmation "in the absence of a complete and thorough investigation."
"This is a lifetime appointment," he said. "And I'm not taking a position on Judge Kavanaugh himself, but we owe it to Americans to make sure that they get it right. Because this doesn't happen every day. And it's their obligation to do so. So take your time. Investigate."
Another GOP governor called for the Republicans to slow down the nomination process to allow for more investigations without explicitly calling for a delay. Maryland's Larry Hogan told The Baltimore Sun on Tuesday the accusations were "disturbing" and gave him "great pause." 
"There are credible charges and big concerns. They need to be heard," he said after an event in Montgomery County. "They ought to take whatever time it takes to make sure these accusers are heard and he has a chance to respond to them."
Hogan, Scott and Baker, who all represent blue states and are up for re-election in 2018, are among the nation's most popular governors, with approval ratings regularly topping 60 percent. Baker is considered a near-lock for re-election ― a poll released this week showed him with a 40 percentage point lead over his Democratic opponent ― and Hogan and Scott are considered heavy favorites over their Democratic opponents, Ben Jealous in Maryland and Christine Hallquist in Vermont.
In a statement, Maryland Democratic Party Chair Kathleen Matthews said Hogan should join his fellow GOP governors in calling for Senate Republicans to delay the vote.
"Dr. Blasey Ford's accusations against Brett Kavanaugh are credible and extremely disturbing, and Governor Hogan should display the courage of fellow Republicans like John Kasich and Charlie Baker, who are calling on Senate Republicans to delay a vote on his nomination," she said. 
Calling all HuffPost superfans!
Sign up for membership to become a founding member and help shape HuffPost's next chapter