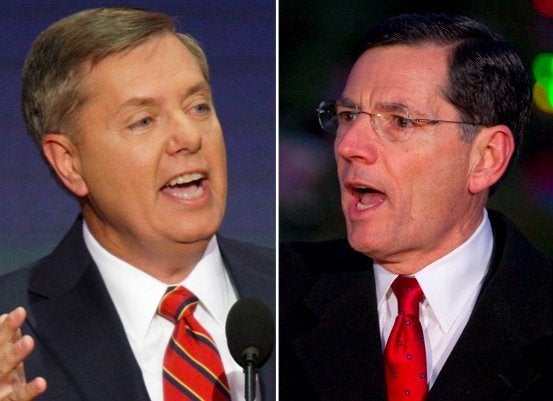 WASHINGTON -- A bill introduced by two Republican senators on Tuesday would allow states to opt out of the requirements enacted by last year's health care overhaul without instituting any additional reforms or meeting minimum-coverage standards
Sens. John Barrasso (R-Wyo.) and Lindsey Graham (R-S.C.) have cosponsored legislation that the Graham said, in a video posted to his YouTube channel, would "give every state the ability to opt out if they choose."
"It is a way to repeal and replace Obama health care with you, the average everyday citizen ... having a say about what you would like to see happen," the South Carolina Republican said. "My goal is to replace this bill with something better. Opting out is a form of repeal and replacement."
The opt-out idea is not unique. The 2010 health care law actually contains a provision that would allow states to exempt themselves from the law's requirements starting in 2017. Sens. Ron Wyden (D-Ore.) and Scott Brown (R-Mass.) cosponsored a measure to move that date up to 2014, but that bill has yet to get a vote. In the meantime, Vermont's congressional delegation has begun the process of using this provision to implement a single-payer system.
What sets Graham and Barrasso apart is that under their approach, states wouldn't have to institute their own sets of reforms before leaving the federal system. With the current law or the Wyden-Brown alternative, the Health and Human Services secretary could grant a waiver.
"The bill leaves health care decisions up to the states, who understand the health care needs of their people better than Washington," said Emily Lawrimore, a spokesperson for Barrasso.
"Right now you have to get a waiver from HHS," said Graham, during a press conference introducing the legislation. "Our bill says you can chart your own destiny. You don't have to go back to the HHS."
Allowing states to simply go their own way on health care reform undoubtedly appeals to those suspicious of broad federal authority. Former Massachusetts Gov. Mitt Romney has implied that state governments best know the needs of their constituents and should therefore be granted primary responsibility over health-care policy (in his case, he settled on Obama-style reform while governor).
But under Obama's law, states will -- eventually -- have latitude to implement policies as they see fit, chief among them the structuring of health insurance exchanges.
And while Graham might argue that the pure opt-out clause is the equivalent of repealing and replacing Obama's bill, the likely end result of his legislation would that a good chunk of the country simply fails to push any additional reform.
"It looks like what they are introducing is a straight-up opt-out which would allow states to gut the law without implementing anything in its place," a top Democratic Senate aide said.
Calling all HuffPost superfans!
Sign up for membership to become a founding member and help shape HuffPost's next chapter