WASHINGTON ― Republicans think they have a better way to organize the individual health insurance market and deal with people who are already sick: throwing them a sad pool party.
The health care bill Republicans passed in the House earlier this month would allow states to opt out of the protections that the Affordable Care Act, or "Obamacare," established for people with pre-existing medical conditions, but only if they set up so-called "high-risk pools" instead. These pools would accept people who are considered "risky" to insurance companies because their health histories suggest their future medical claims will cost the companies a lot of money.
It's not a new concept. High-risk pools have existed since the 1970s and were in operation in 35 states when the Affordable Care Act became law in 2010. They've never had a ton of funding, and only insured about 220,000 people when they were phased out ― which is far fewer than the estimated 25 million with pre-existing conditions and no insurance.
House Speaker Paul Ryan touted his state's version as an example earlier this month. "In Wisconsin, we had a really successful high-risk pool," said Ryan, adding that 10 percent of Wisconsinites on the individual insurance market bought plans from the pool, which was called the Wisconsin Health Insurance Risk Sharing Plan.
"They could go to any doctor or any hospital they wanted. And their premiums and co-pays were cheaper than they are under Obamacare today."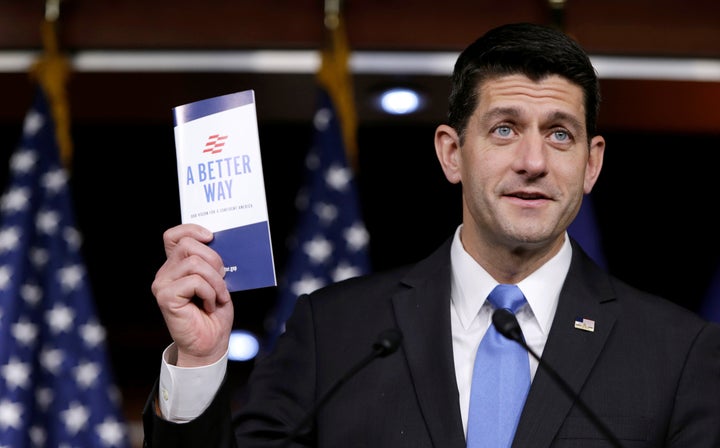 The Wisconsin pool covered about 20,000 people each year before it folded as the Affordable Care Act's subsidies and protections for individual health insurance consumers took effect in 2014. The program had some shortcomings. Its typical enrollee had a $5,000 deductible ― the amount they would have to pay before their plan would begin to cover claims ― and lifetime benefits were capped at $2 million, according to the National Association of State Comprehensive Plans. Wisconsin, like many other states with these high-risk pools, required new enrollees to wait six months before the program paid claims relating to pre-existing conditions, as a way to limit expenses.
Sue and Dan Wilson of Appleton, Wisconsin, had to use the state's high-risk pool in 2011, after Dan retired from his job as a journalist at a local paper. Dan has high blood pressure, and Sue has diabetes. They searched for an affordable plan on the private market, but were rejected ― even for policies charging as much as $1,200 a month. They found they could get coverage through the Wisconsin Health Insurance Risk Sharing Plan for about $800 a month.
But they could only afford one policy ― two was too expensive. Sue enrolled, while Dan went without insurance for about a year ― and even then, they had to dip into their savings to pay for it until they both were able to qualify for Medicare in 2012.
"It was better than nothing," said Sue Wilson in an interview. "I had insurance and my husband had no insurance. It was scary."
Wisconsin's high-risk pool brought in $104 million in revenue from premiums in 2011 and paid out $178 million, which was typical for these programs more broadly ― losses in state pools across the country amounted to $1.2 billion that year, even with premiums that could be twice as high as market rates. States tried to make up the difference by imposing fees on insurance companies, and Congress chipped in with millions of dollars through occasional grants over the years, according to the Congressional Research Service.
"I had insurance and my husband had no insurance. It was scary."
The details of the GOP's American Health Care Act are still sketchy, even after the House voted to send the legislation to the Senate. But its basic idea is to funnel an unprecedented amount of federal money into new state high-risk pools ― as much as $138 billion over 10 years ― though the legislation doesn't say that states actually have to use that cash for the pools. Just last year, Ryan proposed only $25 billion for the policy.
During a hearing in February ― one of only a few hearings held on what eventually became the House legislation ― Wisconsin's deputy insurance commissioner testified that when the state's high-risk pool closed, premiums for everybody else in the state went up because the pool's 20,000 enrollees were put on the state's individual insurance market with healthier people.
"Wisconsin insurers were quickly faced with an uncertain influx of individuals with serious health conditions," deputy insurance commissioner J.P. Wieske said in his written testimony.
The Republican bill would allow states to resegregate those sicker customers in pools, though it's unclear if $138 billion in federal funds would be enough to subsidize states' costs. The liberal Center for American Progress estimated that Republicans would need to throw another $200 billion into the state pools over 10 years just to cover 3 percent of the 31 million people currently insured in small group and individual markets. A 2014 study said creating a national high-risk pool that covered 15 million people would cost $178 billion per year.
Both those estimates reflect what it would cost for high-risk pools to be effective in every state; Republicans say this is unfair because their legislation merely gives states the choice of creating such pools in lieu of Obamacare's requirement to cover people with pre-existing conditions without charging them higher premiums. It's not clear how many states would seek a waiver from Obamacare in order to do so.
"I think they're going to be under tremendous pressure from their insurance industry to get one of these waivers," Sabrina Corlette, an expert with Georgetown University's Center on Health Insurance Reforms, said in an interview. She pointed out that the Republican bill would also remove the Obamacare requirement that everyone either buy insurance or pay a penalty ― meaning insurance companies would probably lose some of their healthier, less expensive customers.

Given the uncertain funding, Corlette said states that do set up pools would probably look for ways to control costs through measures like imposing lifetime limits on benefit payouts and waiting periods for people with pre-existing conditions.
"It's just an incredibly inefficient way and frankly fiscally irresponsible if the goal is truly to provide a safety net for people with pre-existing conditions," Corlette said.
Congress tried to do high-risk pools on a large scale once before ― when it passed the Affordable Care Act in 2010 ― and the example isn't encouraging. The Pre-Existing Condition Insurance Plan, as it was known, operated in every state, even in states that already had their own pools. Democrats intended the program to serve as a stopgap measure for sick people before Obamacare's insurance reforms took effect in 2014. It also served as the clearest demonstration of how hard it is to predict what will happen with a high-risk pool.
The $5 billion plan didn't exclude coverage for pre-existing conditions, but it only accepted applicants who'd been uninsured for at least six months. The Obama administration figured a few hundred thousand would enroll, but only about 100,000 did ― and their claims were so expensive that the administration closed the program to new enrollment a year early.
For the people who do get insurance from high-risk pools, though, the programs can be lifesavers.
Jill Morin of Raleigh, North Carolina, spent about six months uninsured after her husband's company, which provided insurance for their family of four, went out of business in 2011. Morin, a real estate agent, has heart disease and had suffered cardiac arrest in 2009. She assumed nobody would sell her a policy they could afford on her commissions.
"I couldn't sleep at night," Morin, 46, said in an interview. "I was so scared of what might happen to me it also affected my performance in my job."
When she found out North Carolina had a risk pool that offered premium subsidies for people with low incomes, she signed up immediately. At first, she was thrilled, but after paying about $600 in premiums per month, and not coming close to meeting her deductible, she was less thrilled.
"It just didn't make sense," she said. (Morin's husband has since obtained a new job that provided health insurance.)
Jeanette Hauser, 60, also heard about the North Carolina pool, which she thought sounded pretty good. There was just one problem: She lived in Arizona.
She had previously had insurance through a statewide business association that allowed her to buy into a costly group plan, but the association announced it was going to stop offering it in 2013. She had a seizure disorder she controlled with medication, the result of a rare autoimmune disease, and knew she wasn't going to have an easy time finding private insurance in Arizona.
"I spent approximately 60 days putting together a spreadsheet, trying to figure out which state would allow me to get insurance by one technique or another," Hauser said.
She and her husband decided to move to Raleigh, where she could apply for the state's high-risk pool. Once she established residency, she applied for private insurance ― a prerequisite so she could then show pool administrators a rejection letter. But to her surprise, a North Carolina company actually accepted her application and offered several plans ― and she's still covered by that company today.
Hauser, a retired administrator for an accounting firm, said she and her husband are happy with their new home, even though they only moved there for the insurance. She's not sorry she didn't even have to use the state pool. At the time she moved, after all, state pools were facing upheaval from the Affordable Care Act, which itself has faced constant threats from Republicans in Congress.
"I was much more comfortable with taking a regular insurance plan," she said.
Support HuffPost
The Stakes Have Never Been Higher
Popular in the Community