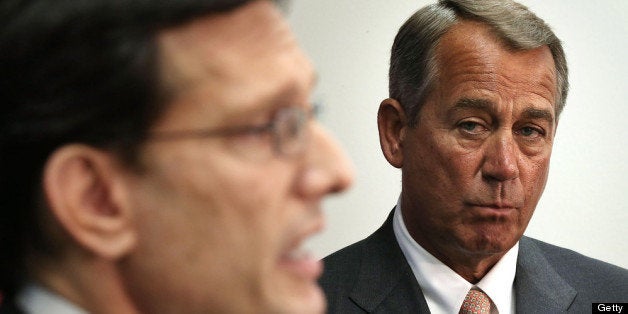 WASHINGTON -- House Republican leaders reassured Latino evangelicals on Wednesday that they are committed to immigration reform and a majority of their conference is, too -- even if vocal opponents get more of the attention.
House Speaker John Boehner (R-Ohio), Majority Leader Eric Cantor (R-Va.), Conference Chairwoman Cathy McMorris Rodgers (R-Wash.), Judiciary Committee Chairman Bob Goodlatte (R-Va.) and others held a closed-door meeting with more than 25 evangelicals from the National Hispanic Christian Leadership Conference, many of whom talked to administration officials at the White House earlier in the day.
Reverend Samuel Rodriguez, president of the National Hispanic Christian Leadership Conference, said they came out of the GOP leadership meeting more confident than when they went in.
"It was almost surreal," he said afterward when asked if anything said in the meeting concerned him. "I think we all walked out there and we really sensed -- and it wasn't theatrics -- we really sensed a mature, macro understanding that morally speaking [immigration reform] is the right thing to do, and even politically speaking it's a wise thing to do."
The National Hispanic Christian Leadership Conference supports comprehensive immigration reform. It doesn't entirely align with the views of many House Republicans, who say undocumented immigrants should not be given a path to citizenship. Although GOP leaders haven't ruled out a pathway, they have offered more indication they will pursue such a measure for Dreamers, undocumented young people who came to the U.S. as children, but not their parents.
The evangelical leaders said they are somewhat concerned about the timeline for reform -- GOP leaders have said they will not rush to pass reform measures -- and that momentum may fade as Congress leaves for a month-long recess and comes back to fiscal fights.
"Let's not get fatigued over this issue with the finish line so close in sight, compared to a marathoner who hits the wall with six miles to go and is ready to give up," said Regent University President Carlos Campo, a National Hispanic Christian Leadership Conference board member. "I think there are some folks who are calling for doing nothing, and I think that's of some concern, so that was one of our messages. Inaction is not an appropriate way forward."
Campo said members alluded to comments made by Rep. Steve King (R-Iowa) comparing Dreamers to drug-smugglers with "calves the size of cantaloupes." Another attendee, who requested anonymity to speak about specifics of the meeting, said one member joked, "We all have that crazy cousin."
King's comments have already been condemned by Republican leaders, but Campo said it was good to hear it from them personally as well.
"The message from the leadership was, 'Please don't allow one outlier to become the voice of the Republican Party,'" Campo said.
Ali Noorani, executive director of the pro-reform group National Immigration Forum, said his sense from the meeting is that Republican leaders wanted to reiterate they do want to pass some type of reform.
"Based on meetings today with leadership as well as the meetings we've had over the last month, they do not want Steve King as the face of the Republican Party's immigration push," he said. "There are more Republicans who want to get to 'yes' than you think."
The plan from pro-reform groups, including Latino evangelicals, is to be vocal at town hall meetings in August and throughout the fall to keep up pressure on Republicans.
Campo said the group has been finding that vocal opponents to immigration reform have been the loudest, leading to representatives focusing on their wants at the expense of quieter moderates.
"It is going to be incumbent upon those who are more moderate to reach out to the representatives to say, 'We don't think those folks [opposed to immigration reform] you're hearing from are representative of a very broad base,'" he said.
Calling all HuffPost superfans!
Sign up for membership to become a founding member and help shape HuffPost's next chapter
BEFORE YOU GO
PHOTO GALLERY
11 Ways Immigration Reform Helps The Economy