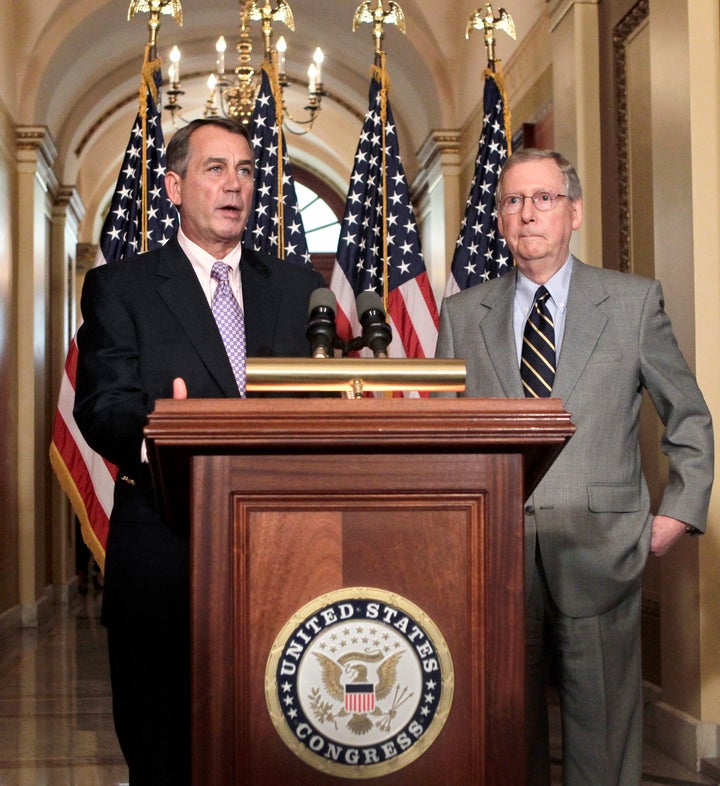 Members of Congress may be breathing more easily after negotiating an end to the protracted fight to increase the debt ceiling, but a new CNN poll finds that the reputations of members of Congress, and Republican leadership in particular, suffered in the wake of the rancorous process.
The new poll found that favorable ratings for House Speaker John Boehner (R-Ohio) in particular have fallen since CNN's last poll public opinion on congressional leadership was conducted in late July. Over that time, Boehner's favorable rating dropped from 43 percent to 33 percent. At the same time, the percentage of respondents who said their opinion of Boehner was unfavorable rose from 32 percent to 40 percent.
Senate Minority Leader Mitch McConnell (R-Ky.) also took a hit in the court of public opinion. His favorable rating dropped from 27 percent in the July poll to 21 percent in the August poll, while his unfavorable rating increased from 32 percent to 39 percent.
With a favorable rating of 31 percent in the new poll, House Minority Leader Nancy Pelosi (D-Calif.) is even less popular than Boehner, her Republican counterpart. Yet neither her favorable rating nor that of Senate Majority Leader Harry Reid (D-Nev.) seem to have fallen significantly as a result of the debt debate. CNN's trend data shows unfavorable ratings for Pelosi (currently at 51 percent) and Reid (39 percent) have remained fairly steady since the beginning of 2010.
Lest other members of Congress think the leadership bears the brunt of public criticism, a 49 percent plurality of Americans now think the lawmaker who represents them does not deserve reelection, while only 41 percent said their representative does. In addition, 70 percent of Americans say most members of Congress do not deserve reelection.
The new poll was conducted August 5-7 by ORC International for CNN. It includes interviews with 1,008 adults and has a margin of error or plus or minus 3 percentage points. The full results are available here.
Calling all HuffPost superfans!
Sign up for membership to become a founding member and help shape HuffPost's next chapter