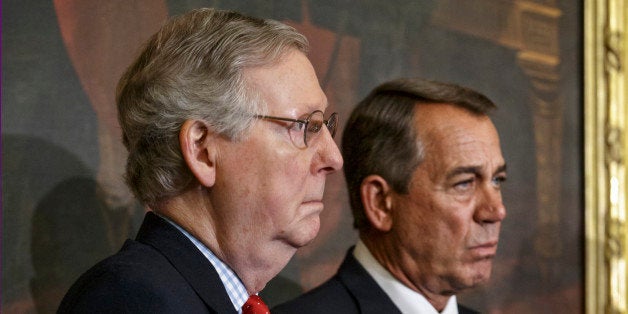 GOP leaders in Congress are not just at odds with President Obama over how to approach negotiations with Iran over their nuclear program. Many faith leaders in the United States, including the National Council of Churches (NCC), have firmly supported the president's just peace strategy of diplomacy over war.
The decision by U.S. House Speaker John Boehner to invite Israeli Prime Minister Benjamin Netanyahu to address the Congress was not just an unprecedented breach of protocol. It was, clearly, an effort to scuttle the State Department's negotiations with Iran, and to bolster Netanyahu's standing close to Israel's election.
Failure on the part of negotiators to reach an agreement could lead to military action against Iran. Very few believe such action would be successful but many of the same players who championed the U.S. invasion of Iraq in 2003 -- promising the U.S. would be welcomed as liberators -- are pushing now for war with Iran. Their logic is flawed.
In response to Netanyahu's address before Congress, J Street, the "political home for pro-Israel, pro-peace Americans fighting for the future of Israel," said:
The deal with Obama administration is pursuing would block Iran's pathways to developing the fissile material necessary for a bomb and extend the time the Iranians would need to produce enough weapons-grade uranium to build a bomb from today's estimated three months to at least a year. Without a deal, Iran would revert to building up its stockpile of nuclear uranium while the international community would lose its ability to monitor and track Iran's activities. How would this make Israel safer?
I think it's somewhat ironic to see some members of Congress wanting to make common cause with the hardliners in Iran. It's an unusual coalition.
Only Iranian hardliners benefit from a breakdown in negotiations (and perhaps a few candidates running for office here in the U.S. who believe that anytime the president doesn't achieve a goal such failure benefits their campaigns, putting politics before country to be sure). Are those who signed this letter willing to send more young American men and women to die on yet another battlefield in the Middle East when there is an option for peace without military conflict? Apparently so.
The General Synod of the United Church of Christ (UCC) has adopted a resolution of solidarity and friendship with Iran. Protection of human rights are at the center of the resolution, as it calls for UCC members to be in "solidarity with the people of Iran as they express their will toward self- government" and condemns the "violence, repression, and bloodshed, against peaceful Iranian demonstrators, media, and others." The resolution is predicated on the belief that:
Our sacred scriptures all point to our calling as disciples and peacemakers, to do what we can to bring healing into the world, not hurt, to end bloodshed, not to initiate it, to stop the killing and terrorizing of children and adults, and to make all of God's Creation a safe place in which to live.
Many in Congress are trying to lead the United States back down the path of another unnecessary war. People of faith must be at the forefront of a movement that firmly responds: No!
Related
Popular in the Community