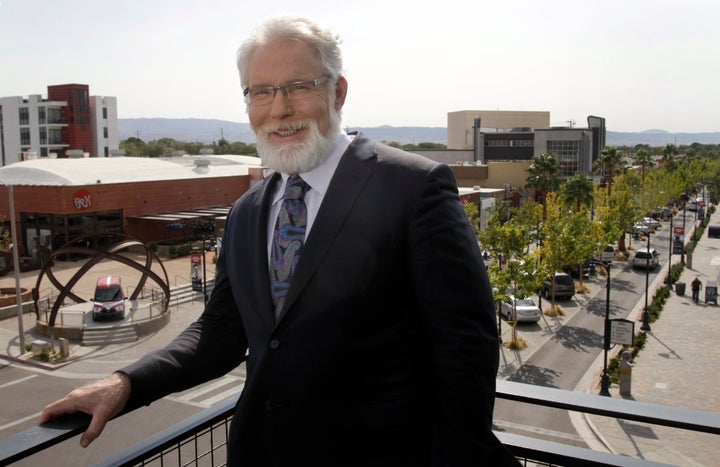 After meeting with a tech innovator who wanted to build a solar thermal plant that used mirrors to focus the sun's energy, Parris realized that Lancaster could harness California's abundant sunshine to create new jobs, save people money on their utility bills, increase the value of local homes and slash the city's overall energy use.
It became his mission to make Lancaster, which is located about an hour away from Los Angeles, the alternative-energy capital of the world, he told HuffPost. While the solar plant was being built ― it switched on in 2009 ― Parris read everything he could about renewable energy. What he learned about climate change terrified him.
"Up until then, I believed the Republican mantra that this [climate change] is just a Chinese plot," Parris joked.
Now he talks about solar energy as a way to save costs and a means to "mitigate climate disruption on a much larger scale" (to quote a recent public statement).
Parris may be one of the early GOP adopters, but he's not the only Republican mayor who has embraced renewable energy, often in opposition to the party's national agenda.
President Donald Trump campaigned last year on a promise to pull the U.S. out of the Paris accord on climate change ― which he made official in June. Even before Trump took the oath of office, Los Angeles Mayor Eric Garcetti (D) began rounding up his fellow mayors to pledge that their cities would still abide by the tenets of the treaty. The group, which has grown to nearly 400 mayors representing 68 million Americans, is dominated by Democrats — but six GOP mayors have also signed the pledge:
Jim Brainard, of Carmel, Indiana

Jim Cason, of Coral Gables, Florida (served as mayor until April 2017)

Richard David, of Binghamton, New York

Kevin Faulconer, of San Diego

Tomas Regaládo, of Miami

Knox White, of Greenville, South Carolina
In early 2016, the Sierra Club launched its Ready For 100 campaign, calling on U.S. cities to convert to 100 percent clean energy within 20 years. So far, 150 cities have signed on, including four that are helmed by Republican mayors:
Faulconer, of San Diego

Bob Dixson, of Greensburg, Kansas

Greg Lemons, of Abita Springs, Louisiana

Dale Ross, of Georgetown, Texas
The average American family would save $260 a year on energy costs ― and $1,500 on health care costs ― if the U.S. were to operate on 100 percent renewable energy by 2050, according to a 2015 Stanford University study. Financial considerations like that can get GOP leaders interested in green energy, said Jodie Van Horn, director of the Ready For 100 campaign.
"There are a number of Republican cities that are transitioning over to renewable energy because they're driven by economic concerns," she said.
Committing to renewable energy is a point of pride for Dale Ross, a die-hard Texas Republican. An accountant by profession, Ross said he's all about making the most cost-effective decisions for the 63,000 people of Georgetown, which he calls an "itty-bitty city."
In Texas' deregulated energy market, Georgetown has been able to negotiate new contracts with wind and solar power providers that have proved to be much cheaper than fossil fuel-based electricity. The city was also able to negotiate a fixed price for the next 25 years, which meant making the jump to clean energy was a no-brainer for the mayor.
"I think if people follow the money, the economics demand that you go to renewable [energy]," Ross said.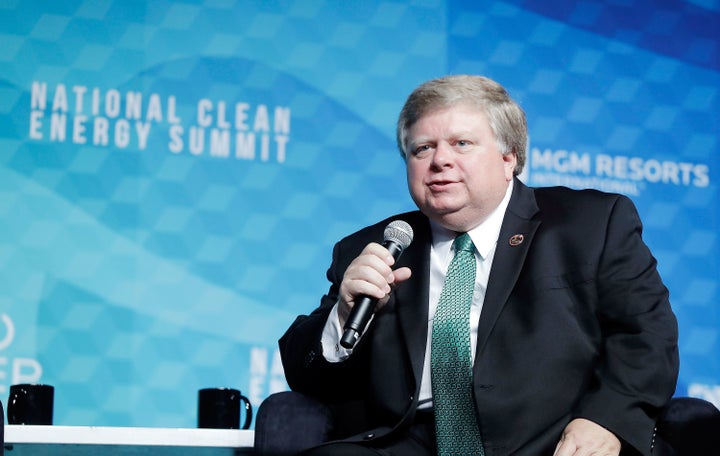 But Ross has also come to appreciate the environmental benefits of powering his town with wind and solar. He hopes his fellow Republicans can get over what he called the fear of being labeled a "progressive."
"Don't we have an obligation and duty to leave the planet in better condition than we found it? I think we do," Ross said. "Especially since we have the technology and the ability to do that."
"We produce more kilowatts [of solar energy] in Lancaster than we use in 10 years," Parris said proudly. "It just makes sense. It's a better house, it's cheaper. You've just got to change your business model."
CORRECTION: Lancaster's ordinance requires all new homes, not all homes, to produce more energy than they use.