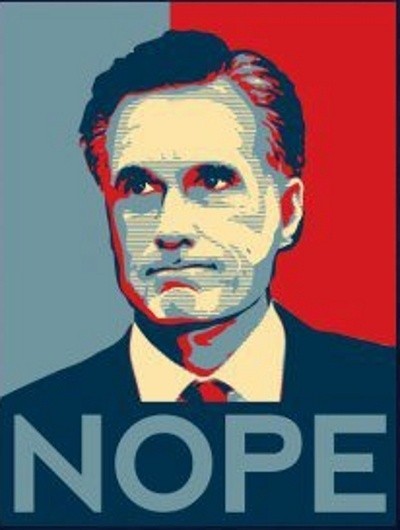 It's a year before the first actual citizens get to cast their votes in the 2016 Presidential primary election, but the even more important Money Primary is already going full tilt in back rooms, luxury resorts, and billionaire's private homes.
The Republican Money Primary already has its first biggest loser ...and (drumroll).... it's former Republican Presidential nominee Mitt Romney. Meanwhile Hillary Clinton's operatives are trying to wrap up so much early support that it will discourage any serious challenger in the Democratic primaries
You see, in order to be (or at least considered by the media to be) a viable candidate in the Voter Primary, a candidate has to first do well in the Money Primary. And while in the Voter Primary, each voter carries equal weight, in the Money Primary, the importance of big money contributors far outweigh the importance of small donors, much less the average voter.
For example, according to a report from US PIRG, in the 2014 Congressional primaries, just 5,485 donors who gave $1,000 or more outspent at least 440,362 small donors who gave less than $200, and 65 percent of all candidate contributions came from donors of $1,000 or more.
The 2012 Presidential election campaign, the first Presidential campaign after the Citizens United decision cost $7 billion according to the Federal Election Commission. The 2016 campaign is expected to cost more. The only way to raise that kind of money is in large chunks from wealthy donors. One man, casino magnate Sheldon Adelson, contributed $150 million to the 2012 campaign, over $50 million of which were through "dark" channels. "Certainly the 'Sheldon Primary' is an important primary for any Republican running for President," according to former George W. Bush Press Secretary Ari Fleisher.
The voices of ordinary citizens are simply drowned out by the flood of big money. For proof, take a look at the new Congress. iit's not as though millions of people who bothered to vote in the 2014 Congressional election were screaming that they wanted to build the Keystone pipeline and dismantle regulation of Wall Street banks. But flush with energy industry and Wall Street cash, those were among the first things that the newly elected members of Congress voted to do. And it's not as though most voters want to see cuts in Social Security and Medicare -- In fact, they'd like to see benefits increased. But both Republican and Democratic politicians continue to come up with new tricky new proposals to cut benefits.
Long before the Voter Primaries, the handful of big donors in the Money Primary decide which candidates will be viable. It's in the context of the Money Primary that Mitt Romney jumped into, and then quickly jumped out of, the 2016 election race.
Jeb Bush jumped into the Money Primary first. In December Romney let it be known that he would likely run for President, not in an announcement to the voters but with the formation of a leadership PAC and a Super PAC, both called Right to Rise. Next, in early January he held two meetings with leaders of special interest groups and lobbyist for which attendees were asked to raise at least $50,000 for the Bush PACS. Among the attendees were representatives of America's biggest business lobbyists, including the Business Roundtable, the American Bankers Association, the American Insurance Association, the US Telecom Association, Airlines for America, and the National Retail Association.
This forced Romney's hand. If he wanted to consider running in the Republican primary, he needed to start locking up support in the Money Primary before the big donors had committed to others.
Like Bush, Romney signaled his interest in running, not in an announcement to the public, but in an early January private gathering of 30 of his biggest past donors at the offices of New York Jets owner Woody Johnson. Attendees included former Bush Treasury official Emil Henry, SkyBridge Capital founder Anothony Scaramucci, and Edward Frost, CEO of real estate giant Cushman and Wakefield.
But key players in the Republican Money Primary had already moved on. According to Chicago financier Ron Gidwitz who raised millions for Mitt's 2012 campaign, "People [i.e. big donors] were more excited about Jeb than Mitt." A prominent California investor who had supported previous Romney campaigns, emailed 52 powerful Republicans" asking them to contact Romney's finance chief, Spencer Zwick, to make it clear that they did not want Romney to run, and many did. According to The New York Times, "Romney was losing important [financial] backers, including the New York City hedge fund billionaire Paul Singer, and in the gossipy universe of wealthy Republicans, word was spreading about the defections."
Romney key political advisors got the message from the donor class before Mitt himself did. On January 23, about two dozen of them met in Boston. According to a New York Times source, "It was, 'Let's cut the cheerleading rah-rah and talk about what it is that you know and what it is that you're hearing.'" They puzzled over how to appease donors. That Sunday Mr. Zwick flew to Boston to deliver the bad news to Mr. Romney. By Friday, Mitt announced he wasn't running.
Despite his $250 million personal net worth, Romney lost the Republican Money Primary before it had even started.
Others candidates in the corporate wing of the Republican Party immediately escalated the Money Primary race. In hundreds of phone calls, financial backers of Bush and Christie put intense pressure on Romney supporters to pick a side or lose influence.
Meanwhile Wisconsin Governor Scott Walker seems to have impressed Iowa Republicans at anti-immigrant crusader Steve King's Iowa Freedom Summit and could emerge as the candidate who could bridge the gap between the corporate wing and the tea party wing of the Republican Party. Walker was one of several potential Republican candidates who appeared at the Koch Brothers retreat of hundreds of billionaire donors at a Palm Springs resort, after which it was reported that the Koch network plans to spend nearly $889 million on the 2016 elections, more than both parties combined in the 2012 election.
So the Republican Money Primary is in full swing, a year before any actual citizens get to vote in a Voter Primary.
But before Democrats become too complacent about the way the Republican Money Primary will shape and limit the choices available to actual voters, keep in mind that the Clintons have raised more than $1 billion dollars from US companies and industry donors during their two decades on the national stage from a combination of political campaigns, a network of organizations advancing their political and policy goals, and over $100 million in speaking fees, many of them to Wall Street bankers. Wall Street and the corporate class will feel quite comfortable with a second Clinton Presidency, particularly since during the first Clinton Presidency, Bill Clinton carried out their agenda, deregulating the banks.
So the billionaire corporate funding class has it's bases covered, whether a Republican or Democrat wins the next Presidential election.
In the short run, the only hope to stem the tide would be if Elizabeth Warren decides to run, and with enough name recognition and grassroots support, can overcome the avalanche of big money contributions to Clinton.
In the longer run, we need true public financing of election campaigns in which small donor donations are matched about 10-1 by public funds. And in the longer run, unless Supreme Court decisions like Buckley v. Valeo and Citizens United--which opened the floodgates to the legalized bribery that we pretend to call democratic elections--are reversed, the very idea of the United States as a democratic republic may be doomed.
Calling all HuffPost superfans!
Sign up for membership to become a founding member and help shape HuffPost's next chapter