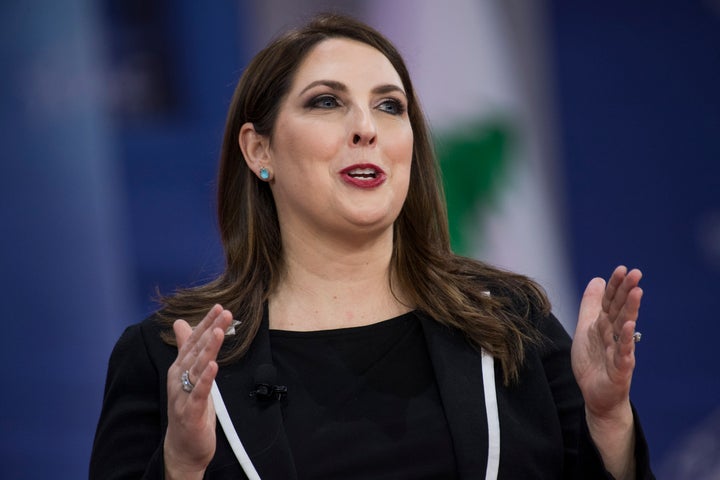 DORAL, Fla. – In a turbulent ocean roiled by Robert Mueller, Michael Cohen and Stormy Daniels, President Donald Trump's subtropical golf resort offered the nation's top Republicans an island of calm on Friday.
Here at the Trump National Doral Golf Club, the Republican National Committee boasted about its fundraising totals, its placement of campaign staff in key states months ahead of the November midterm elections, the strong economy it attributes to tax cuts passed by a Republican Congress.
The special counsel investigation? Hush money to a porn star? An FBI probe of the president's longtime personal lawyer?
"I haven't had a conversation about any of those, to be honest," said Bill Currier, chairman of the Oregon Republican Party.
"Just idle chatter. It has to be something every day," said Charles Joyce, the RNC committeeman from New York state. "I take it all with a grain of salt."
Miriam Hellreich, Hawaii's RNC committeewoman, said she has heard "not a word" about Trump's various scandals from her colleagues at this week's meetings. "What the country's worried about right now is not Stormy Daniels and the Russia probe. It's what's happening with their families."
RNC Chairwoman Ronna McDaniel told members that the group's record fundraising so far this election cycle ― $171 million ― will help Republicans buck the historical trend of a party losing a substantial number of congressional seats in the first general election after taking control of the White House.
"We can win in November," McDaniel said. "You know how I know? Because when the media, the Democrats, everyone said in 2016 it couldn't be done, the RNC and President Trump proved them all wrong. Victory in 2018 is possible because we have the best team in place. The RNC is in a stronger position than we've ever been."
Privately, RNC officials and members are more candid about their election prospects given a president who has proved unable to stay focused on a single message for any length of time and who seems to enjoy generating chaos for its own sake. Further, they acknowledge that the results in November are far more likely to turn on whatever controversy Trump whips up in mid-October than any of their preparations right now.
"Who knows what he's going to do?" said one RNC member on condition of anonymity.
Republicans said they are hopeful that the U.S. dialogue with North Korean dictator Kim Jong Un can improve Trump's poll numbers by persuading Americans that the president's incendiary talk about nuclear weapons will actually result in a peace deal.
If that happens, and the economy remains strong through the summer, enough voters might decide that, despite their personal dislike for Trump, he's doing a good job and Republicans should retain control of Congress.
"The question is: Can we make that 'blue wave' Democrats are talking about into a ripple?" said Ron Kaufman, the RNC committeeman from Massachusetts.
Regardless of November's midterm results, RNC members made it clear they're already looking ahead to support Trump's re-election in 2020. By a unanimous vote with but a single abstention, they voted to abolish the debate committee that would have set the ground rules and schedule for presidential primary debates.
"Quite simply, we have no need for presidential primary debates," said Jeff Kent, chairman of the RNC Rules Committee and the committeeman from Washington state.
That move was meant to make it harder for Trump critics within the party, like Ohio Gov. John Kasich or Arizona Sen. Jeff Flake, to mount their own presidential bids. "It probably won't discourage Kasich or Flake, but it does make it more challenging," said Randy Evans, the committeeman from Georgia.
Hellreich agreed that Republicans have no need for presidential primaries in 2020. "Everybody's happy with the president," she said. "We're excited to look ahead to the re-elect."
The RNC has already spent $237,310 of its donors' money in advance payments to Trump's Doral golf resort for this week's spring meeting, not to mention the hundreds of dollars each individual member is paying for rooms and some meals. In all, the committee has spent $763,335 at Trump properties this election cycle, and Republican candidates and parties in total have spent just under $1.9 million. A portion of each of those dollars enriches Trump personally.
Calling all HuffPost superfans!
Sign up for membership to become a founding member and help shape HuffPost's next chapter