While Tuesday's theme was billed as "Make America Work Again," almost everyone who appeared on stage offered criticism for Clinton, bashing everything from her email scandal to her accent. A video called "Hil-LIAR-y" played early in the evening, and there was vigorous fault-finding with her resume.
Several of the night's big-name speakers barely acknowledged Trump, including Senate Majority Leader Mitch McConnell (R-Ky.), who said Trump would sign Republican-backed bills and fill the seat of the late Supreme Court Justice Antonin Scalia, but little else about the business mogul.
House Speaker Paul Ryan (R-Wis.) mentioned Trump only twice during his 10-minute speech, while House Majority Leader Kevin McCarthy (R-Calif.) mentioned the newly minted nominee once.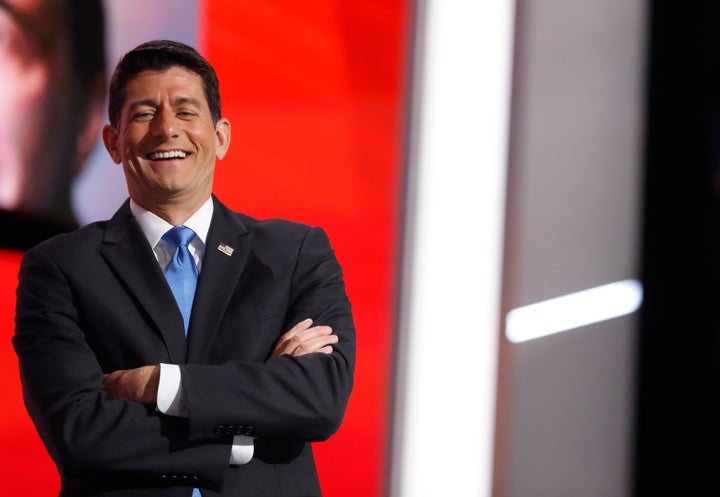 Some of the loudest cheers of the night ― chants of "lock her up!" ― came during the speech of New Jersey Gov. Chris Christie, who said he wanted to hold Clinton "accountable for her performance and her character." Christie ticked off criticisms of Clinton ― at one point suggesting her actions led to the kidnapping of hundreds of girls in Nigeria by the terror group Boko Haram ― and the crowd responded with loud shouts of "guilty!"
Delegates seemed pleased with the negative tone of the evening, telling The Huffington Post it was important to contrast Trump and Clinton, and noting they would have two more days of the convention to hear more about Trump, anyway. Trump himself never seems short of words to talk about how great he is.
"We gotta beat Hillary Clinton, so we have to talk about all of her faults and all of her weaknesses," said Patrick Davis, Trump's Colorado state director. "At the same time, we have to talk about Donald Trump. She's the worst for America, so we've got to remind people of that. This is a red meat crowd. They don't like Hillary Clinton. They love that. We get two more nights ― it's all about Trump."
Pat McPherson, a Nebraska delegate, said it was important to highlight Clinton's flaws to unite Republicans.
"Trump may not have not been the first choice of everybody in this room, but the truth of the matter is he offers optimism ― and all she does, as somebody said earlier, is offer the status quo," McPherson said. "There's a terrible response, obviously, to Hillary Clinton, and maybe that almost overrides the support and optimism we have for Donald Trump and Mike Pence."
Duke Lowrie, a Louisiana delegate, acknowledged that Trump isn't exactly perfect. Still, he said Clinton would be a worse alternative.
"All politicians have warts, and in this case, maybe perhaps we have more than one candidate who has warts. At the end of the day, which candidate has the most warts? And in this case, what are the warts made of? The warts that the Democrats have are criminal," Lowrie said. "Our candidate, he has the warts of being a real person who is not scripted, he is not a professional politician."
"Sometimes you just have to call a pig a pig," Lowrie continued.
Recent polls have shown that voters dislike both Clinton and Trump. A Reuters/Ipsos poll released in May found that nearly half of voters said they would vote for one candidate just to keep the other from winning the presidency.
Most of the positive remarks about Trump came from two of his children, Tiffany Trump and Donald Trump Jr., who described their dad as a kind, caring man of the people.
Best Photos From The Republican National Convention
Popular in the Community