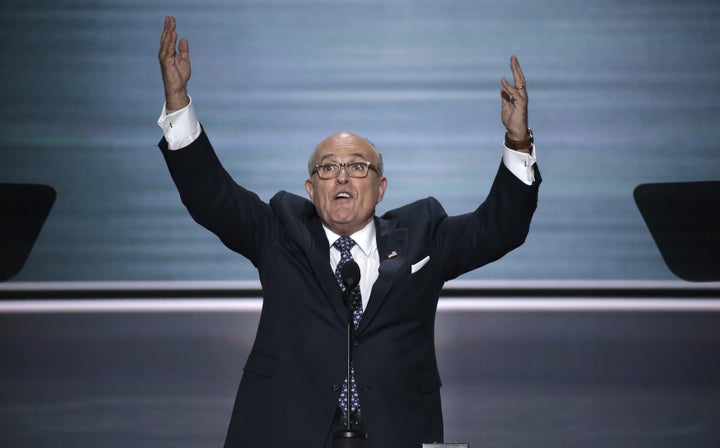 CLEVELAND ― About a week ago, actor Scott Baio randomly ran into Donald Trump. The two got to talking, according to the story Baio told CNN's Dana Bash on Monday, and Trump asked Baio if he'd like to give a speech on his behalf.
No, Trump said. At the Republican National Convention. Baio checked his schedule and quickly confirmed that he is, in fact, Scott Baio. The week was free. So the American people on Monday night heard from Scott Baio.
Baio, best known for a sitcom that hasn't been on television in 32 years, recently made news by promoting an image of Hillary Clinton with the word "cunt" spelled out behind her.
It might be easy to dismiss an RNC evening whose headliners included Baio, "Duck Dynasty" star Willie Robertson, and "General Hospital" actor Antonio Sabato Jr., who, as a CNN chyron noted, once adorned Trump Tower as a Calvin Klein model.
But the real crazy on display Monday wasn't the funny kind: It was the convention speakers' dark view of an America teetering on the brink of failure that can only be saved by a Trumpian vision of exclusion and division.
The stated theme of the convention's opening night was "Make America Safe Again." But the real theme was fear.
Fear of Mexicans. Fear of Muslims. Fear of the Black Lives Matter movement. Fear of Rudy Giuliani blowing out your eardrums if you can't find the remote to mute the guy. But, most deeply, fear of her ― Hillary Clinton.
The speeches were light on solutions, but thick with grim assessments of the state of the country. "The vast majority of Americans today do not feel safe," Giuliani, a former New York mayor, told the crowd. "They fear for their children." Most of Giuliani's speech focused on Benghazi, even to the point of neglecting his signature issue, 9/11.
"According to the FBI, ISIS is present in all 50 states," warned Sen. Joni Ernst, an Iowa Republican who rose to fame by castrating hogs and promising to do the same in Washington. (It's unclear if she has.)
"The threats are mounting," said retired Lt. Gen. Michael Flynn. "The next four years will be consumed by the perils we now face." (Flynn on Monday admitted that he is quite literally on the payroll of Moscow: "Is somebody gonna go, 'Oh, he's paid by the Russians,'" Flynn protested. "I was given an opportunity, and I took it.")
The 2012 terrorist attack in Benghazi, Libya, which the GOP has continually employed to assail presumptive Democratic presidential nominee Hillary Clinton, was the subject of several speeches and videos. Pat Smith, the mother of Sean Smith, who was killed in the attack, argued that Hillary Clinton lied to her about Benghazi and her son's death, and should be jailed.
"If Clinton can't give us the truth, why should we give her the presidency?" Smith said as an audience member yelled, "Hillary for prison."
"That is right," Smith answered. "Hillary for prison. She deserves to be in stripes."
Trump, however, "speaks his mind, and his heart. And, when it comes to the threat posed by radical Islamic terrorism, he will not hesitate to kill the terrorists who threaten American lives," Smith said. (Her message may not have reached some GOP voters, because during that segment of the convention, Fox News was airing a telephone interview with none other than Donald Trump.)
Even Sabato engaged in the fearmongering, telling ABC News after his speech that he believes we've had "a Muslim president for seven and a half years."
"I don't believe the guy is a Christian. I don't believe the guy follows the God that I love and the Jesus that I love," Sabato said. "If you follow his story, if you understand about Obama, I mean, that's not a Christian name, is it?"
Monday's convention program also highlighted police violence, pegged to the recent police shootings in Dallas and Baton Rouge. As expected, it came down firmly against the Black Lives Matter movement. Milwaukee County Sheriff David Clarke, who is black, denounced the movement as "anarchy," quoted Martin Luther King Jr. and celebrated the acquittal of a Baltimore police lieutenant accused in the death of Freddie Gray, the black man who died in police custody last year.
Another portion of the evening was dedicated to the "victims of illegal immigrants," featuring grieving speeches from people whose children were killed by undocumented immigrants. They praised Trump's anti-immigrant rhetoric and platform.
Sabine Durden, whose son was killed by a drunk driver, reiterated a frequent Trumpism ― that if it weren't for him, no one would be discussing immigration and proposing to build a wall along the U.S.-Mexico border.
"I've been talking about illegal immigration since 2012, since he got killed, and no one listened, until Donald Trump," Durden said.
If there was any antidote to the night's dark vision of America, it was Melania Trump, who promised that she and Donald Trump would bring "kindness, love and compassion" to the White House." Alas, it appears Melania Trump plagiarized passages of her speech about hard work and honesty from first lady Michelle Obama's 2008 address to the Democratic National Convention.
Elise Foley and Michael McAuliff contributed reporting.
Best Photos From The Republican National Convention
Popular in the Community