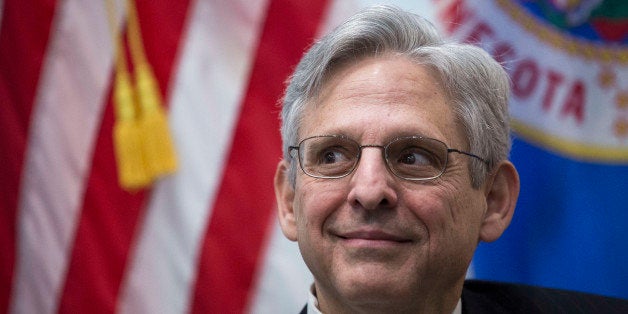 This morning, the Senate Judiciary Committee held a hearing on judicial nominations for just the second time this year.
At this point, I'm not worried about Senate Republicans doing their job--I'm worried that they've forgotten what doing their job even looks like.
Senate Republicans are not only politicizing and undermining the Supreme Court, with their refusal to even consider Chief Judge Garland's nomination, but they are doing the same thing to lower courts as well. They are likely to damage our entire judiciary--all for political gain, so they can leave more vacancies open for President Trump to fill.
Since January 2015, Senate Republicans have confirmed only 17 judicial nominees.
In comparison, from January 2007 to April 2008, Senate Democrats confirmed 45 of President Bush's judicial nominees.
The difference is even starker when you consider the circuit courts--the level of our federal courts just below the Supreme Court.
In fact, with respect to circuit court confirmations, Chairman Grassley has work to do if he doesn't want the worst record in almost 120 years.
So far, Chairman Grassley has held hearings on only two circuit court nominees--the last one was ten months ago--and he has not indicated whether he will allow any of the seven pending circuit court nominees to move forward, taking the obstructionist mantra of "No Hearing No Vote" to a whole new level.
By this point in 2008, Senator Leahy had held hearings for five of President Bush's circuit court nominees, on his way to hearings for eight.
There are three highly qualified circuit court nominees who could have been considered on today's hearing because they have support from their home state Senators:
Judge Lucy Koh, nominated for the Ninth Circuit, was unanimously confirmed by the Senate to her current, lifetime position on the U.S District Court for the Northern District of California by a vote of 90-0 in June 2010. She would be just the second Asian Pacific American woman to serve as a circuit judge in our nation's history. Senators Boxer and Feinstein strongly support her nomination. But Judge Koh remains stuck in the Judiciary Committee, waiting for a hearing.
Assistant U.S. Attorney Jennifer Puhl, nominated for the Eighth Circuit, has a distinguished record of public service and would be the first woman to ever serve as a lifetime appointed federal judge in North Dakota's history. Republican Senator Hoeven has returned his "blue slip" on her nomination--indicating his willingness for the Senate Judiciary Committee to proceed with a hearing and Committee vote--and Senator Heitkamp strongly supports her nomination as well. But Ms. Puhl remains stuck in the Judiciary Committee, waiting for a hearing.
Donald Schott, nominated for the Seventh Circuit, would fill the oldest circuit court vacancy in the nation--vacant since January 2010. Republican Senator Johnson has returned his "blue slip" on his nomination, and Senator Baldwin strongly supports his nomination and has urged Chairman Grassley to move forward. But Mr. Schott remains stuck in the Judiciary Committee, waiting for a hearing.
What is Chairman Grassley's excuse for not moving forward with these nominations?
Ironically, he should have an excuse--his Committee should be considering Chief Judge Garland's nomination. But if they aren't going to do that, what are they doing?
It's not too late for the Senate to consider circuit court nominations. In May 2008, Senator Leahy held hearings for three circuit court nominees, and all three were confirmed that May and June.
In fact, from 2007 to 2008, the Democratic-controlled Senate confirmed ten circuit court nominees.
So far, Senate Republicans have confirmed only two.
Even if the Senate confirms Judge Koh, Ms. Puhl, and Mr. Schott--as it should--its five circuit court confirmations would be the fewest since 1951-52, when the Senate confirmed only three. (And it's worth noting that there were only 65 judgeships in the U.S. Courts of Appeals in 1952, compared to 179 today.)
If the Senate does not confirm any more circuit court nominees, its two confirmations will be the fewest since 1897-98, when the Senate confirmed only one nominee--and there were only 25 such judgeships in the country.
It's hard to believe that the mindless, senseless obstruction of our courts has come to this, but apparently, we must urge Chairman Grassley to do his job so that his record is "only" the worst in 64 years and not something last seen in the 1800s.
Today's judicial nomination hearing was only the second one of the year. The Committee's break is over, and Chairman Grassley now must schedule hearings for Chief Judge Garland, Judge Koh, Ms. Puhl, Mr. Schott, and the two dozen other judicial nominees waiting in his Committee. Our courts--all of our courts, from the Supreme Court down--deserve at least this much.
Calling all HuffPost superfans!
Sign up for membership to become a founding member and help shape HuffPost's next chapter