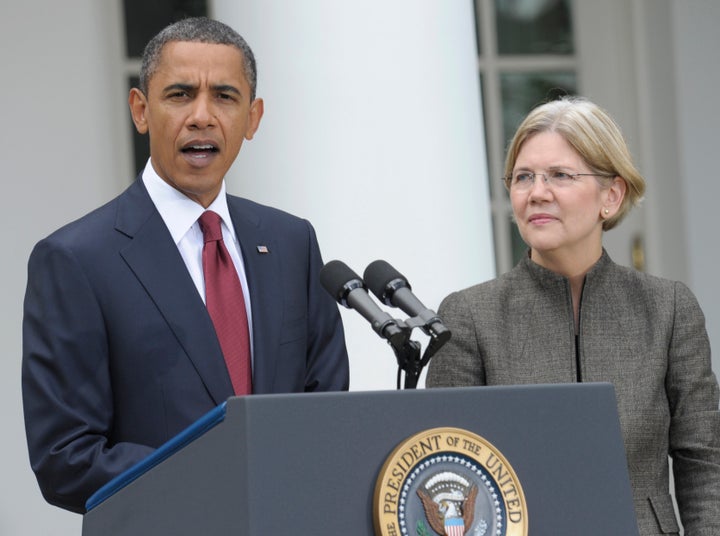 WASHINGTON -- Thanks to united Republican opposition to Elizabeth Warren as the permanent head of the consumer protection agency she dreamed up and shepherded through Congress, the administration is largely able to avoid the uncomfortable discussion about just how much support she had within the White House.
Obama, while often publicly praising Warren, was never committed to nominating her as head of the Bureau of Consumer Financial Protection, people familiar with the internal decision-making process said. There were a variety of factors holding her up, from the administration's perception that she was prone to speaking her mind publicly -- even if her position contrasted with that of the administration's -- to the intense opposition she generated from Democrats and Republicans in Congress, and from certain parts of the financial services industry.
The internal debate that led to President Barack Obama passing her over as head of the agency, commonly known as the CFPB, pitted one set of advisers -- longtime confidantes Valerie Jarrett and David Axelrod -- against the trio of Treasury Secretary Timothy Geithner, former White House Chief of Staff Rahm Emanuel, and current Chief of Staff William Daley.
Jarrett and Axelrod supported Warren, not least because of the impact she'd have on the Democratic Party's liberal base, sources said. Geithner, Emanuel and Daley opposed the idea because of a variety of factors, both personal and political.
Ultimately, it was Obama's call. Sources said an anecdote about a 2010 meeting provides clues to Obama's thinking.
Last summer, during a White House meeting with first-term Senate Democrats, Sen. Bernie Sanders, an independent from Vermont, asked Obama whether he'd nominate Warren for the role.
Obama held up a half-full glass of water and told him: "That's the problem with you progressives. You see this as half-empty."
Liberals like Sanders had reason to worry. Though Obama, under fire, ultimately picked Warren to lead the consumer agency in the months before it officially opened, bypassing an outright nomination for her to lead the agency for a five-year term, there were signals she'd never get the job.
Last July, the night before a Senate vote on the administration-backed bill to reform financial regulation, Sen. Ben Nelson (D-Neb.) told reporters that he was still unsure how he'd vote and was concerned about who might be named to run the soon-to-be-created consumer unit.
Hearing the news, Emanuel took the temperature of the administration on Warren's nomination and reported back to Senate Majority Leader Harry Reid that it was cool, according to Senate sources with knowledge of the call.
"We don't like her either," the then-White House chief of staff told the Nevada Democrat.

Reid had been a longtime backer of Warren, plucking her from the relative obscurity of the Harvard Law School faculty to name her chair of the Congressional Oversight Panel, a bailout watchdog position that has catapulted her to a stardom of sorts. But it's the president's job to make nominations, and Reid passed the message onto his leadership team, which passed it on to Democrats who may have been worried about her appointment.

Both the White House and Nelson denied at the time that any assurances were made.
"I've heard all the hallway rumors that you've heard. But I had no promise of that, didn't hold my vote out in anticipation of that, not with the White House," Nelson told The Huffington Post around that time. "Nobody from the White House told me anything like that, but I must say that I've heard from a lot of different sources, most of it coming from blogs, that somehow some assurances were made of that kind, but none were made to me directly."
Even though Emanuel left the White House and was replaced by Daley, as far as Elizabeth Warren was concerned, nothing changed.
Daley, a former top executive at JPMorgan Chase, recently told members of Congress that the White House remained cool to the idea of a potential Warren nomination, according to people with direct knowledge of those conversations.
The White House said Daley didn't oppose a potential Warren nomination.
"Any assertion that the chief of staff opposed Elizabeth Warren in the selection process is simply untrue," White House spokeswoman Amy Brundage said. "As chief of staff, Mr. Daley may be involved in matters involving the CFPB and is not recused from those matters, but he chose not to participate in the process of selecting a nominee for CFPB director."
The White House declined to comment on the internal divisions, or on matters regarding Emanuel's remarks to Reid.
Last year, Geithner expressed opposition to a possible Warren nomination, HuffPost reported at the time, citing a person with knowledge of Geithner's views. Geithner's position hasn't changed, sources said.
The Treasury Department declined to comment, though a spokeswoman pointed to Geithner's statement on Sunday in which he praised Warren for her "outstanding job at standing up this agency" and said she has been a "tremendous asset to us all" over the past several months.
Ultimately, Warren wanted the job, allies said. And near-united opposition from Senate Republicans -- 44 of them signed a letter saying they'd oppose any nominee -- should have made it easier for Obama to nominate her, since the Republicans publicly said they wouldn't support anyone for the role.
Instead, the Republicans made it easy for the White House to deflect questions about the administration's lack of support for Warren.
Asked how she squared the administration's public statements with its private ones, Warren declined.
"I really have to say, I'm just not there. I'm not in the intricacies of the political part of this, and I can't comment," Warren said Monday. "The truth is I don't know anything about it."
Ryan Grim and Zach Carter contributed to this report.
Related
Popular in the Community