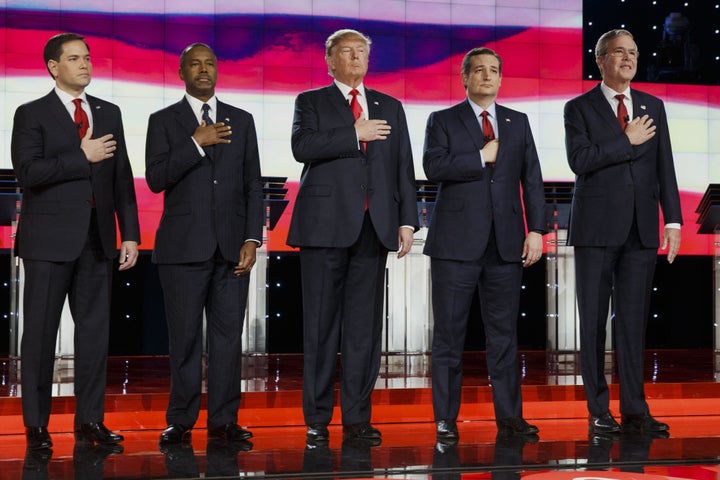 Once upon a time -- about all of nine months ago -- Republicans thought "experience and a proven record" were way more important than new ideas or a different approach.
Then Donald Trump entered the race, and support for political experience went out the window.
As the first primaries edge closer, however, the pendulum may be swinging back again.
In a new HuffPost/YouGov poll, 51 percent of Republican and Republican-leaning voters say they'd prefer an outsider candidate -- still a majority, but a 10-point drop since November.
Thirty-eight percent of those who'd prefer an outsider say that it'll be very important to their vote, while 59 percent say it'll be somewhat or not very important.

The change in preference is concurrent with a similar shift in the polls. Although Donald Trump remains the national front-runner, his closest competition now comes from Sens. Marco Rubio (R-Fla.) and Ted Cruz. The other two most prominent "outsider" candidates have faded rapidly, with former neurosurgeon Ben Carson's campaign tanking sharply, and Carly Fiorina's campaign barely registering a pulse.
That's despite the fact that views of Rubio and Carson's outsider cred have barely budged in the past month. Rubio is still overwhelmingly seen as an establishment figure. Cruz, a sitting senator who's managed to alienate many of his colleagues, is perceived as somewhere in the middle of the two categories.

It's hard to disentangle cause from effect here: There's evidence that voters tend to work backward, basing their list of ideal qualities on the traits of the candidates they're already supporting. Weakening anti-outsider sentiment may be allowing Cruz and Rubio to gain steam, but it's at least equally plausible that instead, their rise itself has softened Republicans to the idea of choosing an elected official.
Either way, it could mark a turning point as voters in early states begin making up their minds in earnest -- and it serves as a reminder that Americans' preferences for their candidates' backgrounds can fluctuate as much as their support for the candidates themselves.
The HuffPost/YouGov poll consisted of 1,000 completed interviews conducted Dec. 15-16 among U.S. adults, using a sample selected from YouGov's opt-in online panel to match the demographics and other characteristics of the adult U.S. population.
The Huffington Post has teamed up with YouGov to conduct daily opinion polls. You can learn more about this project and take part in YouGov's nationally representative opinion polling. Data from all HuffPost/YouGov polls can be found here. More details on the polls' methodology are available here.
Most surveys report a margin of error that represents some, but not all, potential survey errors. YouGov's reports include a model-based margin of error, which rests on a specific set of statistical assumptions about the selected sample, rather than the standard methodology for random probability sampling. If these assumptions are wrong, the model-based margin of error may also be inaccurate. Click here for a more detailed explanation of the model-based margin of error.
Calling all HuffPost superfans!
Sign up for membership to become a founding member and help shape HuffPost's next chapter