Thanks to the Me Too movement, most corners of the culture are starting to listen to women when they come forward about sexual harassment and assault.
But not the GOP. The male-dominated party's answer to Me Too is: deny and attack.
Republican senators, President Donald Trump and their allies in the conservative media put on a show of male anger, resentment and victimhood to force through the nomination of Brett Kavanaugh last week, even though he was credibly accused of sexual misconduct by three women.
And with his elevation to the Supreme Court, over the objection of so many women and sexual assault survivors, Republicans demonstrated their hard-line commitment to male supremacy.
Female protesters ― victims of sexual assault ― were derided as "clowns," part of a mob and George Soros-funded terrorists (harsh terms not used to, say, condemn white supremacists who marched in Charlottesville, Virginia, last year), Trump said it's a scary time, not for the many women bravely talking about being raped and assaulted, but for the men who had to listen.
This outpouring of unearned grievance was expected from a party that's never really valued women, said Jennifer Pierotti Lim, co-founder of Republican Women for Progress.
"We're about a year out from the start of the Me Too movement and I think that the GOP as a whole has really abdicated their messaging here," said Lim, who supported Hillary Clinton in the 2016 election. "In that vacuum, all we hear is the message from Trump and it comes out loud and clear."
The party has long used women for political advantage, without prioritizing or considering their concerns or viewpoints, Lim said. Her point was driven home on Friday by Sen. Susan Collins (R-Maine), who explained why she was casting the deciding vote on Kavanaugh in an eagerly awaited 45-minute speech.
Seated behind Collins, neatly captured by the TV screen, were two other female Republican senators: Shelley Moore Capito (W.Va.) and Cindy Hyde-Smith (Miss.). They were fairly silent on the Kavanaugh turmoil during the previous weeks. The three women together make up half of all female Republican senators.
These few women were being used to make the show of male supremacy go down easy.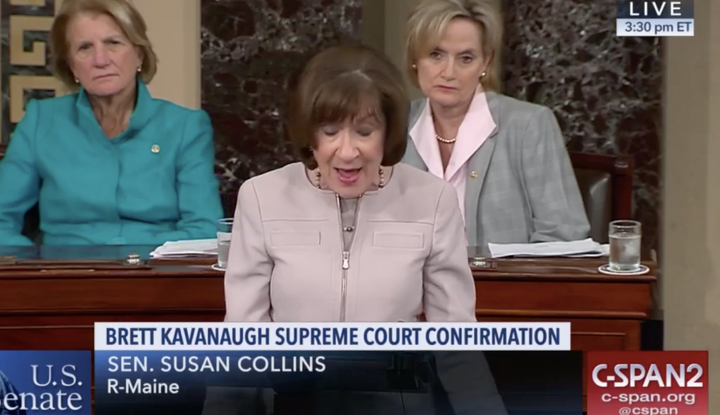 "Definitely as a Republican woman my bar has become very low on how the party uses women as a means to an end, every time I think they can't get lower, things likes this happen," Lim said.
Twenty-seven years ago, the country watched as Anita Hill testified before an all-male Senate Judiciary Committee and was asked insulting and demeaning questions. The country's eyes were opened to the issue of sexual harassment, said Ellen Bravo, a longtime activist.
The silence around harassment was forever shattered, Bravo said. "It just wasn't enough."
Clarence Thomas made it onto the Supreme Court anyway. "This time around, the same thing is true," she added, noting the huge outcry from women in regard to sexual assault that Christine Blasey Ford helped unleash.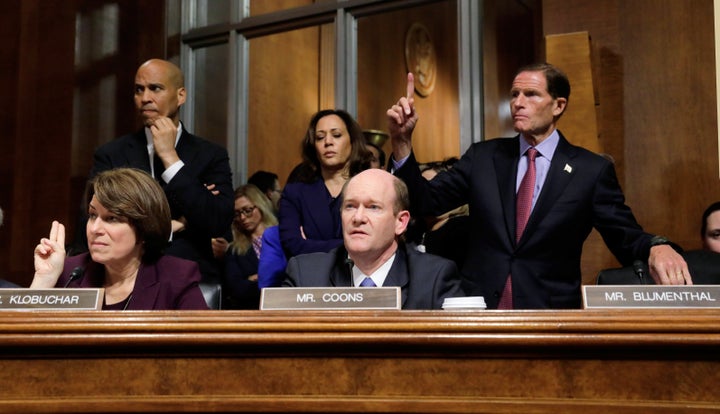 In the years since Hill's testimony, the Democratic Party has actually diversified. This year, there were four Democratic women on the committee, two of color.
And this mattered. The Democratic senators ― men and women ― were strong advocates for hearing Ford's story, once it was reported by The Washington Post. It was a sharp contrast to the behavior of Democratic senators during the Thomas hearings.
Yet on the Republican side, little had changed. Once again, it was all men on the GOP side of the Judiciary Committee who listened to Ford's testimony.
This time around, they were too afraid to directly question the woman who was reporting her story. However, they were more than ready to unleash their anger after Kavanaugh's tirade. Some of the men were the same ones who were on the committee and heard Hill's testimony in 1991.
Indeed, when asked why there were no Republican women on the Judiciary Committee, Sen. Chuck Grassley (R-Iowa) speculated that they didn't want to do so much work (comments he quickly tried to walk back).
Without more women in the party, this will be the GOP: a bunch of men who can't see outside the tunnel vision of their masculine worldview.
To truly fight sexual harassment, one strategy that has proved successful is hiring and promoting more women.
"If all the important meetings have 50 percent women, none of them happen in strip clubs," Frank Dobbin, a professor of sociology at Harvard University who's studied the effectiveness of anti-harassment training, recently told HuffPost, explaining the research he's done on combating harassment.
The GOP is laughably far from that goal. Fewer than 12 percent of Republican senators are women. In the House, there are just 23 women out of 235 Republican representatives ― less than 10 percent. (It's telling that the lone Republican in the chamber Saturday who didn't vote for Kavanaugh was Lisa Murkowski of Alaska, one of the party's few outspoken women.)
Even at a time when men still dominate executive boardrooms and C-suites, these percentages are shockingly low.
No wonder those Republican senators were so easily entranced by Kavanaugh's sob story ― their empathy clearly lies with men. They hardly even have to work with women at all. In fact, the vice president, Mike Pence, reportedly won't even dine alone with a woman who isn't his wife. And the president has said he can "grab them by the pussy."
None of this is likely to change.
The GOP has been downright hostile to the women in the party who are running, Lim said. During the primary season, the party has typically funded men and left women with little resources.
"The RNC has long purported to support getting more women into office, but they don't do anything," said Lim, who added that a lot of the GOP women running in primaries this year couldn't get enough funding from the party. "So nobody takes them seriously."
Popular in the Community