WASHINGTON -- After the Republican Party took a drubbing at the polls on Election Day 2012, RNC Chairman Reince Priebus ordered an autopsy. The party, the coroner's report found a few months later, had alienated women and minorities and came off as plutocratic. 
But with another presidential election now quickly approaching, the zombie appears to be rising from the table, as the party's discourse has not exactly been focused on the priorities that the 2013 report identified. 
Over the past few weeks, the GOP presidential campaign has been fixated on comments Donald Trump made, in which the candidate called Mexican immigrants coming illegally across the border "rapists." On Capitol Hill, Republicans have turned their attention towards defunding Planned Parenthood after controversial, edited videos emerged on the group's practices of donating fetal tissue. Elsewhere, GOP lawmakers are pushing to roll back Wall Street reform and, for the fourth straight national election, repeal Obamacare.
And that's all to say nothing of the current Topic A in the national Republican discourse: whether it was appropriate for former Arkansas Gov. Mike Huckabee (R) to invoke Hitler and the Holocaust in characterizing President Barack Obama's nuclear deal with Iran.
National Republican officials and strategists, hopeful that the summer of 2015 would help set the stage for the retaking of the White House for the first time in eight years, are now fretting about squandered opportunities.
"Comments from many different candidates -- some more serious than others -- have become a distraction in this race, and that's a problem," said Brian Donahue, a currently unaligned GOP strategist who has been in talks with several campaigns. "These are not serious issues. These are flippant comments, particularly those expressed by Mike Huckabee, and they don't reflect what the majority of the party establishment or the grassroots thinks or is concerned about."
The prevailing sentiment within the party, at this early juncture at least, is that the silly season of the campaign will turn. History shows that the Donald Trumps of campaigns fade in time (though previous incarnations haven't had 10-figure personal bank accounts from which to draw).
"I think the public views Trump as Trump views himself -- someone who is not really of a political party and is all about himself. There is no reason to believe that when most of the Republican candidates are disagreeing with him that he is currently hurting the party," said Stu Stevens, Mitt Romney's top campaign strategist from 2012. "The terrain of an election isn't really set by what is on the news as much as it is set by how people are living. It's not about what they are watching/reading as much as what they are doing."
But the upcoming Republican presidential debate in Cleveland appears poised to prolong the fade of the garish rather than hasten it. And even then, party operatives worry, there are far more problematic cracks developing below the surface.
Those fissures exploded into public view this past week, when Sen. Ted Cruz (R-Texas) himself a presidential candidate, took to the Senate floor to accuse Majority Leader Mitch McConnell (Ky.) of lying. The highly personalized attack was met with rebukes from Cruz's colleagues, who've long regarded him as a showboat and still value the concept of Senate decorum. But the issues at stake have resonance well beyond the chamber, with conservative mistrust rising over the way congressional Republicans have handled the majorities they won in 2014.
"Trump is the least of the problems. He is actually a benefit of the party for the establishment. He is distracting attention away from McConnell on Ex-Im bank and McConnell on Planned Parenthood," said Craig Shirley, a longtime strategist and Ronald Reagan biographer, referring to an amendment McConnell shepherded reauthorizing the Export-Import bank (which conservatives detest) and the failure to go more forcefully after Planned Parenthood's funding.
"This is not the summer of love," Shirley added. "This is the summer in search of identity. This is a party at war with itself. It is a party of divided personalities. It is East of Eden."
One top Republican fundraiser said that anger with McConnell and House Speaker John Boehner (Ohio) was so palpable that some longtime donors he's spoken with said they had foresworn writing more checks to the party. Another predicted that discontent towards congressional GOP leadership would end up being more damaging than the fireworks of the presidential campaign.
"There is disappointment among the Republican electorate and donors that there appears not to be more of a game plan in Washington as it relates to combating President Obama," said Robert Asher, a longtime Pennsylvania Republican and RNC member.
With this backdrop, some Republicans are seeing value in the higher ground, biding their time until the summer heat dies down and the leaves -- and, presumably, the level of political discourse within the party -- start changing.
In recent weeks, Jeb Bush has become more assertive in decrying the noise machine that is being driven by Trump and others, as he has sought to project an above-the-fray image as someone who, as he put it, is willing to "lose the primary to win the general" election.
The architects of Bush's campaign have quietly greeted the summer melee with glee, as they operate under the assumption that intra-party chaos is good for the Republican frontrunner, since it precludes -- at least for the time being -- any coalescing among the party's restive grassroots base around a serious alternative to the former Florida governor.
Ohio Gov. John Kasich, who has recently begun to make some noise in the polls in New Hampshire, is another GOP White House contender hoping to benefit from projecting an image of calm competence.
"The party will ultimately be defined by the nominee, not by the equivalent of a trashy summer beach novel now," said John Weaver, Kasich's top strategist. "When the nominee is John Kasich, his pro-growth record and inclusive agenda will force the Democrats on the defensive."
While Bush and Kasich bide their time -- watching as other candidates literally light things on fire in order to earn their own slice of mid-summer attention -- silver linings have emerged.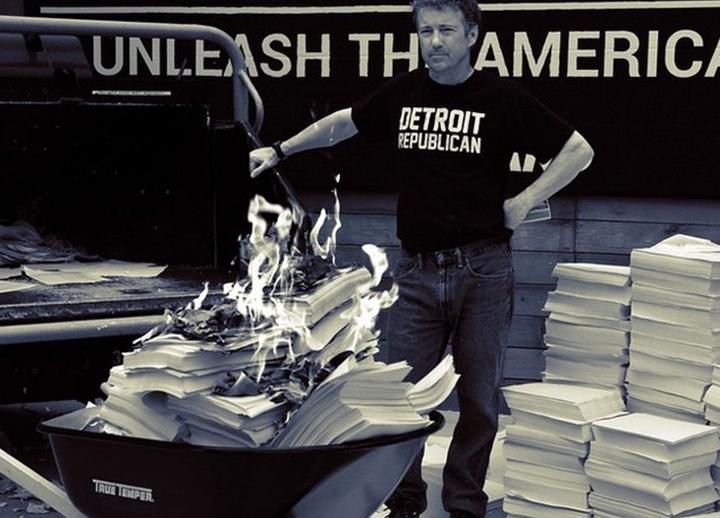 On the Democratic side, the rhetoric may not be as outlandish and the overarching strategy not so clearly fractured, but the numbers aren't particularly great. Former Secretary of State Hillary Clinton hasn't had an ideal summer either. And with her approval ratings down in many state polls, she increasingly looks like a vulnerable general election candidate, despite all the demographic advantages.
The question is what type of Republican Party will be there to greet her.
"It really depends. If it continues in this Cain and Abel posture, then yeah, [this summer] is a wasted opportunity," said Shirley, whose firm advises Wisconsin Gov. Scott Walker, though Shirley himself doesn't. "If it emerges with a coherent philosophy -- if all this fighting is to a purpose -- then it is fine. What doesn't kill you it makes you stronger."
Calling all HuffPost superfans!
Sign up for membership to become a founding member and help shape HuffPost's next chapter