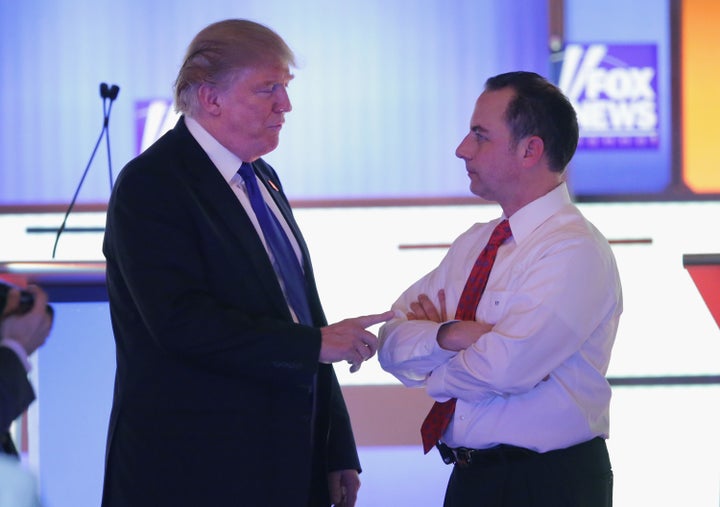 Republican presidential candidates were merely "posturing" this week when they refused to confirm that they'd honor past promises to back the eventual party nominee, Republican National Committee chairman Reince Priebus said Sunday.
Otherwise, the party boss said, candidates such as Donald Trump, Sen. Ted Cruz (Texas) and Ohio Gov. John Kasich would face the loss of $100 million worth of Republican Party data and other resources as each struggles to clinch the party's presidential nomination ahead of its July convention.
"They're posturing for the possibility of an open convention," Priebus said during a televised interview on ABC's "This Week." "I think some candidates think that, you know, there's leverage to be had over making these kinds of statements. There's no leverage over us."
In recent days, all three Republican candidates refused to state whether they'd honor their pledge, which Priebus said Sunday was made in exchange for resources from the Republican Party, such as its data on would-be voters. Trump has threatened to run as an independent candidate should he fail to win the party's nomination despite winning more votes and contests this year than his opponents.
Trump, despite his posturing, still has access to the party's databases, Priebus suggested.
The Republican Party requires that candidates win a majority of delegates in order to capture its presidential nomination, an arcane system Trump has trashed that could result in the leading vote-getter not becoming the party's standard-bearer in November.
"If the candidate can get to a majority on their own, then they're going to be nominee, but no amount of leverage and statements are going to change it," the party chief said.
Trump's rivals have been trying to pick off would-be Trump delegates in case the self-declared real estate success fails to win a majority in the runup to the convention, a situation that would allow candidates such as Cruz or Kasich to seize the nomination despite having lost most of the primary contests.
Kasich and Cruz could be helped by Trump's difficulty with women voters, who largely view him unfavorably, according to recent polls.
In recent days, Trump has suggested that if abortions became illegal under his presidency women who obtain them should face criminal punishment, only to subsequently back off his position.
Party leaders such as Rep. Cathy McMorris Rodgers (Wash.) have criticized Trump for the "inappropriate" comments, arguing that they are "hurtful" to the Republican Party. Others, such as House Speaker Paul Ryan (Wis.), have bemoaned the increasingly vitriolic and obscene language of the primary campaign.
"Those kinds of comments, I think have consequences," Priebus said, without naming Trump. "And so when you make those kinds of comments, and you want people to fall in line for you, it makes it more difficult."
Calling all HuffPost superfans!
Sign up for membership to become a founding member and help shape HuffPost's next chapter
BEFORE YOU GO
PHOTO GALLERY
Trump on the Campaign Trail