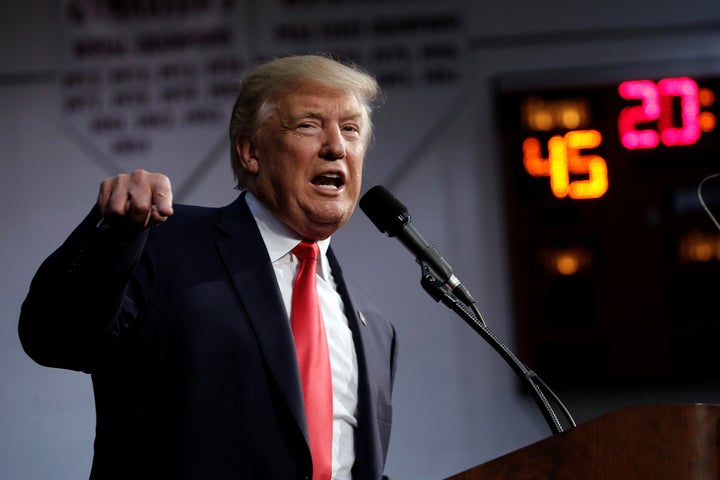 WASHINGTON ― On Monday night, hours after Speaker Paul Ryan (R-Wis.) told House Republicans that he was effectively washing his hands of Donald Trump, the GOP nominee took the stage at a rally in Pennsylvania and basically vowed that, if elected, he would make sure Ryan was no longer speaker.
"You have people that can't fix the budget, and then they start talking about their nominee, but they can't fix the budget," Trump said, using a knock on Ryan that he tweeted the same day. "Isn't it — isn't it sad that we don't have stronger leadership on both sides? But that'll change if we win on Nov. 8, believe me."
Of course, Trump has no actual power to remove Ryan as speaker. Any one member of Congress could force that vote ― as Rep. Mark Meadows (R-N.C.) signaled in 2015 that he would do to former Speaker John Boehner (R-Ohio) if Boehner didn't leave on his own ― and the speaker goes up for a floor vote at the beginning of every new Congress. And Ryan may have more trouble on that vote than he expects.
But what Trump is really doing, besides spewing his normal empty promises, is signaling what most Republicans have expected for a while now: There is a reckoning coming, and he's not waiting until Nov. 9 to start it.
Via Twitter on Tuesday morning ― because of course ― Trump continued his shots at Ryan, calling him a "weak and ineffective" speaker and blaming his own sinking presidential poll numbers, "despite winning the second debate in a landslide," on Ryan.
"It is hard to do well when Paul Ryan and others give zero support," Trump tweeted/fever dreamed.
In discussions with Republican members of Congress and top GOP aides, everyone acknowledged that the current situation with Trump and the die-hard segment of his base was untenable. The sources spoke on condition of anonymity to talk more freely about Trump and the Republican Party.
Yes, these sources said, there will have to be a real battle for the soul of the GOP. But unlike Trump, they don't think a month before the election is the right time to begin an internecine Twitter fight.
"He clearly knows he's going to lose, and he's going to blame everyone but himself," one aide said.
The aide noted the foolishness of Republicans starting a war four weeks before Election Day, but said the GOP would have to address Trump after the election.
"Come Nov. 9, there will be a fight for who we are, what we stand for," the aide said.
There isn't any sort of formalized plan for this fight ― "How do you have any fight in politics?" the aide asked rhetorically ― but most believe it will have to begin with leaders like Ryan speaking out against Trump's brand of politics.
"We will lose voters over it," one conservative member told HuffPost on Tuesday. "But does it have to happen? Maybe."
Another member added: "This is the fight we have to have."
Everyone acknowledged that Trump would take a segment of his most devoted followers with him, perhaps even into a new party, maybe to just a new Breibart-y cable channel, but the aim seems to be less about cleaving the most deplorable element of the Republican Party and more about trying to redirect the conversation toward something less ugly.
"We don't want the party to break in half, we want to bring it back together under more sensible principles," that same GOP aide said.
Exactly how possible, or likely, that scenario is will depend greatly on Trump himself.
If his current behavior is any indication, Trump has no intention of bringing Republicans back together. He is actively engaged in a campaign blaming his electoral problems on other Republicans. And the election is still a month away. One can only imagine what Trump will be like after he loses, with extra time and extra bitterness.
If Ryan does try to play the role of Trump alternative, Trump almost certainly will redirect his anger toward the January speaker election. And the conservatives who were already angry with Ryan ― but in no small part disagree with Trump ― will be forced to decide whether they'll do Trump's bidding. At the same time, the handful of strongly pro-Trump members, ones who have traditionally not caused problems for GOP leaders, will have to decide whose side they're on as well.
Another conservative member agreed that making Ryan's upcoming speaker vote a "referendum" on the Trump v. Ryan battle could complicate that math. "I think Paul Ryan was already in trouble, so I don't know if this helps or hurts him more," the member said.
"I don't think a lot of conservatives are going to want to vote for Donald Trump's vision of the Republican Party in January," he said.
On Monday night, on the same stage from which he suggested a leadership change for both parties, Trump called up a few of his most dedicated supporters: Sen. Jeff Sessions (R-Ala.), and two Pennsylvania representatives who were early to jump on the Trump train, Lou Barletta and Tom Marino.
With the addition of another dozen or so strongly pro-Trump members ― members like Reps. Chris Collins (R-N.Y.) and Scott DesJarlais (R-Tenn.), and the five Republicans who spoke out on a conference call Monday when Ryan announced that he would no longer be defending or campaigning with Trump: Reps. Dana Rohrabacher (R-Calif.), Trent Franks (R-Ariz.), Billy Long (R-Mo.), John Carter (R-Texas) and Tom McClintock (R-Calif.) ― Ryan could have some trouble in January.
For now, he seems content to ignore those issues, ignore the Trump tweets, and continue working toward keeping the Republican majority. For Ryan's sake, and the sake of House Republicans, he's hoping to keep as many GOP seats as possible. Perhaps the best-scenario for Ryan is that House Republicans dramatically outperform Trump, and Trump loses severely.
"The worst-case scenario," one aide said, "is that he rallies and loses a squeaker."
REAL LIFE. REAL NEWS. REAL VOICES.
Help us tell more of the stories that matter from voices that too often remain unheard.