WASHINGTON — A group of Republican statesmen led by former Secretary of State James A. Baker III on Tuesday introduced a carbon tax plan intended to strengthen the economy, promote national security and "protect our natural heritage." 
Many people in the party have "looked the other way" on the issue for too long, the group wrote in its proposal published by the Climate Leadership Council. And with control of the White House and Congress, the GOP now has an opportunity to "set the terms of a lasting market-based climate solution."
In addition to Baker, who served under presidents Ronald Reagan and George H.W. Bush, the group includes former Treasury Secretary Henry Paulson and former Secretary of State George Shultz.
"Mounting evidence of climate change is growing too strong to ignore," the proposal reads. "While the extent to which climate change is due to man-made causes can be questioned, the risks associated with future warming are too big and should be hedged. At least we need an insurance policy."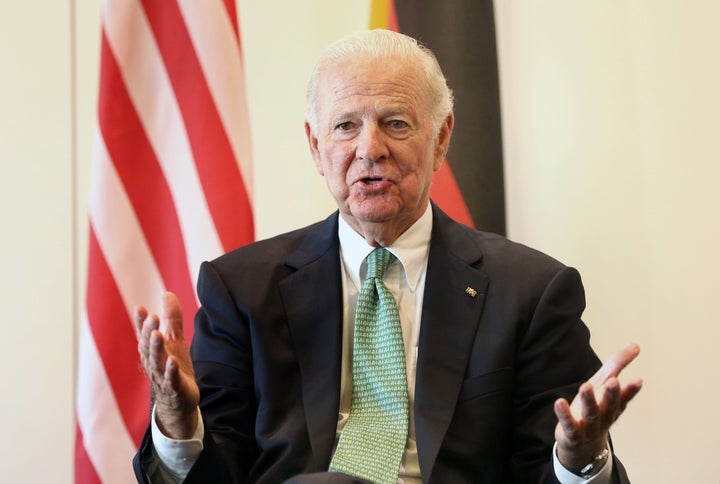 The plan calls for phasing out a large portion of the Environmental Protection Agency's authority to regulate carbon emissions and a full repeal of the Obama administration's Clean Power Plan. In its place, the group suggests instituting a tax on carbon dioxide emissions that might start at $40 per ton and increase over time. Money raised from the tax would be kicked back to the American people in the form of a "carbon dividend" of approximately $2,000 per year for a family of four, according to the document. 
Ted Halstead, the founder, president and CEO of the newly established Climate Leadership Council, said Wednesday morning at a press conference that the "historic" announcement represents the first time Republican leaders have put forth a clear climate solution. 
"For so long this issue has been mired in partisan politics," he said. "The simplistic view is that Democrats want to solve climate change and Republicans don't. Well, as today's statement, our statement, proves, that is not true." 
When CNN's John King asked Baker on Tuesday how one goes about convincing a skeptical president that it's time to face the realities of climate change, the former secretary of state said he's not sure it can happen.
"But this is a good plan, both from a policy standpoint and from a political standpoint," Baker said. "[Climate change] is a problem, right now at least. And Republicans have not been at the table, because we are basically skeptics or deniers."
One potential supporter of a carbon tax is Secretary of State Rex Tillerson, who previously served for 10 years as the chief executive of Exxon Mobil Corp. During his time at the oil giant's helm, Tillerson publicly backed a national carbon tax as his preferred solution to curbing carbon emissions.
His support came in 2009, when there was hot debate in Congress over a bill that would establish a cap-and-trade system, which would put a limit on emissions and allow companies to buy and sell the rights to pollute. A carbon tax, by contrast, levies a blanket fee on carbon emissions, and is widely considered by economists to be the most effective way of curbing emissions. Some environmentalists accused the company of trying to kneecap the legislation by causing "a distraction" with its historic carbon tax announcement. Exxon Mobil also lobbied against two bills in Massachusetts that would have created carbon taxes there. 
Mitt Romney, the 2012 GOP presidential nominee, was among the first to voice support for the Republicans' plan, calling it "thought-provoking." 
Unsurprisingly, not everyone sees a carbon tax in such a positive light. 
Michael A. Needham, CEO of Heritage Action for America, called the plan "a destructive taxation regime" that would neither make American companies more competitive nor bring back jobs.
"Beyond the policy implications, the Climate Leadership Council's carbon tax proposal is just the latest example of policy solutions crafted by and made for cultural elites," Needham said in a statement. "There is no room in the Republican Party for a carbon tax. These so-called Party elders might want to meet with former Secretary [Hillary] Clinton to discuss this idea."
Rhea Suh, president of the Natural Resources Defense Council, said she's in favor of putting a price on carbon but that it shouldn't come at the expense of current laws limiting pollution. 
"We have a moral obligation to protect future generations from the growing dangers of climate change," she said. "Effective action means building on the progress we're already making, not sacrificing those gains by weakening the laws Congress has already passed." 
Read the full plan, titled "The Conservative Case For Carbon Dividends," here. 
This article has been updated with comments from Ted Halstead.
Calling all HuffPost superfans!
Sign up for membership to become a founding member and help shape HuffPost's next chapter
BEFORE YOU GO
PHOTO GALLERY
Top 10 Cities With The Worst Air Pollution 2016