When Republican candidates began sparring in their first faceoff of the 2024 GOP presidential primary Wednesday night, Fox News struck a different tone than its norm on climate change.
Back in 2019, when Democratic presidential candidates debated onstage for the first time in the 2020 election cycle, it took NBC News' moderators an hour and 22 minutes to ask about climate change. That same year, a watchdog group's study found that Fox News devoted 86% of its coverage of global warming to claims that denied the reality that heat-trapping emissions are radically changing the planet.
But in the first half hour of Wednesday night's debate, the right-wing network aired a recorded question from a teenage GOP activist lamenting how Republicans' outright denial of climate change has alienated young voters.
Then, the moderators listed recent disasters — Hawaii's wildfires, California's rare hurricane, Florida's 101-degree seas, and the Southwest's record heat — and asked the eight Republicans onstage to raise their hands if they believed "human behavior is causing climate change."
Before the candidates could move, Florida Gov. Ron DeSantis balked at the question.
"We're not schoolchildren. Let's have the debate," he said, launching into a diatribe accusing U.S. journalists of giving President Joe Biden a pass on his disaster response due to a bias toward Democrats.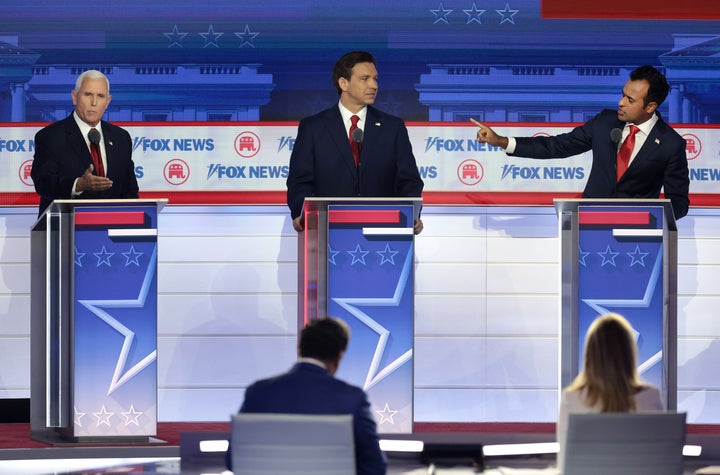 After DeSantis' derailing, the moderators didn't follow up. Fox News never got its show of hands.
But the chaotic back-and-forth that followed showed a slightly more diverse range of views on climate change than in past Republican debates.
In his opening remarks, Vivek Ramaswamy, the 38-year-old biotechnology entrepreneur and political neophyte who made a name for himself opposing corporations' efforts to cut emissions, had made the first mention of energy issues, pitching a platform focused on producing more oil, gas and coal and embracing nuclear power.
In response to the question, however, Ramaswamy sought to cast himself as the heir to former President Donald Trump's political legacy, whom he later called the "best president of the 21st century."
"The climate change agenda is a hoax," Ramaswamy said over boos. "It is a hoax … The reality is, the anti-carbon agenda is a wet blanket on our economy. More people are dying of bad climate change policies than they are of actual climate change."
Former South Carolina Gov. Nikki Haley deployed familiar GOP rhetoric meant to deflect attention from the U.S. — which is the No. 2 annual emitter and the No. 1 source of cumulative carbon dioxide in the atmosphere — to the Earth's two most populous countries.
"We do care about clean air, clean water," she said. "But there's a right way to do it. Is climate change real? Yes, it is. But if you really want to go change the environment, we need to start telling China and India that they have to lower their emissions."
She insisted the billions in subsidies made available in Biden's landmark Inflation Reduction Act were "not working," even as money flows into red states for battery manufacturing plants and electric vehicle factories.
South Carolina Sen. Tim Scott suggested that shift isn't happening.
"If we want the environment to be better — and we all do — the best thing to do is to bring our jobs home from China," Scott said. "Let's bring our jobs home."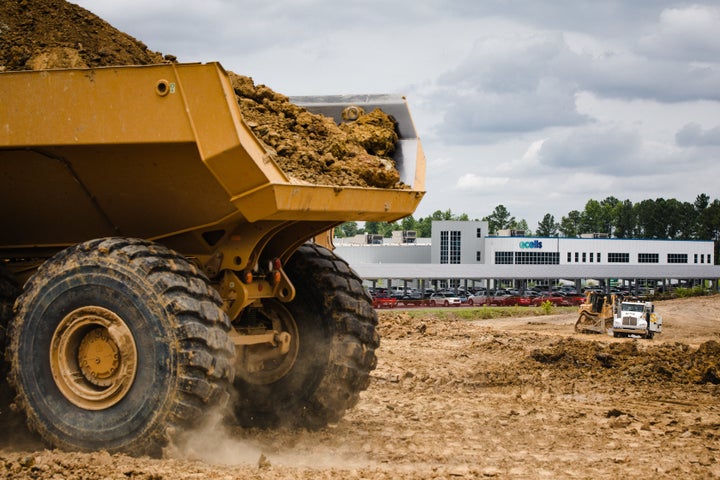 Before the question, North Dakota Gov. Doug Burgum gave his own assessment of the war in Ukraine and the Inflation Reduction Act, offering a complex and somewhat meandering analysis of how U.S. sanctions on Russian oil and gas were diverting cheap fuels to China. Papering over major announcements of new battery and solar manufacturing plants in the U.S., he insisted that China's dominance over clean-energy supply chains made buying panels or batteries pointless.
"If you buy a battery in this country, if you buy a solar panel, it's being produced in a plant in China powered by coal," he said. Repeating his claim that Beijing benefited from discounted Russian fuels, he said: "It's being powered by oil and gas at 20% off."
He returned to the theme later in the debate when asked about how to deter China from invading Taiwan, the self-governing democratic island Beijing claims as its territory but that the Chinese Communist Party has never ruled.
Despite White House climate diplomat John Kerry leading outreach to Beijing, Burgum said that Biden administration officials who visited China recently "don't even bring up energy because they're too busy trying to kill U.S. energy here."
Meanwhile, Biden's team answered Fox News' simplistic question more succinctly than any of the Republicans onstage:
Support HuffPost
The Stakes Have Never Been Higher
Popular in the Community