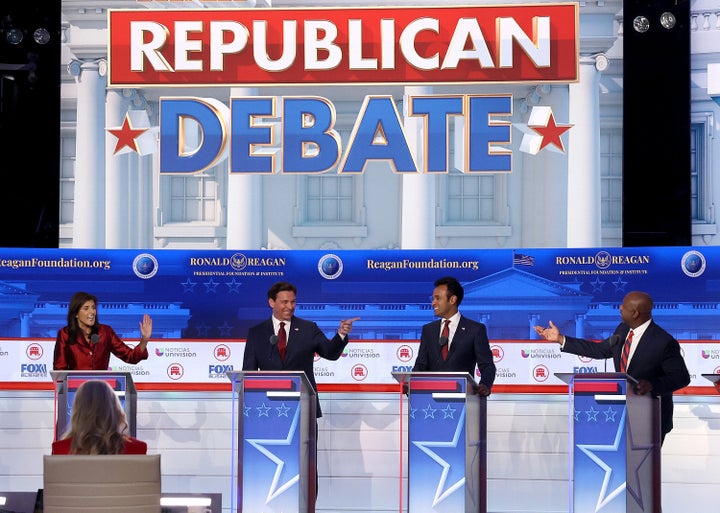 Almost exactly four years ago, one of California's increasingly destructive wildfires caused roughly $500,000 in damage to the Ronald Reagan Presidential Library.
But GOP candidates gathered there for the second 2024 presidential primary debate almost uniformly rejected the idea that the planet's steadily rising temperature was a problem at all.
"It's not climate change we need to worry about," said North Dakota Gov. Doug Burgum. "It's the Biden climate policies."
After dodging surprisingly pointed questions about climate change at the first debate Fox News hosted last month, the contenders hoping to take on President Joe Biden next November battled each other over who would do most to ramp up production of the fossil fuels destabilizing the planet's weather systems.
"Drill, baby, drill," businessman Vivek Ramaswamy said, repeating a campaign slogan cribbed from former reality TV star and Alaska Gov. Sarah Palin's failed 2008 vice presidential campaign (but coined by former Maryland Lieutenant Gov. Michael Steele).
While the right-wing biotech executive expressed support for at least one source of zero-carbon energy, vowing to "embrace" the nuclear power that already provides one-fifth of the country's electricity, South Carolina Sen. Tim Scott suggested only fossil fuels mattered.
"We're the richest country if you combine coal, gas and oil," Scott said.
Like former President Barack Obama before him, former Vice President Mike Pence claimed responsibility for the United States becoming a major exporter of gas and oil. Pence accused Biden, who has overseen a surge of U.S. fuel sales overseas, of stifling that growth.
"One of the signature accomplishments of our administration was in just a few short years we achieved energy independence," Pence said. "But on day one, Joe Biden declared a war on energy."
Former South Carolina Gov. Nikki Haley said the U.S. needs "to partner with producers and make sure we have their back" ― not specifying which energy companies she meant in a country with vast solar, wind, nuclear, hydroelectric and fossil fuel resources.
In one of the most gripping moments for any debate over energy, Haley then lit into Florida Gov. Ron DeSantis, the highest-polling candidate on a stage without Donald Trump, for directing his state regulators to ban hydraulic fracturing, the drilling technique known as fracking.
"Ron DeSantis is against fracking," Haley said. "He's against drilling. He always talks about what happens on day one. You better watch out because what happens on day two is where you get in trouble."
Just two days into his first term in 2019, DeSantis issued an executive order instructing the Department of Environmental Protection to phase down all fracking in Florida, according to Politifact.
While DeSantis won the governor's seat just months earlier by a margin of less than 1% against his Democratic opponent, nearly 70% of Florida voters in the same election approved a ballot measure to amend the state constitution to ban "drilling for exploration or extraction of oil or natural gas" on lands "beneath all state waters which have not been alienated and that lie between the mean high water line and the outermost boundaries of the state's territorial seas."
The attack unraveled somewhat when Haley claimed DeSantis signed the order before the election that brought the former congressman to Tallahassee.
"You banned it before they voted," Haley said.
"That's not true," DeSantis said.
He pointed to a policy platform he issued this month calling for major increases in fossil fuel production.
"We're going to choose Midland over Moscow, we're going to choose the Marcellus over the mullahs, and we're going to choose the Bakken over Beijing," DeSantis added, referring to major oil- and gas-producing regions of Texas, Pennsylvania and North Dakota, respectively.
It seemed to set up a moment for Burgum, the lowest-polling candidate, whose relatively moderate record in his state has made it difficult to stand out in a race dominated by Trump. Earlier in the debate, when asked about the ongoing auto union strike, he launched into a diatribe insisting that electric vehicles were the real cause of the workers' distress, in part because Chinese-produced rare earth minerals used in car batteries are ecologically destructive.
But on the energy question, he simply noted that his state, a major oil producer, was "already doing it."
Support HuffPost
The Stakes Have Never Been Higher
Popular in the Community