SIMI VALLEY, Calif. ― With less than four months to go before the first ballots are cast in the 2024 GOP presidential election, the candidates not named Donald Trump likely squandered their second nationally televised opportunity to make up ground against the coup-attempting front-runner.
Florida Gov. Ron DeSantis said many people in his state don't have health insurance because Floridians don't believe in welfare. Biotech entrepreneur Vivek Ramaswamy promised to deport the children of undocumented immigrants, notwithstanding the Constitution's promise of birthright citizenship. And former South Carolina Gov. Nikki Haley said she felt "a little dumber" every time she was around him.
But none of the seven onstage bothered to make much of a case for why they were better suited for the nomination than a man facing 91 felony counts and four criminal indictments, who nevertheless appears to have a solid hold on the party's primary voting base.
Indeed, most of the limited criticism the debaters could manage against Trump was over his decision not to show up onstage for the second time in a row.
"Donald Trump is missing in action. He should be on this stage tonight," said DeSantis.
"You're not here tonight, not because of polls, and not because of your indictments. You're not here tonight, because you're afraid of being on the stage and defending your record," said former New Jersey Gov. Chris Christie, trying to goad the absent Trump with insults. "You keep doing that. No one up here is going to call you Donald Trump anymore. We're going to call you Donald Duck."
Even in the final question, when the moderators raised the issue of Trump dominating the polling, only Christie ― the sole candidate to have made Trump's behavior after his 2020 defeat a central theme of his campaign ― used the opportunity to say the ex-president should not be the nominee.
"He needs to be off the island. He needs to be taken out of this process," Christie said.
Republicans hoping for the debate to shift the course of the race said it did not happen.
"Nothing changes," said Sarah Longwell, a GOP consultant who has been working against Trump since he began running in 2015.
"Totally expected," said former congressman Joe Walsh, who ran against Trump in the 2020 primary because of his authoritarian tendencies. "But still pathetic."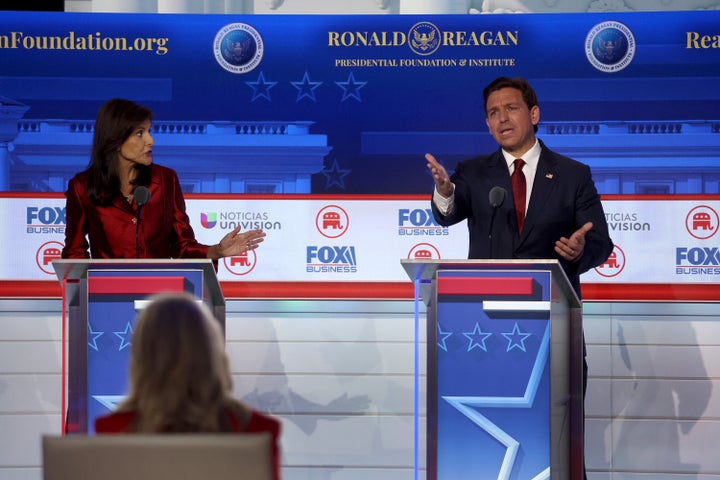 Haley at one point criticized Trump for focusing on getting a trade deal with China rather than protecting American intellectual property from theft and stopping the use of Chinese drones by U.S. law enforcement. And former Vice President Mike Pence criticized Trump for wanting to consolidate executive branch power in a second term, rather than devolving it to the states.
But for the most part, all of the criticism from the candidates was focused on Democratic President Joe Biden and, more often, each other, like when South Carolina Sen. Tim Scott attacked Haley for the cost of the curtains in her government-paid residence when she was Trump's UN ambassador. North Dakota Gov. Doug Burgum criticized the others for only recently coming up with an oil and natural gas drilling plan that his state already does.
The only major policy disagreement onstage Wednesday, just as in the first debate last month, was U.S. aid to Ukraine in its fight against Russia's invasion. Once again, Ramaswamy and DeSantis said they would end assistance, while Pence, Haley and Christie warned that appeasing Putin would not work.
"The naivete on this stage is extraordinary," Christie said.
Trump campaign staff said the performance vindicated his decision to once again skip.
"The debate changed absolutely nothing," said Chris LaCivita, a top campaign adviser. "The trajectory of the race didn't change."
The third debate is scheduled for Nov. 8 in Miami.
Support HuffPost
The Stakes Have Never Been Higher
Popular in the Community