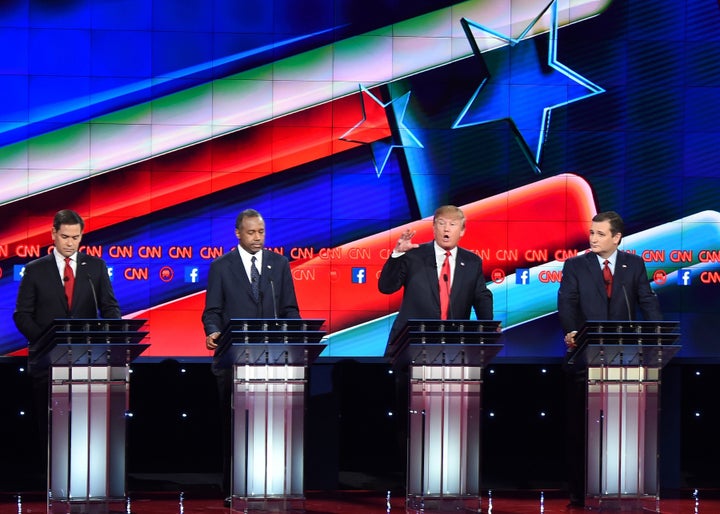 Republican presidential hopefuls will square off once more during Thursday's Fox Business debate in South Carolina, where they'll have one of their last chances to knock out a rival on live television, less than three weeks before the crucial Iowa caucuses.
Only seven candidates made the cut to appear on the main stage in Charleston, S.C.: Ted Cruz, Marco Rubio, Jeb Bush, Chris Christie, Donald Trump, John Kasich and Ben Carson. Lindsey Graham, who participated in the last GOP debate, dropped out last month. And Carly Fiorina and Rand Paul failed to clear the moderator's polling qualifications, and have been relegated to an earlier, smaller debate with Mike Huckabee and Rick Santorum. 
Paul, however, is boycotting the event. The Kentucky Republican objects to Fox Business' entrance criteria, which relied on national polls, that he says unfairly counted him out of the main debate. Indeed, it appears he's making a fair argument. The senator told CNN earlier this week that he will not "participate in anything that's not first tier because we have a first tier campaign," and will rather be holding events in other early nominating states.
Unlike the previous Fox Business debate in November, where both candidates and moderators struck a decidedly civil tone, the gathering on Thursday evening is likely be more of a raucous affair. With what appears to be a toss-up in polling between Trump and Cruz in Iowa, and a bare-knuckle brawl for the establishment lane between multiple candidates in New Hampshire, campaigns will be under significantly more pressure to land solid hits against their rivals for the GOP nomination.
Already, the crowded race has turned into a wild free-for-all. Candidates and their super PACs have shifted resources from mostly positive, biographical introductions in favor of negative attacks and advertisements on everything from flip-flops to each other's fashion choices.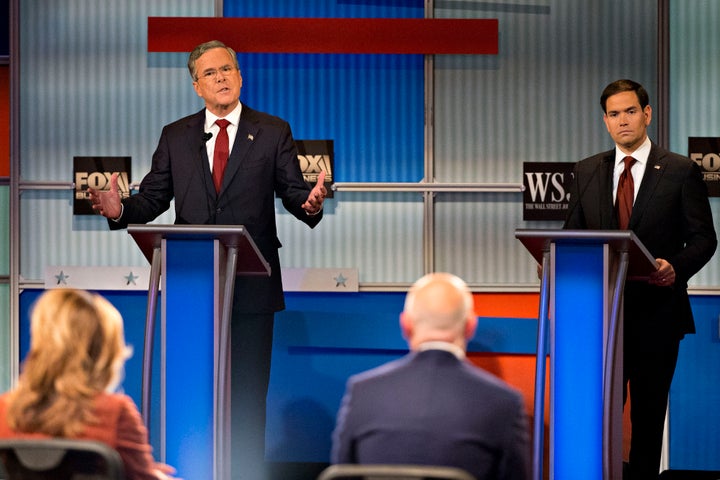 One of the bitterest rivalries, between friends Rubio and Bush, centers on Rubio's shifting stance on immigration, as well as his choice of footwear -- a pair of higher heeled boots he was spotted wearing on the campaign trail. Bush subtly drew a contrast with his former mentee earlier this week, stating that he didn't "have a height issue." The boots may not become more than a punchline in Charleston -- but immigration is sure to elicit some fiery exchanges. A recent super PAC ad backing Bush accused Rubio of flip-flopping on immigration, comparing the senator to a weathervane.
Another likely flashpoint Thursday night will almost certainly be Cruz's eligibility to run for president, an issue that has put the Texas senator on the defense amid a barrage of attacks from Trump. Cruz, a U.S. citizen under the Constitution's "natural-born" clause, was born in Canada. The issue has never been settled in the courts, however, creating an opening for Trump and other Republicans who continue to troll Cruz over his eligibility for the presidency. The real estate mogul, who continues to lead in the polls, has said he won't bring up the issue Thursday night -- but that doesn't mean others won't. If Cruz can ably respond to the matter, as well answer questions over a late-breaking New York Times story about a major loan he failed to disclose, he'll be well-positioned to take the Iowa caucuses.
Chris Christie is another candidate to watch during the debate. The New Jersey governor has shifted positions on numerous issues over the course of the campaign, a move fact-checkers and his rivals have sought to highlight as he continues to gain traction in New Hampshire. As an elected official in a blue state, Christie once held moderate to liberal positions on guns and abortion. He similarly once backed a pathway to citizenship for undocumented immigrants and the Common Core education standards, but later backtracked on both. Most recently, Christie's support for the National Rifle Association has come into question -- a line of attack his rivals may pursue on Thursday.
Finally, as in every previous debate, front-runner Donald Trump will be center stage. Most of his opponents have up to this point been loath to attack the businessman for fear of alienating his army of supporters. That, however, will likely change Thursday night. Cruz, for example, has recently begun to target the real estate mogul for holding what he calls "New York values."
PHOTO GALLERY
Milwaukee Fox Business GOP Debate
Calling all HuffPost superfans!
Sign up for membership to become a founding member and help shape HuffPost's next chapter