A fight between Republican pundits shows exactly how much this election season has tested many people's party loyalty. 
Hughes, who waved off Trump's threat to sue his accusers as "great drama for ratings," insisted that voters are ultimately going to look past the allegations to "what he's promising for the future of America."
Navarro, who slammed Trump as "the most rude, vulgar candidate that we've ever had in U.S. history," expressed concern that we're "getting numb" to these kind of allegations.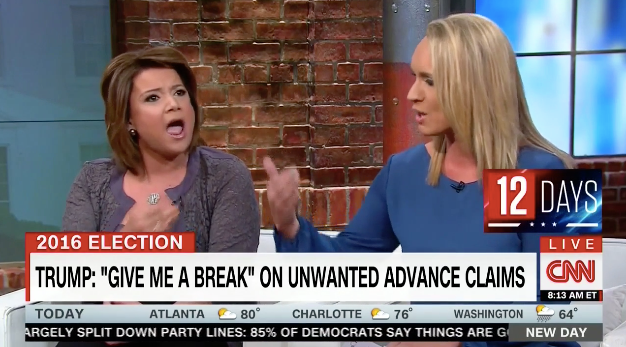 "I really can't keep track anymore of how many women have accused Donald Trump," she said.
Hughes responded by demanding to know where Navarro's loyalty stood.
"For the last year I've heard you bash Donald Trump," she said. "Who are you supporting?" 
"I am … writing in my mom," Navarro snapped back. Hughes criticized this tactic, saying it was "not a feasible solution."
"I've got every right to vote my conscience. If my conscience doesn't allow me to support either the Republican or Democrat, then I'm going to write in whomever I want," Navarro said.
Hughes called Navarro's actions selfish. "I actually look at the bigger picture," she said.
The explosive segment ended without the women coming to an agreement, amicable or otherwise.
Calling all HuffPost superfans!
Sign up for membership to become a founding member and help shape HuffPost's next chapter
BEFORE YOU GO