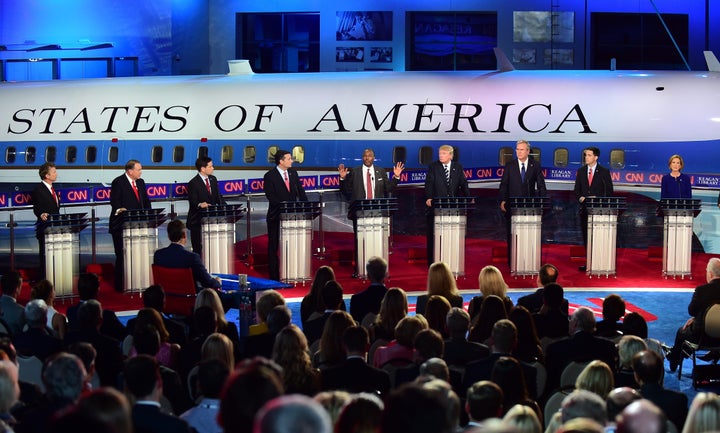 The GOP's enduring veneration of Reagan was on full display at last week's debate, held at his presidential library in Simi Valley, California.
"You see, in my lifetime, the greatest president was a governor from California. Ronald Reagan knew how to go big and go bold," Wisconsin Gov. Scott Walker told the audience in his opening statement.
Ohio Gov. John Kasich, who recalled sharing a plane with the former president, said their goals "are pretty much the same." Sen. Marco Rubio (Fla.) cited his grandfather's love for Reagan and America, while Sen. Rand Paul (Ky.) described himself as a "Reagan conservative" and former neurosurgeon Ben Carson credited Reagan with leading him toward the GOP .
Reagan's legacy remains equally esteemed among rank-and-file Republicans, 90 percent of whom said they viewed him favorably and 71 percent of whom viewed him very favorably. Even Americans under 45, who are more likely to say they don't recall his presidency very well, overwhelmingly see Reagan as a positive figure.
That can lead to occasional cognitive dissonance among both politicians and Republicans as a whole. The candidates who praised Reagan at the CNN debate also spent much of the night disregarding his record on everything from climate change to immigration. In the survey, a 35 percent plurality of Republicans realized the debt grew under Reagan, little different from the 40 percent of all Americans who knew that it had.
Still, 50 percent think that today's GOP politicians are less conservative than Ronald Reagan, according to the survey, which was conducted after the debate. Twenty-two percent think it's remained the same and just 8 percent think the party has become more conservative in the intervening years. Conviction that the party has become more liberal is even stronger among tea party members, 68 percent of whom said GOP politicians are less conservative today.

"I can't think of two people who are more diametrically opposed," his son Ron told Politico. "This egotistical, narcissistic guy with the weird comb over swanning in his private plane … My father would recoil at that sort of thing."
Respondents to the HuffPost/YouGov survey would seem to agree: a plurality of 33 percent named Trump as the least like Reagan.
Forty percent of Republicans polled said either that none of the 2016 contenders resembled Reagan any more than their rivals or that they weren't sure. Eleven percent name firebrand Sen. Ted Cruz (Texas) as the most Reaganesque, with 8 percent or fewer naming one of the other candidates.
Asked which presidential candidate most resembled his father, Michael Reagan pointed to the race's first casualty, former Texas Gov. Rick Perry ("He's a cowboy. My dad was a cowboy"), who dropped out prior to the debate.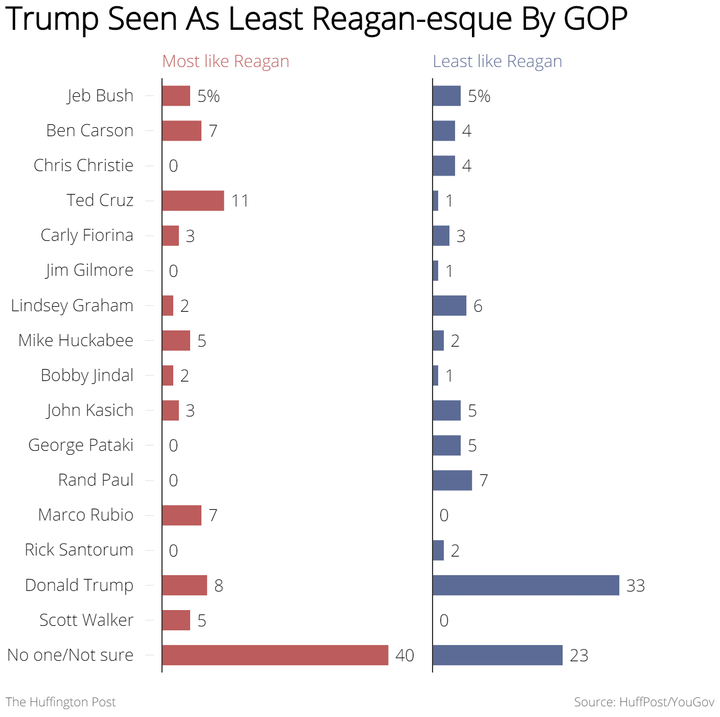 The HuffPost/YouGov poll consisted of 1,000 completed interviews conducted Sept. 17-18 among U.S. adults, using a sample selected from YouGov's opt-in online panel to match the demographics and other characteristics of the adult U.S. population.
The Huffington Post has teamed up with YouGov to conduct daily opinion polls. You can learn more about this project and take part in YouGov's nationally representative opinion polling. Data from all HuffPost/YouGov polls can be found here. More details on the polls' methodology are available here.
Most surveys report a margin of error that represents some, but not all, potential survey errors. YouGov's reports include a model-based margin of error, which rests on a specific set of statistical assumptions about the selected sample, rather than the standard methodology for random probability sampling. If these assumptions are wrong, the model-based margin of error may also be inaccurate. Click here for a more detailed explanation of the model-based margin of error.
Popular in the Community