PHILADELPHIA ― Senate and House Republicans came to their GOP retreat here to get on the same page on Obamacare, to figure out the broad strokes of a health care alternative and to emerge with a unified message.
Republicans left town Friday with still more questions than answers on an Obamacare alternative, and the only thing lawmakers truly seem to agree on is that the Affordable Care Act needs to go.
On Wednesday, House Speaker Paul Ryan (R-Wis.) and Senate Majority Leader Mitch McConnell (R-Ky.) laid out a timeline for repealing major parts of the 2010 health care law through a reconciliation process before April. At that point, the secretary of health and human services would begin issuing new guidance on Obamacare, which the lawmakers seem ready to consider part of a "replacement."
And then ... they've offered little idea what happens next, how long it will take or what it will end up.
Republicans talk broadly about incorporating some elements they've already agreed to in the past, like expanding health savings accounts, creating high-risk pools and lifting barriers to the purchase of insurance plans across state lines. But those ideas alone assume that some crippled version of Obamacare remains in place and that Republicans in both chambers go along with gutting the health care system without a real replacement plan. The closer Republicans get to the sticking point, though, the more some lawmakers will want policy particulars, which their leaders simply don't have.
When HuffPost asked House Majority Whip Steve Scalise (R-La.) on Friday for the proposed details of the replacement plan, he focused on the repeal.
"What we've looked at is as many things as we can put in a reconciliation bill that not just deal with a repeal but also a replace," Scalise said. He then explained that the measure ripping apart the law will contain only small portions of an Obamacare alternative because of Senate rules barring new policies in a reconciliation bill. After they pass that repeal, he said, Republicans would "start moving some other things through the legislative process."
"One of the flaws with Obamacare ― there were many ― was that [then-Speaker] Nancy Pelosi literally wrote the bill in a room with maybe two or three other people the night before the vote and nobody read the bill before they voted on it," Scalise said.
While it's true the law enacted in 2010 included its fair share of backroom deals, the substance of the Affordable Care Act was the subject of a lengthy, open debate that started during the 2008 presidential campaign and continued in Congress for about a year ― with some 130 public hearings across five committees.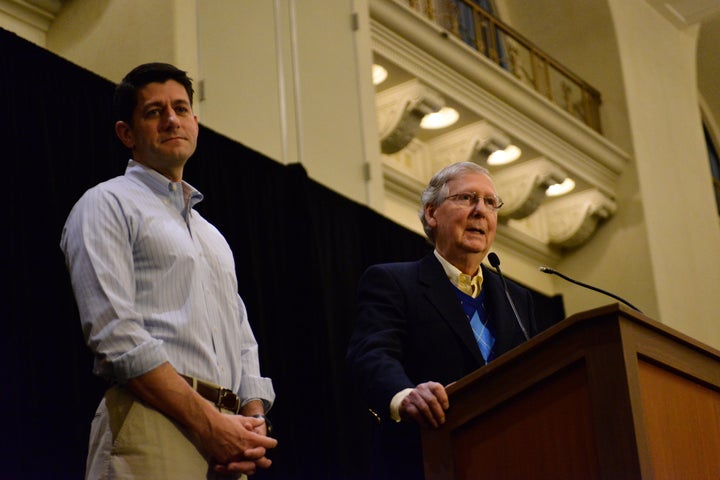 Republicans now look ready to have an actual debate on Obamacare, with hearings and multiple bills. This process would take time and could generate significant backlash. If Republicans are able to repeal Obamacare with, say, a three-year delay on the effective date, they could use those years to develop and pass multiple individual components of a health care alternative.
But those bills would likely all need 60 votes in the Senate, and there's little incentive for Democrats to go along with gutting the law, especially if GOP lawmakers are shaky about what they're doing.
Some Republicans think this is where Trump might come in handy. "I like the idea that we have a president who's going to be using the bully pulpit, flying around on Air Force One to those states where Democrats might want to be standing in the way of their own voters," Scalise said.
Again, that assumes Republicans themselves can agree on the broad strokes of a plan.
On Thursday, Republicans held a two-and-a-half hour session on Obamacare that many lawmakers thought could produce those general agreements on a replacement. Instead, in the words of one member, "it was a farce." Two other members characterized it as "pathetic."
A secret recording obtained by The Washington Post reveals the extent of lawmakers' confusion and their wariness of barreling toward a repeal without a clear replacement plan. The general uneasiness is captured in one exchange when a lawmaker asked panelists a "simple question": Will states be able to maintain the expanded Medicaid rolls provided for under the Affordable Care Act?
"These are decisions we have to make," replied another, according to The Washington Post. "That's why we are here today."
"The only person in the room talking specifics was Dr. Cassidy," one member told HuffPost, referring to Sen. Bill Cassidy (R-La.). "You might not like his plan, but at least he is talking about a real solution."
Cassidy's plan, which is also supported by Sen. Susan Collins (R-Maine), is to essentially allow states where Obamacare is working well, like California and Michigan, to keep that structure, while other states where it's not working so well, like Arizona and Tennessee, could adopt a new system. It's easily pitched to voters and relies on the key Republican principle of bringing government closer to the people. Naturally, the plan looked dead on arrival.
Republicans at that Thursday session reported to HuffPost that there were plenty of ideas tossed around, just no real consensus.
"Lots of different perspectives on how to best fix the Obamacare fiasco," Rep. Mo Brooks (R-Ala.) said. "No coalition on any one form of repeal or fix."
But other lawmakers argue that premiums and deductibles need to be reduced and coverage for the sick must be maintained ― all while repealing the taxes that help pay for Obamacare and removing insurance mandates.
That was the position of Rep. Brian Babin (R-Texas), who thinks Republicans can achieve all those things. Told that his insurance plan sounded like magic, Babin went on to praise the free enterprise system and decry the fact that some Americans had to change doctors under Obamacare.
"Nothing's magic," he said.
It's not realistic, either. If you take away the mechanisms that pay for Obamacare ― as Republicans want to do ― insurance coverage will not miraculously get better or cheaper simply because there's more competition across state lines. The net result will be fewer Americans insured, larger medical bills to be paid out of pocket, or a combination of the two. Real people will suffer real consequences.
If you want to pass a health care alternative in the open, through regular order, with multiple bills, over many months ― to give full public consideration to a major decision ― you also have to deal with public opposition. Votes on measures that already look like they can't win 60 senators will be even tougher. And the competing viewpoints ― from conservatives who want to see less government interference and support, from moderates and liberals who want to see more ― will duke it out in a very messy battle that could overwhelm an already jammed congressional schedule.
Which is all to say: A Republican alternative to Obamacare faces real trouble, and that isn't something you can resolve over a couple of days in a hotel ballroom.
Laura Barron-Lopez and Jonathan Cohn contributed to this report.
Popular in the Community