While Democratic candidates sweat out Norman Hsu and the other skeletons in their cashboxes, the Republican presidential challengers aren't free from their own bundles of trouble. In an era when major Bush supporters like Jack Abramoff and Thomas Noe added memorable new entries to the annals of political corruption, GOP candidates are dealing with dirty donors of their own.
Still, it remains unclear whether the Republican frontrunners are making a concerted effort to keep scandal-tainted money out of their pockets.
Some campaigns eagerly communicate that they are working to keep shady donations out of their coffers.
"We are vetting anyone who is officially working as a fundraiser for the campaign," said Jeff Sadosky, a spokesman for Fred Thompson, told the Huffington Post. "Anyone who is doing any sort of fundraising for us would have to sign a fundraising official agent form that ensures that they are fully aware of Federal Election Commission requirements and guidelines."
But other GOP frontrunners were reluctant to talk about their vetting procedures. "I don't have a comment for you on this issue," said Mitt Romney spokesman Stephen Smith in a Friday e-mail.
Just last month, Alan Fabian, a Maryland businessman who served as a finance co-chair for Romney's presidential campaign, was indicted on 23 charges of perjury, fraud, money laundering, and obstruction of justice. Fabian resigned from his post in the Romney campaign, and the Boston Globe reported that his donation was returned.
McCain and Giuliani's campaigns did not respond to requests for details on their vetting procedures.
Below, the Huffington Post brings you a collection of Republican rogues whose money has been declared no good.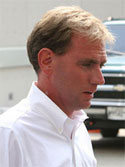 Alan Fabian
The crime: The Maryland non-profit executive was hit with 23 charges related to allegations that he defrauded companies of $32 million.
The donations: As Romney's national finance committee co-chair, Fabian had given the Massachusetts Republican a maximum $2,300 for the primary. The campaign said it would not return an undisclosed amount of money raised by Fabian. Rudy Giuliani also returned a $1,000 donation from Fabian, noting in a moment of campaign trail bravado that, "We are returning the contribution Romney's national finance co-chair gave Rudy Giuliani."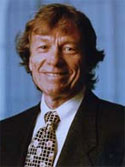 Charles and Sam Wyly
The crime: The Wyly brothers have not been charged with any crime. But the two Texas businessmen are under investigation by the IRS and other federal and state agencies for an impressive network of, "58 overseas trusts and corporate shells designed to evade taxes on $190 million in corporate compensation," according to the Los Angeles Times.
The donations: The Wylys were major financial backers of George W. Bush and have supported a wide range of Republican politicians. John McCain, author of the McCain-Feingold legislation that sought to reign in excesses in federal campaign financing, returned $20,000 in donations from the Wyly brothers to the senator's campaigns and committees once the SEC investigation began. McCain's principle for vetting in that instance appears to have been 'better safe than sorry.'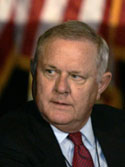 Robert Asher
The crime: Asher was convicted in 1986 of arranging $300,000 worth of payoffs and political contributions for a no-bid contract in Pennsylvania and spent a year in jail. His co-defendant, state treasurer R. Budd Dwyer, called a press conference and shot himself in the head in front of the gathered media outlets.
The donations: Asher told donors in a letter this year that he had been appointed chairman of Giuliani's campaign efforts in Pennsylvania, according to the New York Times. The Giuliani campaign said that Asher was not appointed to the post. FEC records show that Asher has made a full $4,600 donation to Giuliani's campaign.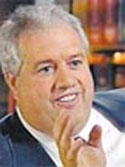 Robert Lichfield
The crime: 133 plaintiffs sued Lichfield alleging that boarding schools he operated abused children. The complaint accused Lichfield's schools of subjecting students to unsanitary living conditions, food deprivation, beatings, confinement in dog cages, and sexual abuse.
The donations: Lichfield was Romney's Utah committee co-chair. Romney raised $2.7 million in the state, according to a June 2007 article in The Hill, and a February event organized by Lichfield brought $300,000 to the Republican candidate. In September, Romney asked Lichfield to dissociate himself from the campaign until the lawsuit is settled, according to Radar.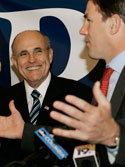 Thomas Ravenel
The crime: South Carolina Treasurer and former real estate developer Ravenel was indicted in June for cocaine distribution in South Carolina.
The donations: Giuliani picked Ravenel to serve as chairman of his campaign in South Carolina, an important early primary state. FEC records show that Ravenel donated $2,300 to Giuliani's campaign.
Bob Allen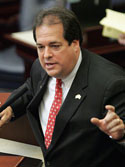 The crime: Florida State Senator Allen was charged with misdemeanor solicitation after approaching a police officer in a public toilet and offering $20 to allow Allen to perform oral sex upon him. Allen's case became particularly memorable after he said he only solicited sex because he feared the undercover officer, a black man.
The donations: Allen had been appointed as co-chairman of John McCain's Florida campaign efforts prior to his arrest.
REAL LIFE. REAL NEWS. REAL VOICES.
Help us tell more of the stories that matter from voices that too often remain unheard.