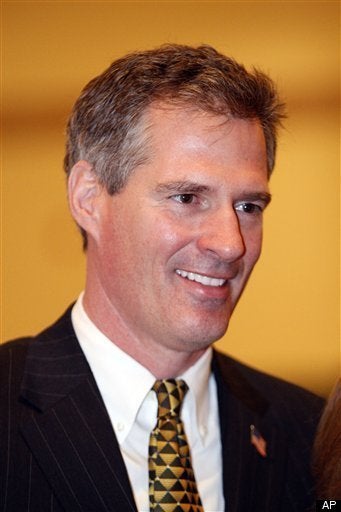 What a difference a year made for Republican candidate Scott Brown. Just last year, Brown voted to support a regional greenhouse gas emissions trading plan and now he saying he's not even sure climate change is a problem.
While uncertainty remains about what a Republican win in Massachusetts means for health care reform, there seems little doubt that it would be bad for the clean energy package making it's way through Congress.
Just over a year ago Brown voted in favor of a regional greenhouse gas cap-and-trade initiative in his capacity as a state legislator.
At the time, Brown supported the move to reduce greenhouse gas emissions ten percent by 2019, saying:
"Reducing carbon dioxide emission in Massachusetts has long been a priority of mine."
Flash-forward to this Sunday, when Brown questioned whether climate change is even happening. The Boston Globe quotes Brown saying that:
"It's interesting. I think the globe is always heating and cooling,'' he said. "It's a natural way of ebb and flow. The thing that concerns me lately is some of the information I've heard about potential tampering with some of the information.''
"I oppose a national cap and trade program because of the higher costs that families and businesses would incur."
Brown's blatant flip-flop is obviously a move to garner support from the hard right wing of the conservative movement. As ThinkProgress reports, pandering to the hard right has it's advantages, with big donations coming in from tea party front groups like Freedomworks. And with a Brown win dropping the Democrats out of a super-majority in the Senate, it looks like any clean energy/green jobs bill will be.... well, tea-bagged.

Related
Popular in the Community