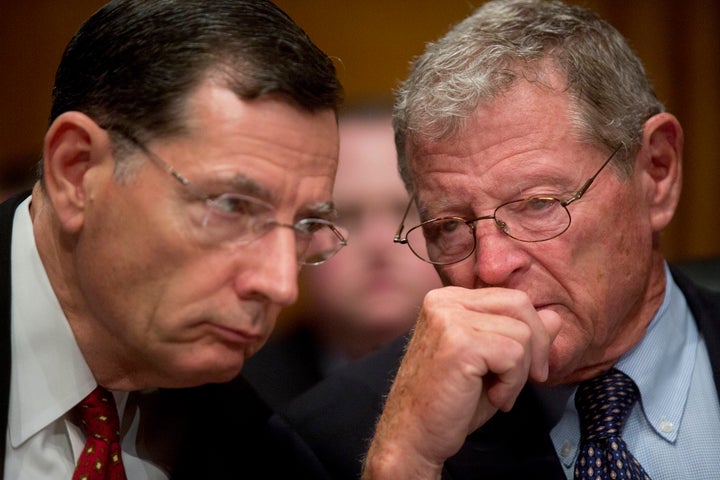 WASHINGTON -- More than two dozen Republican senators this week asked Secretary of State John Kerry not to provide any funding for the United States' involvement in the United Nations effort to address climate change, saying they object to the U.N. treating Palestine as a state.
The Palestinians joined the United Nations Framework Convention on Climate Change, the international treaty that governs action on climate change, in March. On Monday, the group of 28 senators, led by Wyoming Republican John Barrasso, argued in a letter to Kerry that -- because of a 1994 law barring federal funds from being distributed to any U.N. program that grants membership to a state or organization that lacks "internationally recognized attributes of statehood" -- the UNFCCC should not receive U.S. funding. 
It may not be entirely a coincidence that this letter comes from a group of senators who, by and large, don't really believe climate change is an issue the U.S. should be addressing at all.
Among the letter's signatories: Sens. Roy Blunt (R-Mo.), John Boozman (R-Ark.), Shelley Moore Capito (R-W.Va.), Bill Cassidy (R-La.), Dan Coats (R-Ind.), John Cornyn (R-Texas), Tom Cotton (R-Ark.), Ted Cruz (R-Texas), Steve Daines (R-Mont.), Mike Enzi (R-Wyo.), Deb Fischer (R-Neb.), Orrin Hatch (R-Utah), Jim Inhofe (R-Okla.), Johnny Isakson (R-Ga.), James Lankford (R-Okla.), Mike Lee (R-Utah), Jerry Moran (R-Kan.), Pat Roberts (R-Kan.), Mike Rounds (R-S.D.), Marco Rubio (R-Fla.), Jeff Sessions (R-Ala.), Dan Sullivan (R-Alaska), John Thune (R-S.D.), Thom Tillis (R-N.C.), Pat Toomey (R-Pa.), David Vitter (R-La.) and Roger Wicker (R-Miss.).
They're not all climate change deniers, per se. But Barrasso has said that the climate "is constantly changing" and that "the role human activity plays is not known." Inhofe, who is chairman of the Senate Committee on Environment And Public Works, wrote a whole book about how climate change is "the greatest hoax." Rubio has spouted every type of climate denial possible. Cornyn has said he believes humans can influence the environment, but he doesn't want the feds "in charge of trying to micromanage" the issue.
"The U.S. government does not recognize the 'State of Palestine,' which is not a sovereign state and does not possess the 'internationally recognized attributes of statehood,'" the letter reads. "Therefore, the UNFCCC, as an affiliated organization of the UN, granted full membership to the Palestinians, an organization or group that does not have the internationally recognized attributes of statehood. As a result, current law prohibits distribution of U.S. taxpayer funds to the UNFCCC and its related entities."
The lawmakers have some precedent for this argument. In 2011, the U.N. Educational, Scientific and Cultural Organization lost U.S. funding -- which made up about 22 percent of its budget -- after allowing the Palestinians full membership. The U.S. later lost its voting rights to the UNESCO general assembly as a result. Kerry said last year that he planned to work with Congress to restore U.S. funding to the organization.
State Department spokesman John Kirby said on Tuesday that he was aware of the lawmakers' letter but declined to comment further.
The Palestinians have endeavored to gradually join U.N. organizations and treaties as a way of gaining international recognition after several rounds of failed bilateral negotiations with the Israelis. The Palestinians gained non-member observer status at the U.N. in 2012, and the Palestinian flag was flown at the U.N. headquarters in New York for the first time last year during the annual general assembly, but they still lack full member status. 
The Obama administration opposes Palestinian efforts to gain statehood through U.N. recognition, but the senators' letter criticizes the administration for failing to block the Palestinians from gaining recognition within the UNFCCC.
"We urge the administration to clarify, both publicly and privately, that the United States does not consider the 'State of Palestine' to be a sovereign state, and to work diligently to prevent the Palestinians from being recognized as a sovereign state for purposes of joining UN affiliated organizations, treaties, conventions, and agreements," the lawmakers wrote.
The United States has pledged to give $3 billion to the Green Climate Fund, which was created through the UNFCCC negotiations so that industrialized countries could help developing nations address climate change. It's seen as a pivotal part of the deal reached at the U.N. summit last December, which nations will begin officially signing this week.
The UNFCCC was created in 1992 to provide a mechanism for international coordination on addressing climate change. The United States provides funding to support the UNFCCC secretariat and other activities, as do the 196 other parties to the convention.
CORRECTION: A previous version of this story misidentified the state that Sen. Dan Sullivan represents. It is Alaska, not Arkansas.
REAL LIFE. REAL NEWS. REAL VOICES.
Help us tell more of the stories that matter from voices that too often remain unheard.