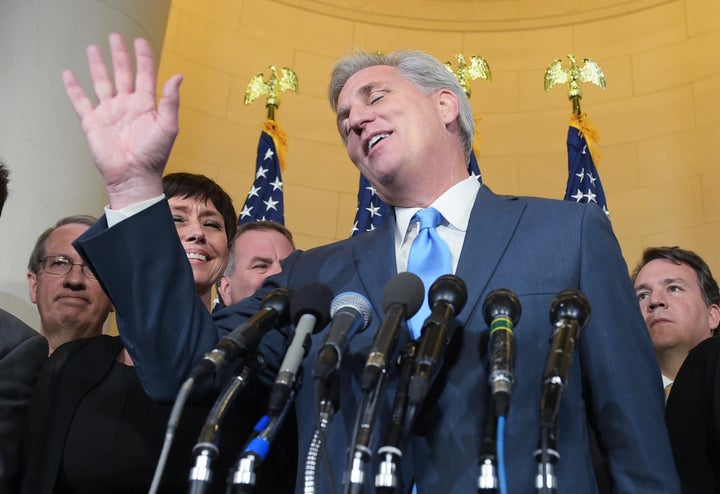 The prospect of holding the speaker's gavel with a fractious caucus looks like an increasingly unpopular job, with top Republicans quickly issuing statements they would not seek the position. Some members have floated the idea of a "caretaker" speaker to preside temporarily. Other leadership options being discussed include current candidates, like the House Freedom Caucus's Rep. Daniel Webster (R-Fla.), House Chaffetz Caucus candidate Rep. Jason Chaffetz (R-Utah), and Rep. Lynn Westmoreland (R-Ga.).
Rep. Paul Ryan (R-Wis.), has declined to seek the job, which for now leaves relative backbenchers as the only contenders.
That creates a major problem for House Republicans ahead of the 2016 elections. The speaker is not only the leader of the Republican caucus and the House of Representatives, but also is the chief party fundraiser. In an age when politics is inseparable from the money funding it, House Republicans may find themselves in a financial bind if they don't have a friend to the donor class in charge.
To see the importance of the speaker to the party bottom line, take a look at how much money the departing (he hopes) Speaker John Boehner (R-Ohio) raised.
Since becoming the party's minority leader in 2007, Boehner has raised and donated at least $57 million for the National Republican Congressional Committee, according to Federal Election Commission records. He also helped raise large amounts for individual candidates across the country.
Both of the congressmen who at one point were in line to succeed Boehner -- former Rep. Eric Cantor (R-Va.) and McCarthy -- are (or were, in Cantor's case) also substantial fundraisers with connections to Wall Street and the Washington lobbying scene. Cantor operated his own super PAC and dark money nonprofit group to raise large donations.
The current crop of announced speaker candidates don't exactly have the same fundraising pedigree. The four-term Webster has raised just $4.7 million over his career. Chaffetz raised just $3.2 over five terms. And Westmoreland has raised a little more than $7 million over 12 years.
Rep. Greg Walden (R-Ore.), a former National Republican Congressional Committee chairman, has floated himself as a possible interim speaker, but not a long-term solution. Walden is a good fundraiser, with more than $10 million raised since 2007 and a history of courting big donors through the NRCC.
But there are others that GOP leadership would like to see in the top position. The most sought-after is Ryan. The former vice presidential nominee and current chairman of the tax-writing Ways and Means Committee issued his disinterest in pursuing the position within minutes of McCarthy's withdrawal.
Ryan is one of the party's best fundraisers. Even before his stint as Mitt Romney's running mate, Ryan was a favorite of top Republican donors. The $9.4 million he raised in the 2014 election cycle was the second-most of any House candidate, behind only Boehner.
REAL LIFE. REAL NEWS. REAL VOICES.
Help us tell more of the stories that matter from voices that too often remain unheard.