Two Republican super PACs used the same supposed voter in newly released ads for at least three different Senate races, including those in Maine, Iowa and Kansas.
In an ad produced by American Crossroads that aired in Kansas, a brown-haired woman criticizes Democratic Senate candidate Barbara Bollier.
"She wants to take away all guns," the woman in the ad says of Bollier. (In fact, Bollier has said she supports the Second Amendment.)
"Too extreme for Kanas" flashes on the ad next to Bollier's name, giving the impression that the woman in the ad is a voter in Kansas.
But that same woman has appeared in Senate race ads in Maine and Iowa as well, making it clear that she's an actor and revealing the conservative groups' apparent deception.
"Families across Iowa are struggling," the woman says in an ad paid for by the Senate Leadership Fund. "With the economy, with this pandemic, keeping our health care is crucial."
"We can't trust Sara Gideon," she says in another SLF ad, this time attacking Republican Sen. Susan Collins' Democratic challenger in Maine. "She's just too risky a choice."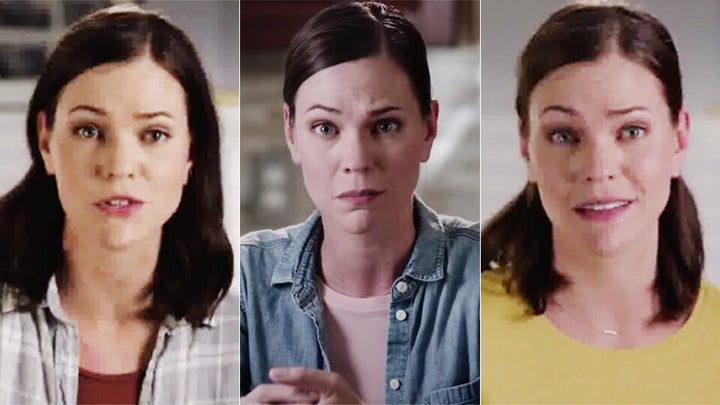 Neither American Crossroads nor SLF immediately returned HuffPost's requests for comment. Both groups are led by Steven Law, who previously served as chief of staff to Senate Majority Leader Mitch McConnell (R-Ky.).
None of the ads are sanctioned by the Republican campaigns they seek to boost.
"Putting a flannel shirt on an out-of-state actor doesn't make them any more in touch with Maine values," Maine Democratic Party Executive Director Lisa Roberts said in a statement. "And no matter how much money Mitch McConnell and his allies spend on false attacks to boost Senator Collins' campaign, they can't erase her record of voting to put Mainers' health care and rights at risk."
We want to know what you're hearing on the ground from the candidates. If you get any interesting — or suspicious! — campaign mailers, robocalls or hear anything else you think we should know about, email us at scoops@huffpost.com.
Popular in the Community